ADRIATIC LION (Lagoon 620)
€16,900 - €35,500 / WEEK
---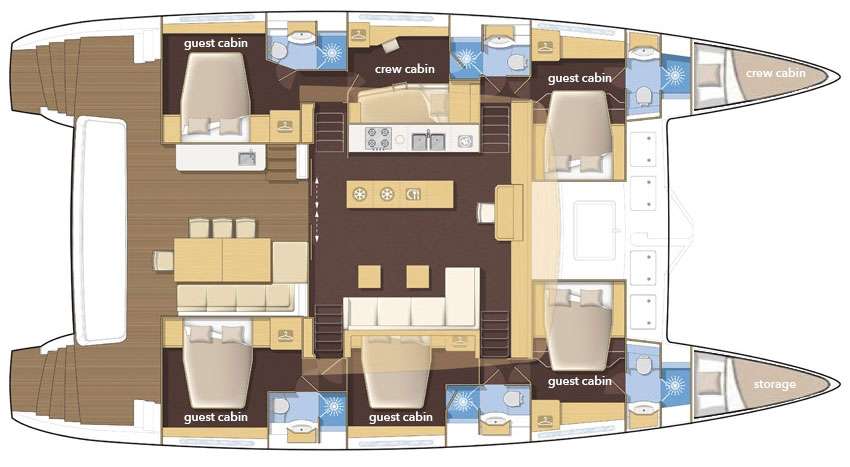 Boat Details
| | |
| --- | --- |
| Cabins: | 5 |
| Queen: | 5 |
| Single Cabins: | 1 |
| Showers: | - |
| Wash Basins: | - |
| Heads: | 5 |
| Electric Heads: | 5 |
Pick Up Locations
| | |
| --- | --- |
| Pref. Pick-up: | Marina Kastela, SPLIT, CROATIA |
| Other Pick-up: | ACI Dubrovnik |
---
Details
| | |
| --- | --- |
| Refit: | - |
| Helipad: | No |
| Jacuzzi: | No |
| A/C: | Full |
Engine Details
Volvo Penta D3-150, 2 X 150 HP
Fuel Consumption:
-
Cruising Speed:
-
Max Speed:
-
Locations
| | |
| --- | --- |
| Winter Area: | - |
| Summer Area: | Croatia |
---
Amenities
| | |
| --- | --- |
| Salon Tv/VCR: | Yes |
| Salon Stereo: | Yes |
| Sat Tv: | - |
| # of Videos: | - |
| # DVDs/Movies: | yes |
| # CD's: | - |
| Camcorder: | - |
| Books: | yes |
| Board Games: | Yes |
| Sun Awning: | Yes |
| Deck Shower: | - |
| Bimini: | - |
| Water Maker: | yes |
| | |
| --- | --- |
| Special Diets: | Yes |
| Kosher: | Inq |
| BBQ: | - |
| # Dine In: | - |
| Minimum Age: | - |
| Generator: | yes |
| Inverter: | YES |
| Voltages: | - |
| Water Maker: | yes |
| Water Cap: | 960 L |
| Ice Maker: | Yes |
| Sailing Instructions: | - |
| Internet Access: | Onboard WIFI |
| | |
| --- | --- |
| Gay Charters: | Inq |
| Nude: | Inq |
| Hairdryers: | Yes |
| # Port Hatches: | - |
| Guests Smokes: | - |
| Crew Smokes: | Inq |
| Pets Aboard: | No |
| Pet Type: | - |
| Guest Pets: | - |
| Children Ok: | Yes |
| Hammock: | - |
| Windscoops: | - |
---
Water Sports
| | |
| --- | --- |
| Dinghy size: | HIGHFIELD 460 |
| Dinghy hp: | Honda 60 HP |
| Dinghy # pax: | - |
| Water Skis Adult: | Yes |
| Water Skis Kids: | Yes |
| Jet Skis: | - |
| Wave Runners: | - |
| Kneeboard: | No |
| Windsurfer: | No |
| Snorkel Gear: | Yes |
| Tube: | Yes |
| | |
| --- | --- |
| Scurfer: | - |
| Wake Board: | No |
| Kayaks 1 Pax: | No |
| Kayaks (2 Pax): | No |
| Floating Mats: | No |
| Swim Platform: | - |
| Boarding Ladder (Loc/Type): | - |
| Sailing Dinghy: | - |
| Beach Games: | - |
| Fishing Gear: | Yes |
| Gear Type: | - |
| Rods: | - |
YOUR CAPTAIN
After finishing his studies he had to choose between being a civil engineer or life at sea. Going for a second option was one of the best decisions in his life. He enjoys spending time at sea, sailing and meeting new people. His goal is to fulfil your holiday with a good memories and experiences while taking care of the safety of the boat and crew on- board. Toni has been active in regattas since his early age, and holds a Yacht Master certificate.
He is fluent in English and has a great nautical and yachting knowledge always ready to share it with guests on board.YOUR CHEF
Mladen Dragojlovic was born in 1982 in Pozega, Croatia. After graduating from Faculty of Civil Engineering, he founded his own company. He was involved in various projects connected with rural tourism, such as designing and supervision of accomodation facilities for Zlatni Lug near his hometown. Raised in a family which nurtures and shares passion for food, enabled him to develop his own taste for cooking. Cooking was always his interest and he decided to translate it from a hobby to profession. That led him to finish a culinary ''chef on board''training by professional and respected chef. With creative cooking and open-minded personality his goal is to make your holiday the best you ever had.
WHAT MAKES HIM HAPPY BESIDES HIS WORK, SEA & BOATS: He also enjoys sports, music, discovering foreign cuisines, spending time in the countryside; caring for his planted forest and vegetable garden.

YOUR CHEF
Paula is experienced chef with creative, flexible and friendly personality. She enjoys working as a yacht chef because she loves cooking, sailing and meeting new people from all over the world. She discovered her love for cooking since she was a child, and since then enjoys in endless possibilities of creativity in kitchen. She is enthusiastic in presenting local and mediterranean food specialties to her guests, creating unique gastronomic experience for them.
Paula takes care in providing the best local and quality ingredients. She also likes to play with fusions of mediterranean and other world cuisines, adjusting her menus to preferences of each group. The best moment in her job is when plates come back empty. That makes her happy and motivated in doing her best.

YOUR STEWARDESS
Marita was born in Smokvica, small village on the beautiful island of Korčula. She has plenty of experience in being a stewardess on board. She is fluent in English and Italian language, and she knows the basics of German and Spanish as well.
BREAKFAST
-coffee, tea
-cereals, milk, yogurt
-fruit platter
-marmalades, chocolate spreads, butter
-eggs platter (omelettes, scrambled eggs, poached eggs, sunny side eggs)
-salmon canapes
-buns, toast, croissants
-bacon, salami, cheese
VEGETARIANAPPETIZERS
-BEETROOT CARPACCIO
-beetroot, arugula, cottage goat cheese, cow cheese spread, mayonnaise, capers, pine nuts, salt, pepper
WATERMELON AND FETA CHEESE SALAD
-watermelon, feta cheese, arugula, pomegranate, pepper, olive oil
CAPRESE SALAD
-tomato, mozzarella, olive oil, fresh basil, pesto genovese, olives, capers, salt, pepper
PEAR, WALNUT, FARMER'S CHEESE AND HONEY SALAD
-arugula, lettuce, pear, fig, walnuts, honey, farmer's cheese, olive oil, salt, pepper
AVOCADO TOMATO BRUSCHETTA
-cornbread, avocado, tomato, olive oil, garlic, fresh basil, aceto balsamico glaze
RICOTTA, PEACH AND HONEY BRUSCHETTA
-whole grain bread, ricotta, peach, honey, aceto balsamico glaze
MARINATED FARMER'S CHEESE WITH FOCACCIA BREAD
-farmer's cheese, olive oil, red pepper grains, rosemary, olives, wheat flour, baker's yeast, salt
SICILIAN MACARONI
-macaroni, tomato, eggplant, garlic, grana padano cheese, basil, chilly flakes, olive oil, salt, pepper
"PLJUKANCI" PASTA WITH TRUFFLES
-"pljukanci" pasta, truffle sauce, butter, olive oil, cooking cream, white wine, garlic, carrot, courgettes, salt, pepper
GAZPACHO COLD SOUP
-tomato, bell peppers, cucumber, onion, garlic, parsley, basil, olive oil, chilly sauce, vinegar, toasted bread slice
AVOCADO AND CUCUMBER COLD SOUP
-avocado, cucumber, yogurt, garlic, parsley, chilly sauce, olive oil, dill, sweet red bell pepper powder, salt, pepper, toasted bread slice
COURGETTE CREAM SOUP
-courgettes, vegetable stock, garlic, potato, olive oil, herb mix
TOMATO CREAM SOUP
-tomato, vegetable stock, garlic, olive oil, tomato puree, wheat flour, fresh basil, sugar, cooking cream, salt, pepper, toasted bread slice
LEEK CREAM SOUP
-leek, vegetable stock, carrot, garlic, olive oil, herb mix, salt, pepper
GREEN PEAS SOUP
-green peas, leek, carrot, vegetable stock, garlic, olive oil, herb mix, salt, pepper
VEGETARIANMAINCOURSES
VEGAN BALLS, TOMATO SAUCE, MASHED POTATO, GREEN PEA CREAM
-rice, beans, chickpea flour, garlic, onion, tomato puree, flaxseed flour, parsley, white wine, tomatoes, green peas, leek, butter, milk, salt, pepper
CHEESE AND SPINACH CANNELLONI, TOMATO SAUCE
-cannelloni pasta, fresh cottage cheese, ricotta, parmesan cheese, eggs, garlic, spinach, cooking cream, olive oil, tomatoes, salt, pepper
MUSHROOM RAGU WITH TRUFFLES AND BAKED POLENTA
-mixed mushrooms, truffle sauce, parsley, onion, garlic, carrot, white wine, worcestershire sauce, aceto balsamico glaze, butter, cooking cream, parmesan, polenta, olive oil, salt, pepper
COTTAGE CHEESE STUFFED SWEET POTATOES, GRILLED VEGETABLES IN HONEY AND ACETO MARINADE
-sweet potatoes, cottage cheese, garlic, herb mix, olive oil, lambs lettuce, courgette, eggplant, bell pepper, aceto balsamico, honey, salt, pepper
BROWN RICE VEGETABLE RISOTTO, GRILLED TOFU, BROAD BEAN CREAM, CARROT CREAM
-brown rice, leek, carrot, broccoli, tofu, olive oil, butter,herb mix, broad beans, cooking cream, carrot, salt, pepper
VEGAN BURGER AND BAKED SWEET POTATO
-black beans, avocado, parsley, garlic, lettuce, tomato, red onion, champignons, oat mills, smoked bell pepper powder, cumin powder, chilly flakes, olive oil, sweet potatoes, ajvar (local sauce made of eggplant and bell pepper), burger buns, salt, pepper
LENTIL AND VEGETABLE STUFFED BAKED BELL PEPPERS, AVOCADO SAUCE
-red bell peppers, leek, carrot, lentils, millet, parmesan, garlic, tomato, tomato puree, smoked red bell pepper powder, chilly sauce, olive oil, avocado, lemon, cheese spread, lettuce, salt, pepper
BAKED STUFFED EGGPLANT WITH CHICKPEAS, TOMATO AND MOZZARELLA, BAKED RED BELL PEPPER CREAM
-eggplant, chickpeas, brown rice, tomato, mozzarella, red bell pepper, parmesan, olive oil, garlic, arugula, basil, oregano, lettuce, salt, pepper
BAKED STUFFED TOMATOES AND GNOCCHI WITH THREE CHEESE SAUCE
-tomatoes, bread crumbs, garlic, olive oil, parsley, gnocchi, parmesan, gorgonzola cheese, mozzarella, cooking cream, lettuce, salt, pepper
BAKED VEGETABLES AND MUSHROOMS, SOUR CREAM SAUCE
-potatoes, bell peppers, courgettes, eggplants, champignons, broccoli, olive oil, garlic, herb mix, sour cream, chives, red bell pepper powder, salt, pepper
VEGETABLE AND TOFU WOK WITH BROWN RICE
-leek, bell peppers, courgettes, carrot, arugula, tofu, soy sauce, ginger, tomato puree, white wine, sugar, brown rice, salt, pepper
SEA FOOD APPETIZERS
POLENTA BITES WITH ANCHOVIES, RADISHES AND BLACK OLIVE PASTA
-polenta, butter, anchovies, radishes, black olive pesto, olive oil, salt, pepper
STUFFED SHELL PASTA WITH PRAWNS CREAM
-shells pasta, cheese spread, butter, prawns, chives, basil, lemon, olive oil, garlic, salt, pepper
SCALLOP CEVICHE
-scallops, lemon, orange, grapefruit, lime, garlic, chilly pepper, radish, red onion, red bell pepper, parsley, salt, pepper
BAKED STUFFED MUSSELS
-mussels, parsley, tomato, white wine, bread crumbs, garlic, salt, pepper
FISH PLATE
-marinated anchovies, octopuss salad, tuna pate, capers, olives, samphire, toasted bread

DALMATIAN SUSHI
-sushi rice, nori seaweed, rice vinegar, sugar, soy sauce, wasabi mayonnaise, salted anchovies, onion, lettuce, arugula, cucumber, prosciutto, pickled ginger
SASHIMI TUNA
-tuna, soy sauce, olive oil, wasabi mayonnaise, lamb lettuce, green onion, pickeled ginger, radishes
MARINATED SARDINES
-sardines, olive oil, vinegar, rosemary, lemon, onion, garlic, salt, pepper
FISH PIE FROM KOMIZA
-wheat flour, baker yeast, origano, olive oil, onion, tomato, garlic, salted anchovies, capers, olives, rosemary, sugar, salt, pepper
FISH SOUP
-white fish, olive oil, herb mix, soup vegetables, lemon, white wine, rice, salt, pepper
PRAWN SOUP
-prawns, vegetable stock, olive oil, herb mix, cooking cream, white wine, salt, pepper
SEA FOOD MAIN COURSES
JOHN DORY FILLET, BAKED BELL PEPPER CREAM, BELUGA LENTILS, COURGETTE TAGLIATELLE
-john dory filet, red bell pepper, olive oil, garlic, thyme, agar agar, butter, courgette, beluga lentils, vinegar, salt, pepper
SEA BASS FILLET IN CAPER SAUCE, STEWED POTATOES WITH LEEK
-sea bass fillet, capers, garlic, parsley, white wine, wheat flour, olive oil, butter, potatoes, leek,
salt, pepper
GRILLED TUNA, SWISS CHARD, POLENTA, ORANGE GEL
-tuna, swiss chard, polenta, olive oil, orange, agar agar, rosemary, garlic, butter, capers, salt, pepper
TATAKI TUNA, BATAT PUREE, WASABI
-tuna, white sesame, black sesame, olive oil, batat, butter, garlic, wasabi, sprouts, salt, pepper
GRILLED GROUPER FISH FILLET AND SHRIMP RISOTTO
-grouper fish fillet, orange, rosemary, rice, butter, shrimps, leek, garlic, white wine, parsley, salt, pepper
MONK FISH IN CHAMPAGNE SAUCE AND WILD RICE VEGETABLE RISOTTO
-monk fish, champagne, butter, shallots, vinegar, cooking cream, garlic, parsley, wild black rice, eggplant, red bell pepper, carrot, olive oil, herb mix, salt, pepper
GRILLED COMMON SEABREAM FILLET, CAULIFLOWER PUREE, ROASTED CHERRY TOMATOES
-common seabream fillet, olive oil, rosemary, orange, cauliflower, garlic, shallots, thyme, cherry tomatoes, radish sprouts, salt, pepper
OCTOPUS STEW AND BAKED POLENTA
-octopus, onion, garlic, parsley, bay leaf, olive oil, vinegar, tomato, polenta, fish stock, butter, salt, pepper
BLACK CUTTLEFISH RISOTTO, GRILLED SHRIMPS, BROAD BEANS PUREE
-cuttlefish, shrimps, olive oil, parsley, garlic, onion, tomato puree, rice, bay leaf, white wine, butter, parmesan, broad beans, cooking cream, salt, pepper
TEMPURA FRIED SQUID, POTATO SALAD, GREEK YOUGURT DIP
-squids, wheat flour, baking powder, mineral water, olive oil, lettuce, arugula, potato, radish, capers, greek yogurt, white wine, chives, salt, pepper
SHRIMP IN TOMATO SAUCE, BLACK INK TAGLIATELLE
-shrimps, olive oil, parsley, garlic, white wine, bread crumbs, black ink tagliatelle, tomatoes, cherry tomatoes, bay leaf, sugar, salt, pepper
HAKE FILLET IN BATTER, SPINACH PUREE, SWEET CHILLY SAUCE
-hake fillet, wheat flour, baking powder, beer, corn starch, spinach, butter, milk, cooking cream, garlic, olive oil, sweet chilly sauce, salt, pepper
MEAT APPETIZERS
PROSCIUTTO, MELON AND MOZZARELLA SKEWERS
-prosciutto, melon, mozzarella, fresh basil, aceto balsamico glaze
PROSCIUTTO, GRAPES AND GOAT CURD
-prosciutto, arugula, lamb lettuce, figs, grapes, goat curd, cheese spread, pistachios, haselnuts, honey, pepper
BEEF TARTARE
-beef tenderloin, egg yolk, tabasco, worcestershire, brandy, sweet red bell pepper powder, pickles, mayonnaise, salted anchovies, mustard, garlic, capers, parsley, salt, pepper, tosted bread, butter
BEEF SALAD WITH YOGURT DRESSING
-beef tenderloin, lettuce, arugula, parmesan, salt, pepper, olive oil, yogurt, sriracha sauce, garlic, herb mix, lemon
TAGLIATELLE WITH PROSCIUTTO AND WALNUTS
-tagliatelle, prosciutto, walnuts, olive oil, garlic, cherry tomatoes, salt, pepper
TORTELINI WITH PROSCIUTTO AND SAGE
-tortelini filled with prosciutto, sage, cherry tomatoes, olive oil, garlic, salt, pepper
MEAT MAIN COURSES
SOUS VIDE PORK TENDERLOIN, GREEN PEA PUREE, VEGETABLES
-pork tenderloin, herb mix, green peas, leek, white wine, olive oil, cauliflower, carrot, shallots, butter, thyme, garlic, sugar, red bell pepper powder, tomato puree, red onion mayonnaise (red onion, egg, sunflower oil, beetroot powder), salt, pepper
ROASTED RACK OF LAMB, BAKED STUFFED POTATO, SPINACH PUREE, CARROT CREAM
-rack of lamb, potato, rosemary, sheep curd, butter, spinach, carrot, olive oil, garlic, green onion, brown sugar, corn starch, salt, pepper
BEEF TENDERLOIN STEAK, WHITE BEAN AND TRUFFLE PUREE, RED WINE SAUCE
-beef tenderloin, white beans, truffle sauce, olive oil, pickled mushrooms, aceto balsamico glaze, red wine, carrot, aceto balsamico, brown sugar, shallots, butter, smoke flower of salt, pepper
STUFFED BELL PEPPERS IN TOMATO SAUCE, POTATO PUREE
-bell peppers, beef and pork minced meat, rice, parsley, garlic, bacon, tomato, bay leaf, olive oil, salt pepper, egg, red bell pepper powder, potato, milk, butter
BOSNIAN "CEVAPCICI" IN BOSNIAN FLAT BREAD BUN, AJVAR
-ćevapćići- minced beef and sheep meat, wheet flour, baker's yeast, onion, ajvar- eggplant and bell pepper dip, olive oil, garlic, salt, pepper
PORK TENDERLOIN IN MUSHROOM SAUCE, CHEESE TORTELLINI
-pork tenderloin, mixed mushrooms, cooking cream, butter, shallots, garlic, white wine, worcestershire, tortellini filled with cheese, olive oil, salt, pepper
SOUS VIDE BEEF STRIP LOIN STEAK, GREEN PEPPER SAUCE, BEETROOT CREAM, VEGETABLES
-beef strip loin, lettuce, courgettes, champignons, cherry tomatoes, beetroot, horse radish, olive oil, onion, garlic, radish, shallots
DELI BURGER, BAKED SWEET POTATO STICKS
-minced beef meat, sunflower oil, salt, pepper, wheet flour, sweet potato, herb mix, red bell pepper powder, ajvar (eggplant and bell pepper dip), red onion, egg, lemon, tomato, lamb lettuce
DUCK BREAST IN RED WINE AND BLUEBERRY SAUCE, GREEN GNOCCHI
-duck breast, onion, red wine, sweet wine, aceto balsamico, blueberries, cloves, olive oil, gnocchi with spinach, thyme, salt, pepper
GRILLED CHICKEN BREAST, BULGUR SALAD, SOUR CREAM SAUCE
-chicken breast, lemon, soy sauce, olive oil, sunflower oil, tabasco, white pepper, rosemary, bulgur, tomato, cucumber, red onion, parsley, mint, sour cream, chives, garlic, gnocchi with spinach, salt, pepper
MARGHERITA CHICKEN
-chicken breast, mozzarella, pesto genovese, cherry tomatoes, salt, pepper, garlic, olive oil, aceto balsamico glaze
BEEF WOK AND RICE
-beef strips, leek, bell pepper, mushrooms, carrot, green peas, chilly sauce, ginger, soy sauce, corn starch, sugar, olive oil, rice, pepper
DESSERTS
CAROB CAKE
-carob powder, orange, chocolate chips, eggs, baking powder, butter, sugar, vanilla powder, whipping cream
ALMOND AND PISTACHIO SEMIFREDO
-almonds, pistachios, sugar, whipping cream, eggs, vanilla powder
FRITULE, DALMATIAN FRITTERS WITH CHOCOLATE TOPPING AND STRAWBERRIES
-eggs, sugar, valilla powder, baker's yeast, raisins, yogurt, milk, sunflower oil, wheat flour, schnapps, orange and lemon peel, cocoa powder, butter, powdered sugar, chocolate topping, strawberries
ORANGE PANA COTTA
-cooking cream, milk, sugar, valilla powder, pistachios, gelatin leaves, orange, mint
CHOCOLATE GEL WITH RAPSBERRY SAUCE
-chocolate chips, gelatin powder, cooking cream, milk, rapsberries, sugar
FIG AND WALLNUT TART
-wheat flour, eggs, butter, sugar, vanilla powder, wallnuts, lemon peel, figs, salt, baking powder
VANILLA AND FOREST FRUIT STRUDEL
-puff pastry, milk, corn starch, sugar, vanilla powder, forest fruit, butter
CHOCOLATE CAKE WITH ICE CREAM
-chocolate chips, eggs, powder sugar, vanilla powder, vanilla ice cream, chocolate topping, caramel topping
CHEESECAKE WITH YOGURT, HONEY AND LAVANDER
-digestive cookies, butter, lavander flowers, greek yogurt, cheese spread, powdered sugar, lemon peel, white chocolate, honey
CHOCOLATE MOUSSE WITH CHERRIES
-chocolate chips, whipping cream, cherries, sugar
RAW LEMON AND LAVANDER CAKE
-dates, hazelnuts, coconut oil, cashews, honey, lemon, curcuma, lavander flowers
COW CURD WITH HONEY AND CARAMELISED DRY FIGS
-cow curd, honey, dry figs, brown sugar, red wine, schnapps
ICE CREAM CUP AND FRUIT DESSERT
-ice cream mix, fruits, toppings
ICED COFFEE WITH ICE CREAM
-coffee, milk, sugar, whipping cream, vanilla powder, whipping powder, ice cream, topping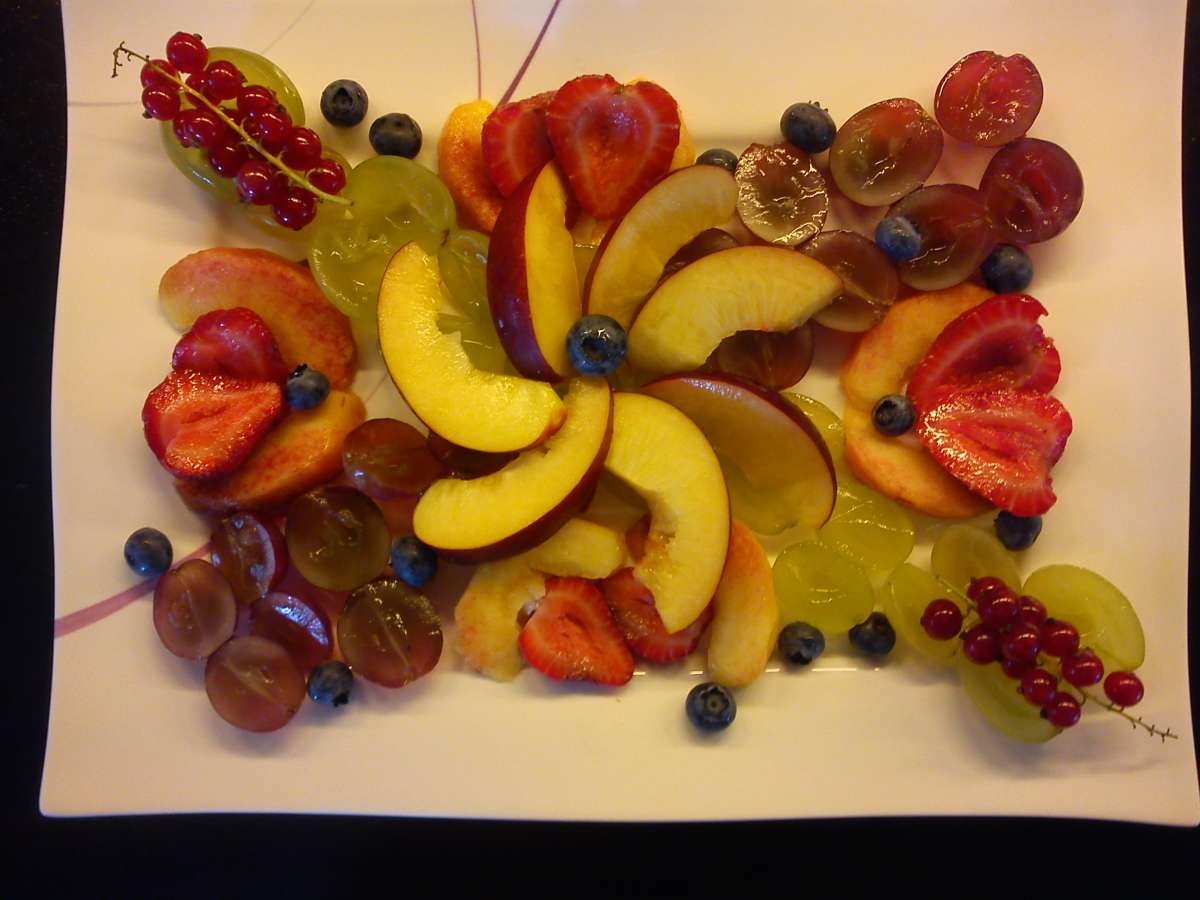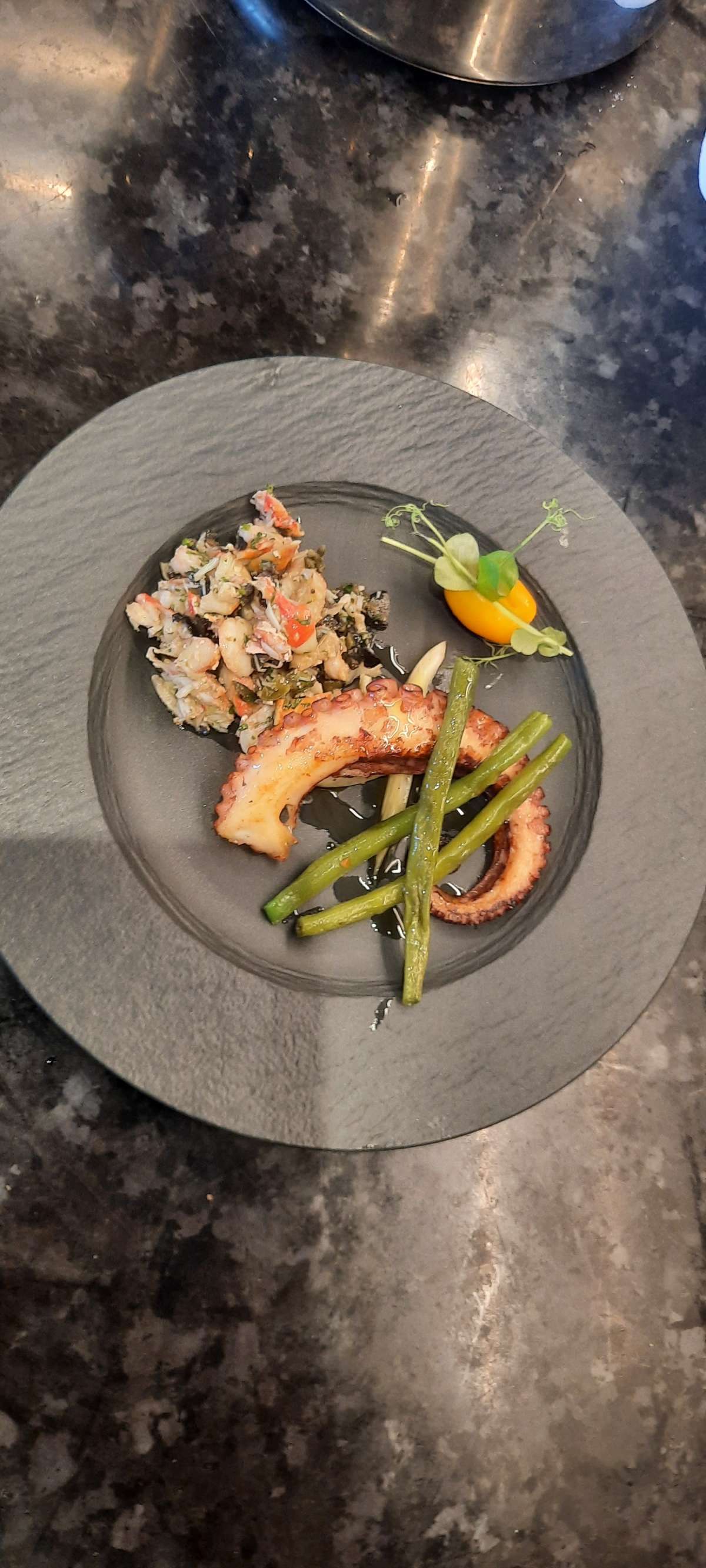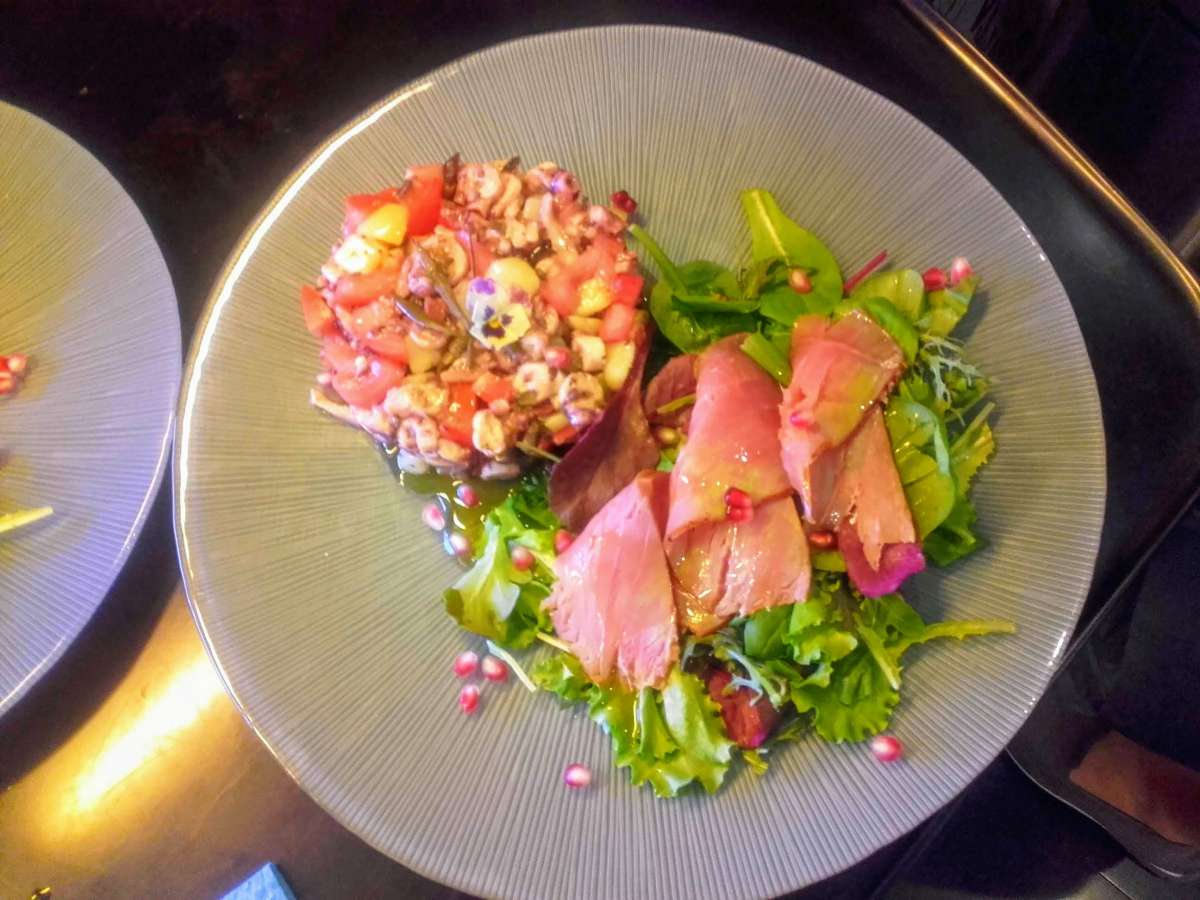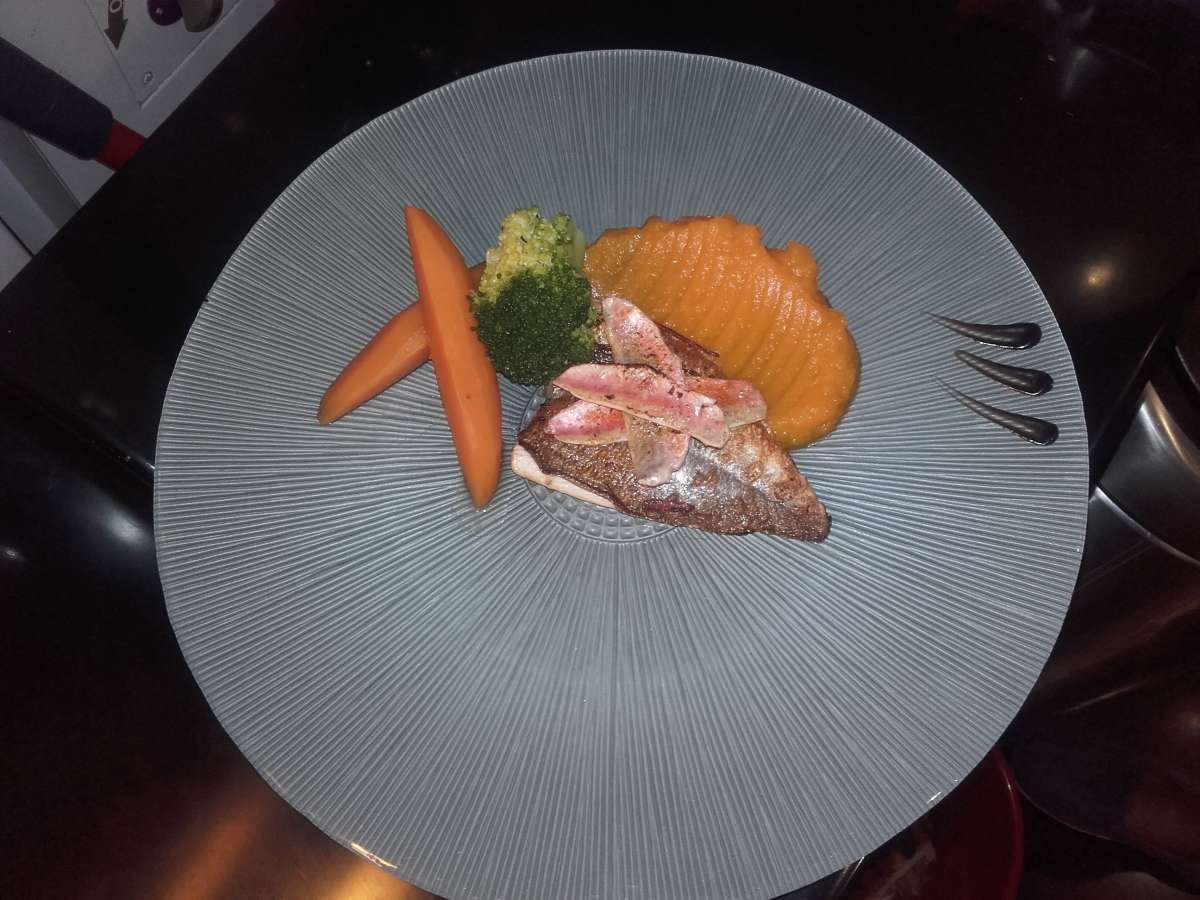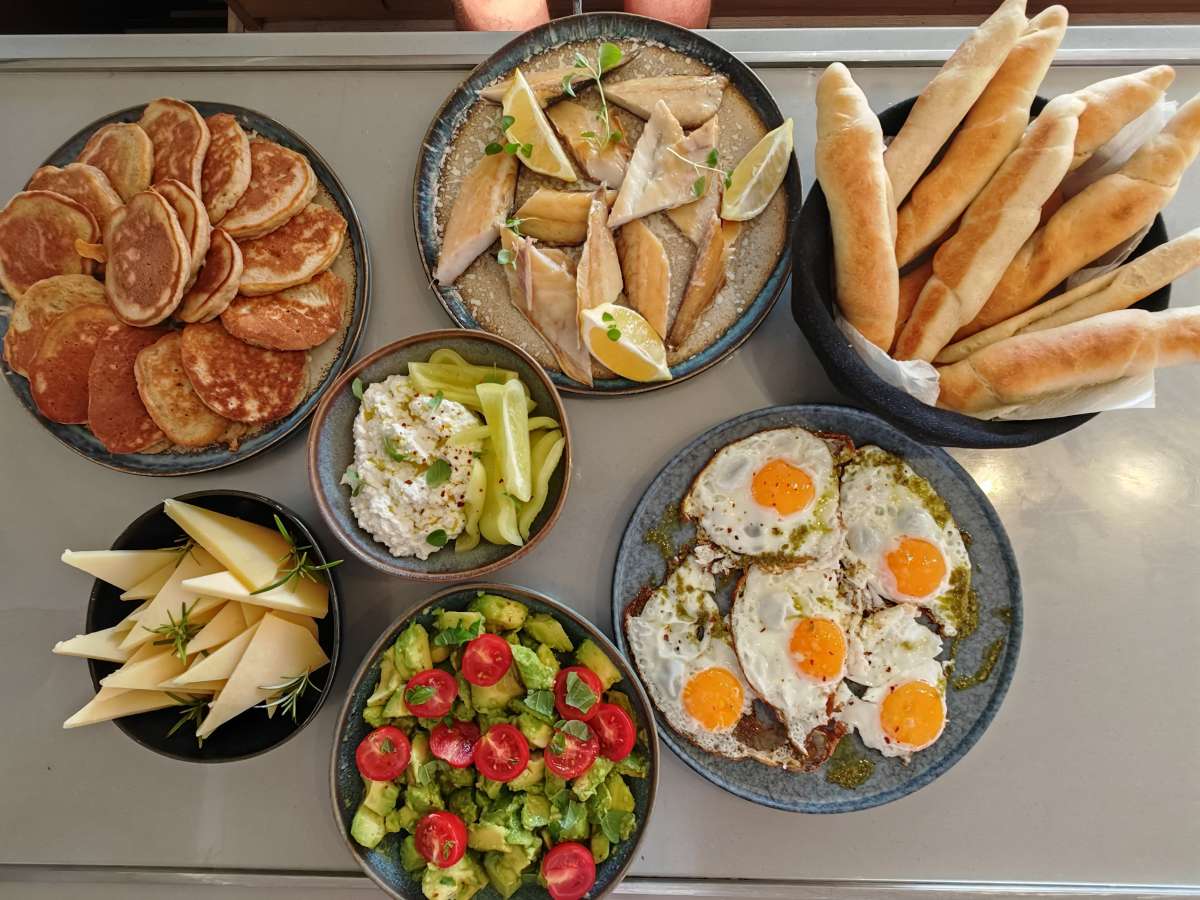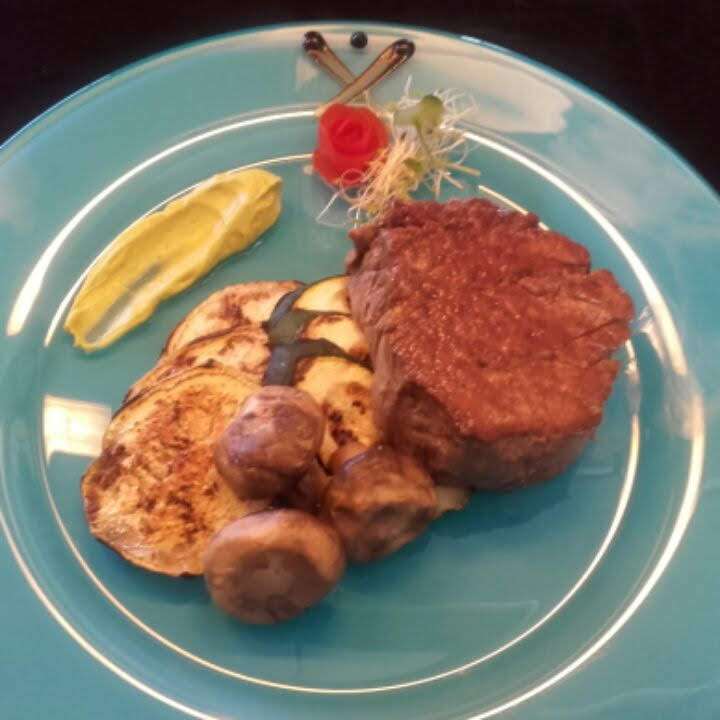 ---