Inquire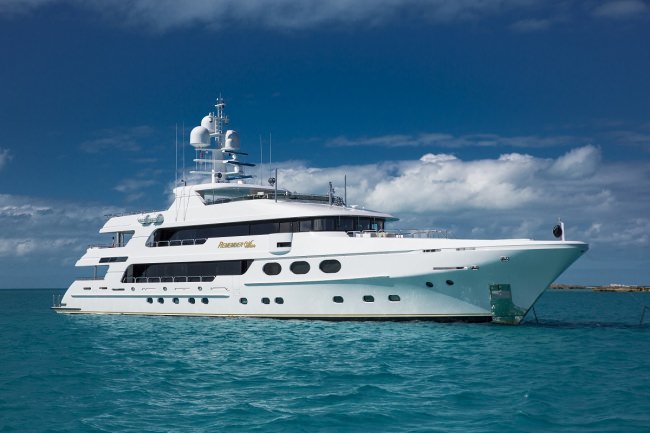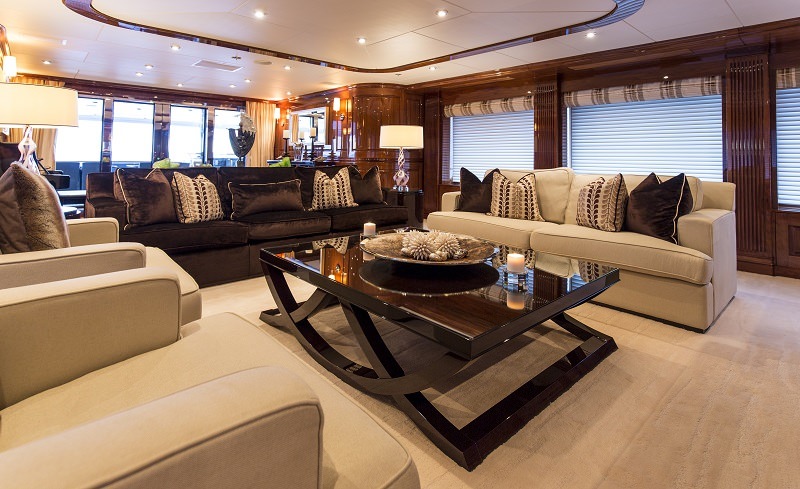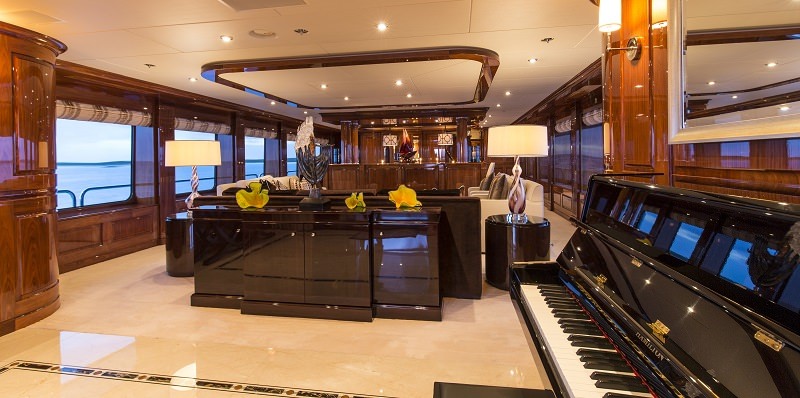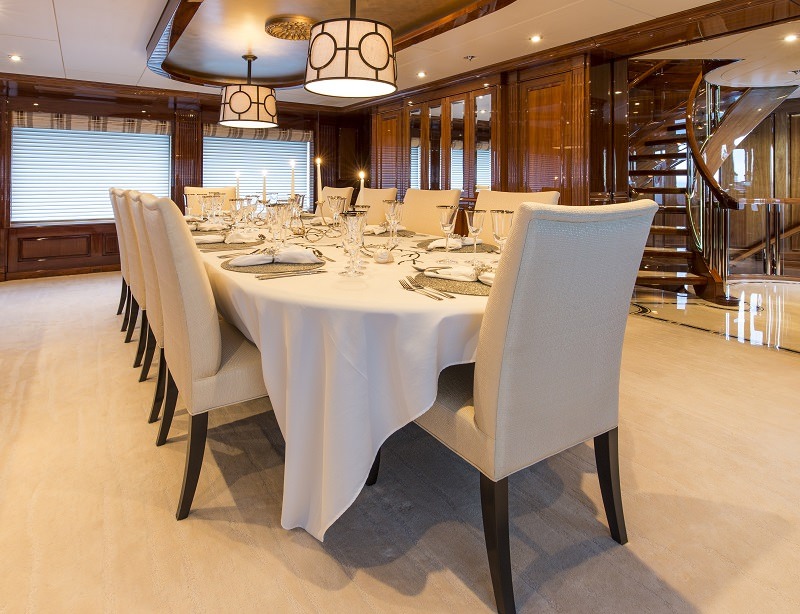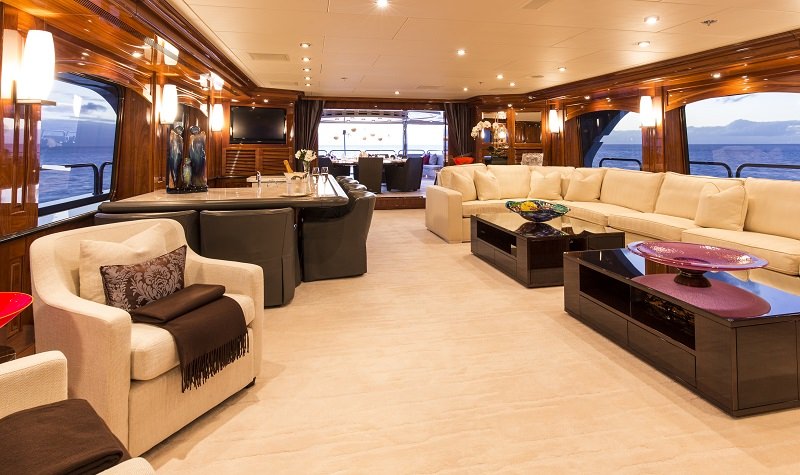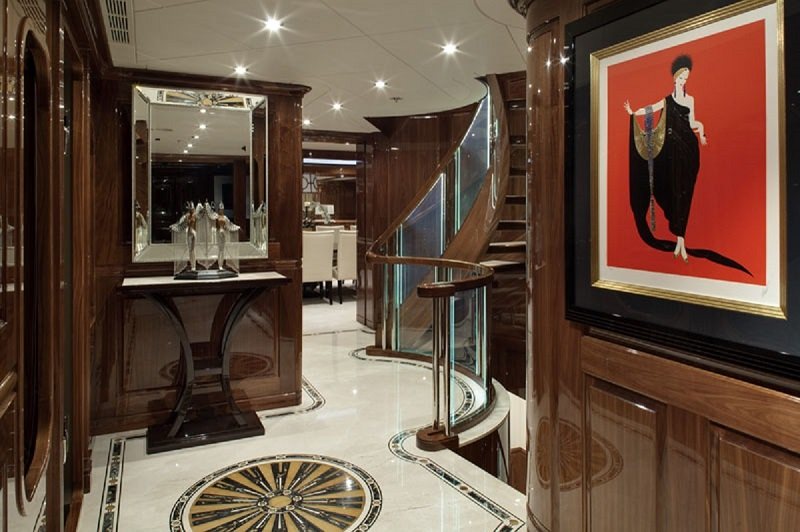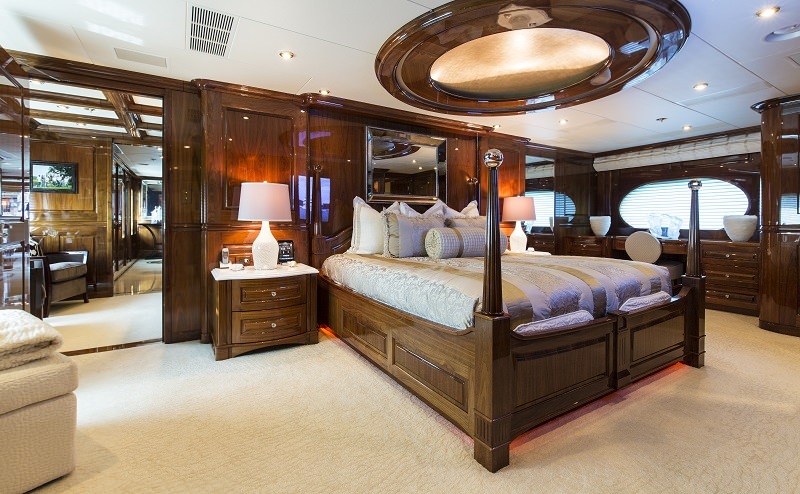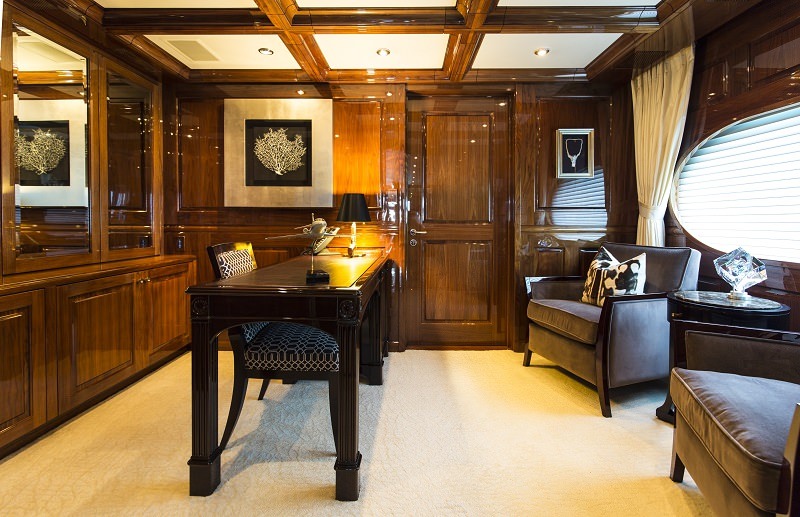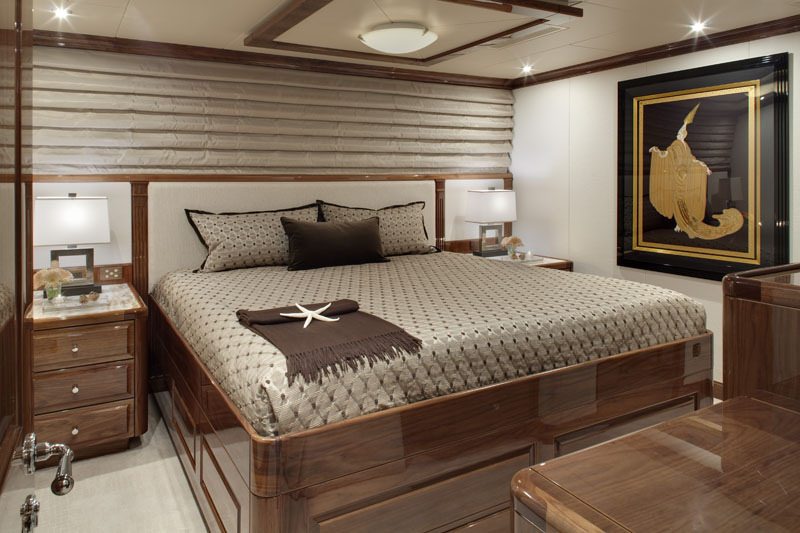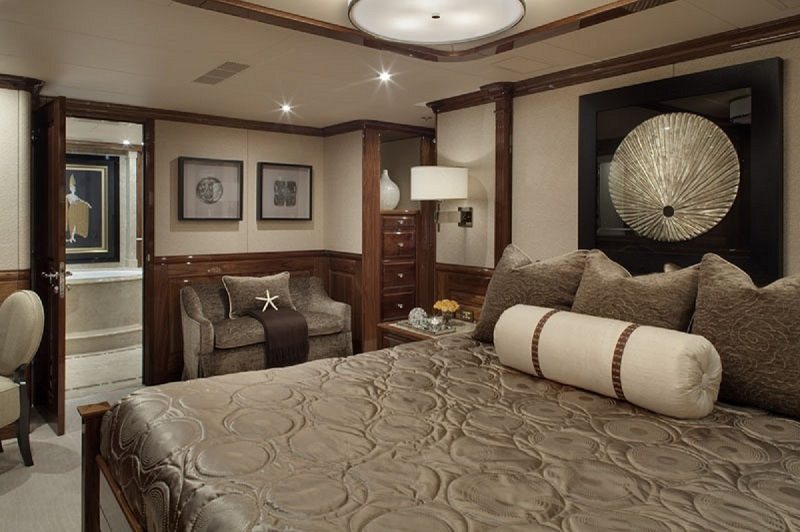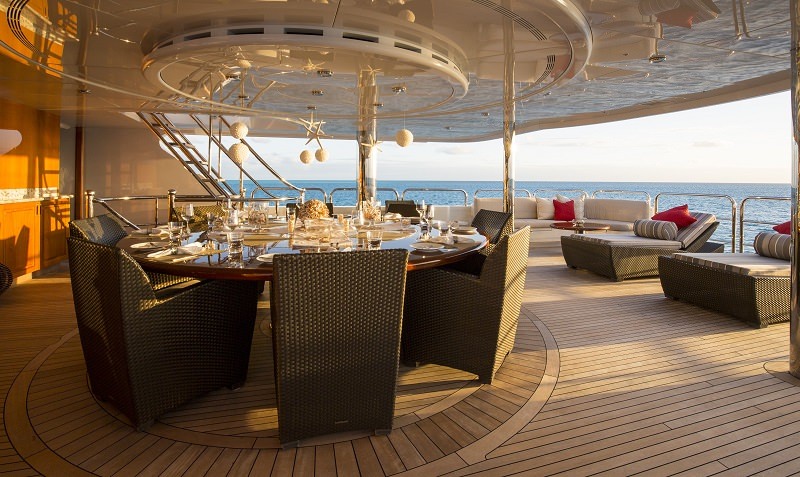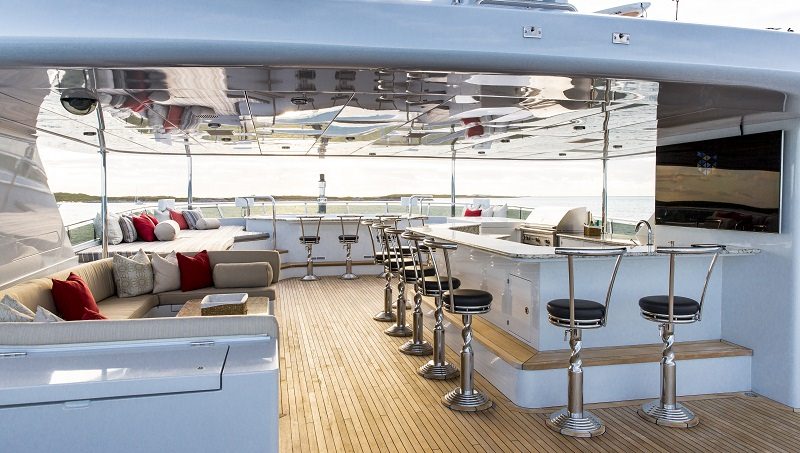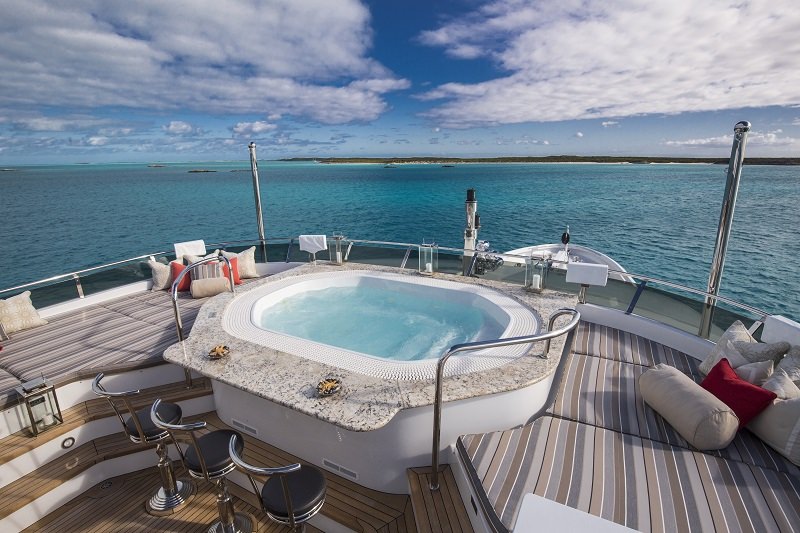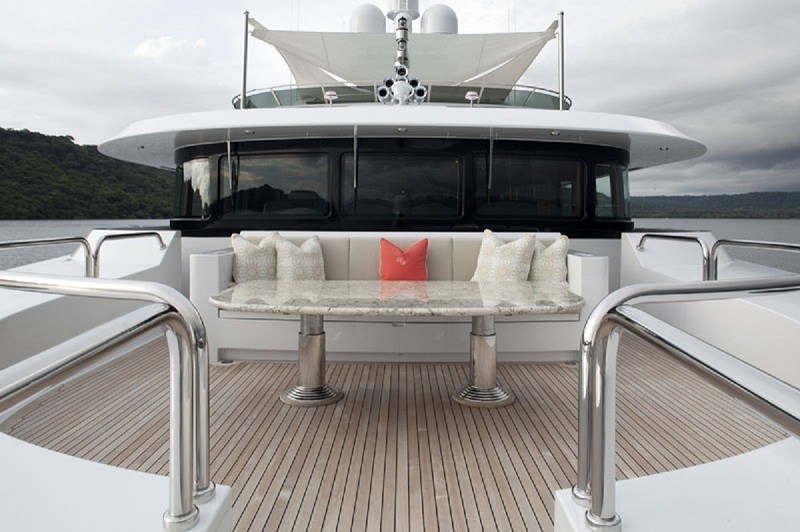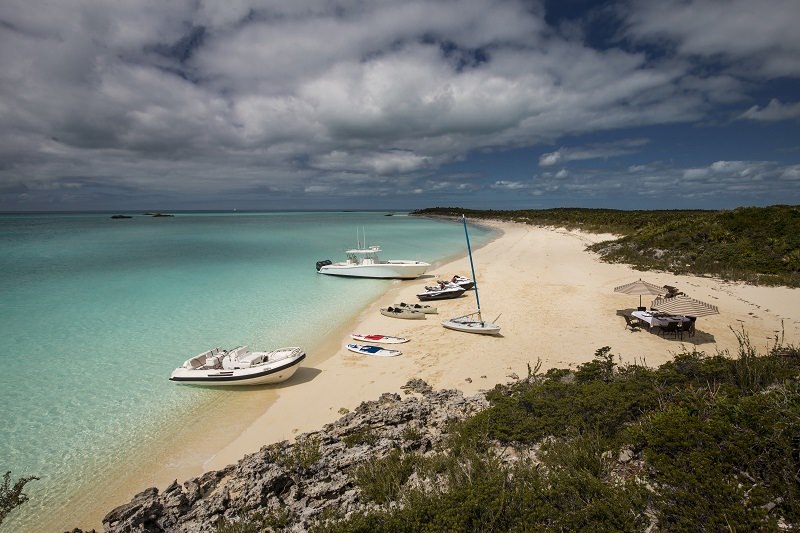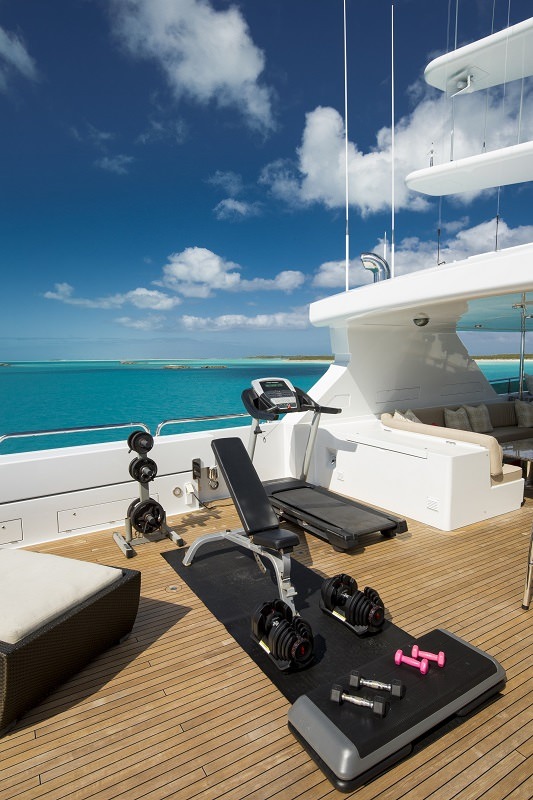 ---
Length:
162
Beam:
29' 11
Draft:
8'
Guests:
12
Crew:
11
Cabins:
6
Helipad:
No
Jacuzzi:
Yes
AC:
Full
Year Built:
2011
Builder:
Christensen
Max Speed:
17
High Price:
$250,000
Low Price:
$230,000
Captain Name:
HENDRE (HENNIE) DU PLESSIS
Captan Nation:
South African
Wave Runners:
2
Snorkeling Gear:
Yes
Fishing Gear:
Yes
Onboard Scuba:
Onboard
Yacht Accomodations
MASTER STATEROOM ON-DECK FORWARD
On deck, forward, full-beam Master Stateroom: Upon entry, there is a private office with desk facing large windows for a gorgeous view.

The centerline king bed faces forward towards a 65 inch TV (hidden while not in use). Dresser to port.

HER EN-SUITE is on the starboard side with Jacuzzi tub, Toto Neorest heated bidet/head with motion sensor, sink, and steam room shower with dual shower heads, hand shower wand, L-shaped seat. HIS EN-SUITE is on the port side with Toto Neorest heated bidet/head with motion sensor, sink and shares the steam room shower. Heated marble floors and skylights add to the elegance. Each his- and her- walk-in closet can be accessed from the stateroom or from the en-suite bathroom. There is a safe in each of the walk-in closets.

LOWER DECK ACCOMMODATIONS:
There are five guest staterooms midships on the lower deck which can be accessed by elevator.

Forward: Two equal staterooms each with one twin-size bed, a Pullman berth overhead, and a double bed. Two port holes allow ample natural light. There is a 37 inch TV, dresser with drawers and closet. The en-suite bathrooms each have a shower with bench seat, sink, head and porthole.
Mid: Two equal staterooms each with one king-size bed. Two portholes allow ample natural light. There is a 37 inch TV, dresser with drawers and closet. The en-suite bathrooms each have a shower with bench seat, sink, head and porthole.

Aft: The VIP stateroom is a spacious stateroom with walk-around king-size bed, 60 inch TV, dresser with drawers and closet. The en-suite features a Toto Neorest heated bidet/head with motion sensor, his- and her- sinks, stall shower, and Jacuzzi tub.

MAIN DECK:
The main salon is semi-divided by a black walnut cabinet with back-to-back TVs (recessed when not in use). The lounge aft is an inviting space with Hamilton Piano. The formal dining area is forward and accommodates up to 12 guests. A pocket door leads to the galley and service areas on the port side. Access the elevator on the starboard side. The day head is also situated on the starboard side further forward.

AFT DECK:
The aft deck is covered, and has a C-shaped bench seat with two tables and four additional chairs aft to accommodate 10-12 guests for a more casual dining experience. There is a full wet bar with three bar stools and 37 inch TV to port. The aft deck can be air conditioned, and has wind doors to the walk-around decks. Access the swim platform on the starboard side or take the stairwell to the bridge deck.

SWIM PLATFORM:
The spacious swim platform extends 10 ft, has safety rails, and underwater lights.

PASSARELLE:
Hydraulic (to starboard) with 20 foot extension.

BRIDGE DECK:
The SKYLOUNGE is a most welcoming and comfortable area with L-shaped sofa and two tables to port with a 3D 60 inch TV. On the starboard side is a game table and recessed bar with an exquisite light up Onyx bar top, 6 bar stools, and a 37 inch TV. The day head is to starboard and the Bridge is forward with access to Portuguese deck. The black-out blinds make this space perfect for cinema night; or open up the aft doors completely to extend the skylounge into one space with the bridge deck aft.

The al fresco bridge deck aft dining area is shaded with misters and A/C overhead, wind doors to port and starboard, plus the option of Eisenglass or privacy shades to port and starboard. Full wet bar to port and 60 inch TV to starboard. The large round dining table has a built-in auto Lazy Susan and can accommodate up to 12 guests. Aft of the dining area are two chaise lounges centered, plus an L-shaped bench seat with cocktail table to each side, port and starboard. You can access the aft deck or sun deck stairwells on the starboard side, or walk around to the Portuguese deck forward. The bridge deck can be accessed by the elevator.(For wheelchair access, the elevator is 27.75 inches wide).

SUN DECK:
The sun deck is semi-shaded area with hard-top midships plus an additional three triangular sun shades forward if desired. The oversized Jacuzzi can accommodate up to 10 guests surrounded by large sunpads and is situated forward with three adjacent bar stools to enhance this space as a great social gathering place. On the starboard side there is a full bar with nine bar stools, 60 inch TV, BBQ, and day head. To port is a comfortable C-shaped seating area with cocktail table. Aft is a terrific sunning area for those seeking full sun with 2 chaise lounges, toy storage while underway, and exercise equipment. The Sun Deck can be accessed by the elevator.
Other Entertainment
10-person Jacuzzi on sundeck
Ship-wide music system with individual iPod docking stations throughout
Other Toys
Towed 42 ft Tender (Invincible) equipped for fishing. Side door boarding for snorkeling and beach trips. Head.
Rib with 260hp Yanmar Jetdrive. Towing post for Skiing, Wakeboarding, pulling Banana and tubes.
3 x Paddleboards (1 of which can be converted into a Windsurfer)
2 x Seabobs
1 x Laser Pico
SCUBA: 26 cylinders, with standard compressed air and Enriched Air Nitrox Compressor, 15 BCs
Exercise Equipment: Treadmill, Rowing Machine, Free Weights with bench, yoga mats, steps.


Communications
Satcom and SatFax
Computer, printer, scanner
VSAT constant wireless internet access
Entertainment System: Crestron video and audio equipment with Kaleidescape Movie system, WD Network Movie server all operated with iPads.

Crew Profile
Captain (Rotation)
HENDRE (HENNIE) DU PLESSIS
Hendré (aka Hennie) was born and raised in Cape Town South Africa, joining the yachting industry immediately after completing his education in 1999. As the son of a yacht builder and brother of a Chief Engineer, Hendré has a firm connection to the water and with a cousin also in the industry, you could say it's in his blood. He became a captain at the age of 26 on board 157ft Christensen Nice n Easy. Hendré has been at the helm of Remember When since its launch in June 2010, overseeing the build and the maiden voyage from the Columbia River in the Pacific North West, down the West Coast, Central America, through the Panama Canal and San Blass Islands back to our home port in Florida, and has successfully managed the vessel and crew since. He has traveled independently through the U.S., South America, Central America, Southern Africa, and Australia while pursuing his interests of returning to nature, camping, backpacking/traveling, motorcycle adventuring and cooking out. He enjoys all water sports especially paddle board surfing and scurf boarding. He plans to complete a power paragliding license in the near future. Growing up on a farm and attending Agricultural school drove Hendré to build and run his very own hobby farm, overlooking Table Mountain outside of Cape Town in South Africa. Highly regarded by his peers and loved by his crew, Hendré is an integral part of the dynamics of the vessel, and its smooth operation as displayed by his impressive tenure.

Captain (Rotation)
FRANCISCO CHADINHA
Francisco grew up in a peaceful seaside village in Kleinmond, South Africa. After finishing school his desire to travel led him to the South of France where his yachting career began. His experience as a captain has flourished since he started in the yachting industry 17 years ago. Francisco has extensive knowledge on some of the most pristine and exotic coastlines having cruised throughout Europe, The South Pacific, USA, Central America and the Caribbean. Francisco's experience as a charter captain has not only allowed him to travel the globe but also meet various people from different cultural backgrounds. He takes great pride in his professional role so that guests can be assured of their safety, comfort and peace of mind while aboard Remember When. Francisco's aim is to make sure your experience onboard is unforgettable, whether your desire is to visit ancient ruins or sunbathe on secluded beaches in the Caribbean. In his spare time Francisco enjoys being active, water sports and photography.

First Officer / Open Water Diver (rotation)
DEVYN VAN DER WESTHUIZEN
Devyn was born in Pretoria, South Africa. At the age of three his parents moved to Cape Town, known for its beautiful beaches and impressive backdrop of wineries. He got his start in the yachting industry in 2002 and now has 16 years of experience on various vessels between 50m - 74m, some of which have circumnavigated the globe. He has been first officer for the past 7 years on motor yachts Dragon-Fly and Majestic. Devyn has been fortunate enough to dive some of the most pristine sites around the world including the Maldives, the Red Sea, the Caribbean, Europe and the San Blas Islands. Devyn enjoys art, sky diving, diving, rugby, music and keeping fit.


First Officer/ Dive Master (rotation)
JAMES FLEAY
James grew up on the remote island of Papa New Guinea. He spent his childhood fishingand diving. After school James pursued his diving career and spent three years diving commercially. Growing up on the Ocean it was only natural for him to join the yachting industry. With 12 years of experience and a Master 3000, James runs a dynamic and sharp deck team. He currently holds a PADI Dive Instructor License and he looks forward to taking you diving in the exotic waters of the Bahamas. James has spent the majority of his career sailing the Mediterranean and Pacific islands. In his spare time, he enjoys kite surfing, surfing and fishing.

Chief Engineer / Dive Master
TRAVIS CROSS
Travis was born in Coffs Harbor on the North Coast of New South Wales Australia. However, he was raised in Papua New Guinea (where his parents still live) from the age of 6 years old. Travis spent his weekends sports fishing and diving and competing in fishing competitions at a National Level. He attended high school in Brisbane Australia. There he represented his school in Rugby Union internationally, touring Europe, America, New Zealand and the United Kingdom. After completing high school Travis went on to become an occupational level 3 commercial diver. This included doing underwater construction and salvage work in North Queensland. He joined the yachting industry in 2003 as a fishing guide and worked his way up the ranks to his current role as Chief Engineer. Travis has crossed the Atlantic and Pacific Oceans and worked multiple contracts in Asian waters. He enjoys spear fishing, cars, skateboarding and snowboarding.

Chef
TASIA HAAG
Chef Tasia Haag trained in Dunedin, New Zealand qualifying with her certificate in London City and Guilds. She travelled to London for two years where she worked with celebrity chefs. Tasia then moved to Melbourne, Australia also working for celebrity chefs and later becoming head chef of 2 busy restaurants. During this time, she acquired a 6-month contract at 'Montpelier Plantation Inn' in Nevis, West Indies, which catered to the likes
of Lady Diana and her family. Her yachting career started in Hong Kong in 1999 where she boarded her first super yacht. Since then she would spend time traveling extensively through the Mediterranean, Caribbean, Bahamas, Cayman Islands and the USA. This set her on a remarkable world-wide journey cruising for over 4 years to remote destinations including, Egypt, Golf of Aden, Seychelles, Asia, Indonesia, Malaysia, Papua
New Guinea, and Australia. The importance of keeping her mind stimulated by training and learning different styles of cuisines is paramount to looking after both guests and crew which is why she trained in Thai cuisine, Cajun creole, (New Orleans), authentic Indian Cuisine from the Seychelles, West Indian and Sri Lanka. Her interests are diving, music/ guitar, cycling, and reading. She loves learning, good food and good friends.

Chief Stewardess / Dive Master (rotation)
BIANCA FRANCK
Bianca was born in South Africa but was raised in Mozambique from an early age. She spent her younger schooling years at a Portuguese school in Mozambique where her parents owned and operated a resort and Bianca's mother ran a diving operation. This has given Bianca exposure to many adventures in and around the water from an early age, completing her dive tickets with her mother as an instructor. Her high school years were spent at a boarding school in South Africa. Bianca speaks English, Portuguese and Afrikaans. Bianca has always loved traveling but decided after school to pursue her creative talent and undertake further studies in Interior Decorating. It was here where her flare and love for interior colors, fabrics and finishes became apparent and she was introduced to some of the world's most lavish textiles. A call to the world of yachting followed and Bianca thoroughly enjoys bringing new and creative themes to the table, setting for fine-dining experiences and producing all-round 5-star service for guests a board Remember When.

Bosun / Fishing Mate
KYLE STRYDOM
Kyle was born in Pretoria, South Africa. At the age of eight his family moved to Paarl in the Western Cape, where he was brought up amidst the mountainous terrain and lush wineries. He joined the yachting industry in 2012 and has spent most of his time cruising the Mediterranean, Caribbean and the East Coast of the United States. Kyle has always been an adventure seeker. He is very active and he enjoys wakeboarding, sports, reading and the outdoors.

Deckhand / Dive Instructor
JOHAN MALAN
Born in Johannesburg, South Africa, Johan excelled in sports during his school years and subsequently went on to play professional basketball and rugby. He holds a Personal Training degree and has trained various sports teams and athletes, including a World Champion. Johan has always been passionate about aquatic life and the ocean. In 2006 he became a PADI Scuba Diving Instructor and spent the next few years living and working on various private islands throughout the Bahamas and the Caribbean. While embracing the tropics, Johan sharpened his skills in fishing, spearfishing and a plethora of watersports. During his spare time, Johan regularly goes hunting, fishing, surfing and golfing. Johan looks forward to making your time on board Remember When special by facilitating the watersports and adventures you have dreamed of enjoying.

Deckhand / 2nd Engineer / Rescue Diver
CAMILO BENEDETTI
Camilo was born in the beautiful and historical city of Cartagena off the Caribbean coast of Colombia. He started sailing at the age of 11 and participated in various South American and World championships, he is also a kitesurf instructor and rescue diver. Camilo obtained a degree in International Business Management and worked in an underwater robotics firm specialized in the oil and gas industry. Camilo joined yachting in 2017, but coming from a sailing background it was a natural transition. He enjoys watersports, drag racing, and video games.

2nd Stewardess
LINDIE CONRADIE
Lindie was born and raised in South Africa and grew up on a farm in the Karoo, a semi-desert region of South Africa known as the country's heartland. Lindie studied Tourism and Hospitality management in Stellenbosch, a famed wine region in South Africa. After which, she completed an internship at a five-star hotel establishment in Franschhoek, an area known for its high-end hospitality and natural beauty. After finishing her studies and internship, Lindie set out to join the yachting industry. In her spare time Lindie enjoys horse riding and staying active.

Stewardess / Masseuse
ZOE ESTEBAN
Zoe was born in the beautiful city of Madrid. She started yachting in 2016 and has never looked back! Zoe has travelled extensively throughout Europe and the Mediterranean, South America, USA and the Caribbean and she is excited to see where Remember When will take
her. She was a professional make-up artist for 4 years working for renowned photographer, Fernando Cortes. She has two masters in fashion and beauty makeup. After this, she decided to extend her education in the beauty industry and study massage, specializing in
Reiki, Swedish, Aromatherapy, Hot Stone and Lymphatic massage. In her spare time, Zoe enjoys photography, animals, and reading, as well as traveling and getting to meet new people and experience new cultures.

Stewardess
CHANETELLE JENNINGS
Chantelle was born in Kenya and then moved to Zimbabwe where she spent most of her childhood. In her Junior schooling years, she attended a farm school working closely with farm animals and learning everyday life skills. Once Chantelle graduated she attended the University of Cape Town and got her BA in English literature, media and writing. She then moved to Tanzania and worked as a lodge manager before becoming a travel agent. Being in the travel industry fueled her desire to discover the world so a few years later she left her 8-to-5 office job to become a yachtie. She has spent the past two years working on yachts in Indonesia, Europe, the east coast of the USA and the Bahamas. In her spare time Chantelle loves traveling, fishing and finding a way to make people smile at every opportunity.