Inquire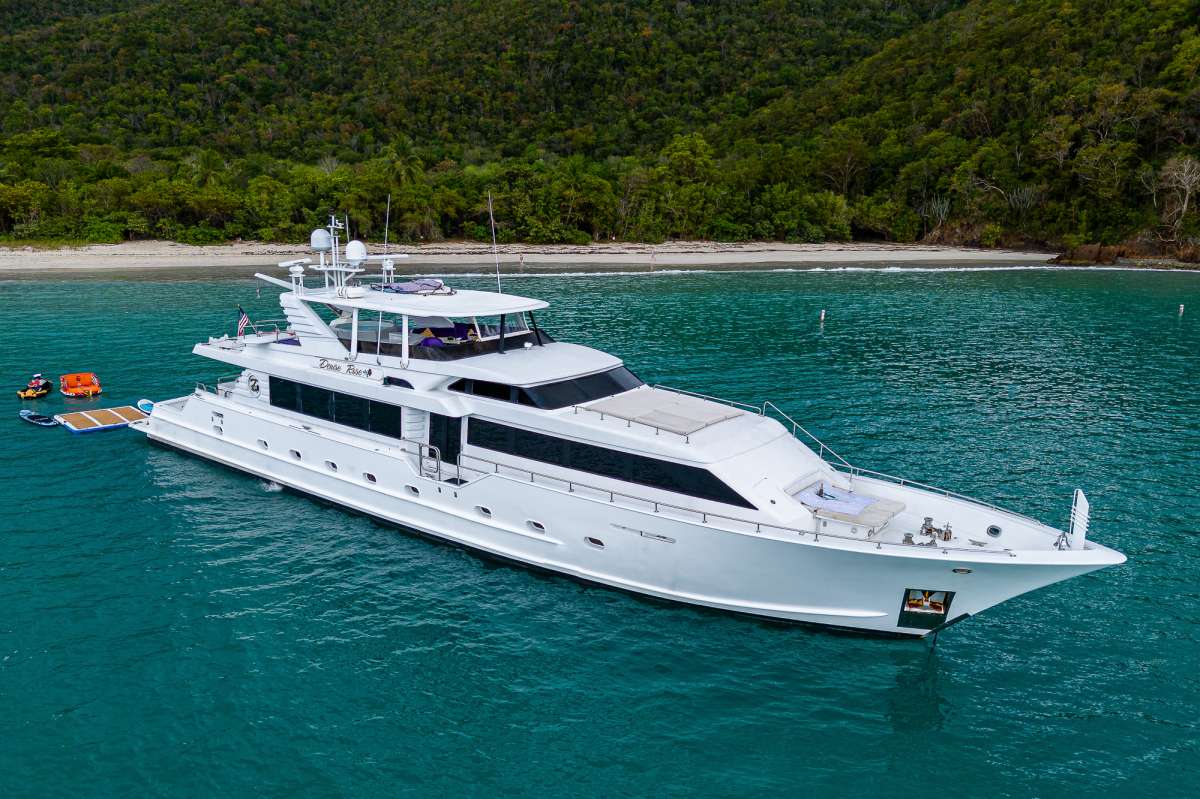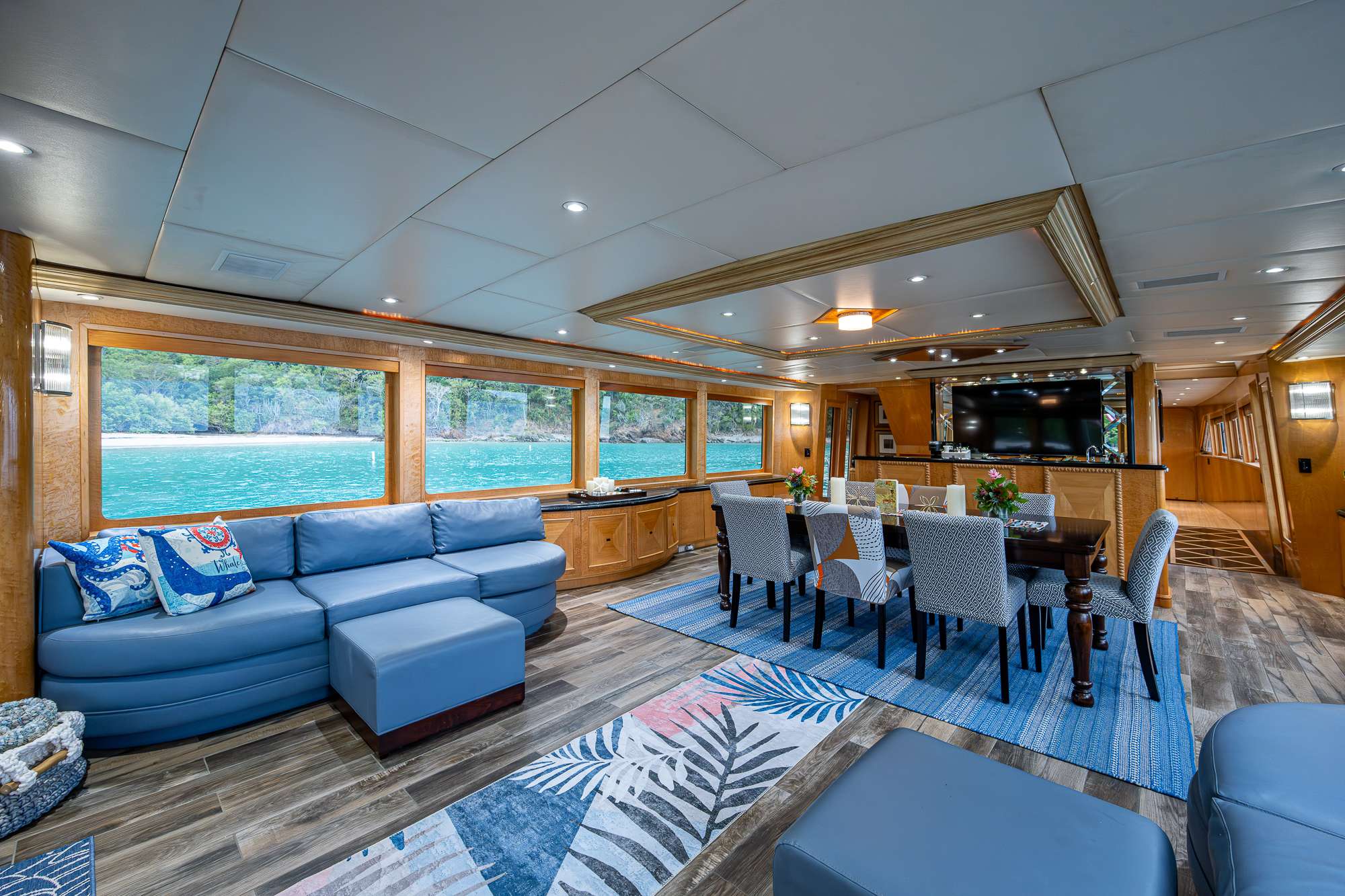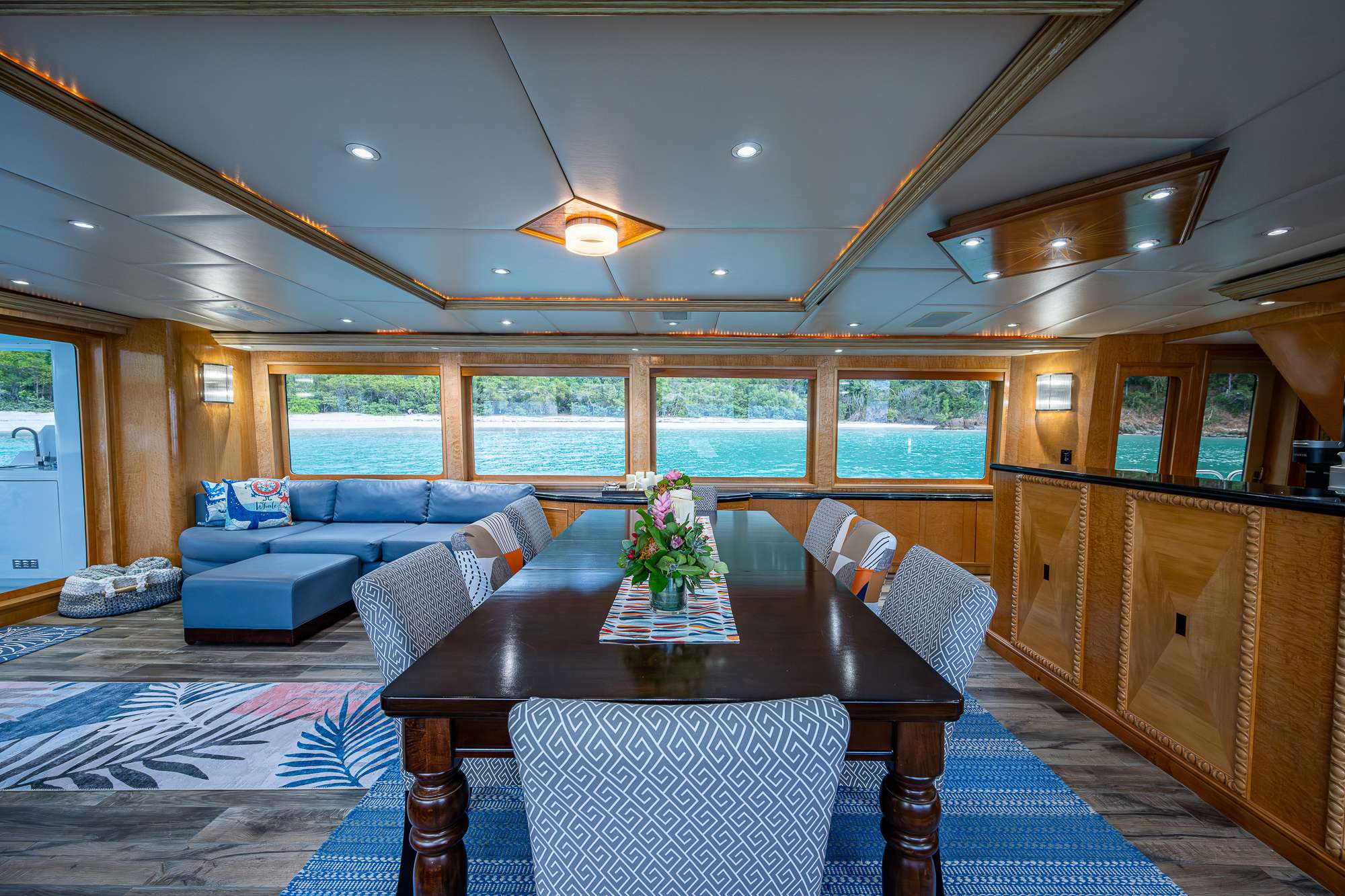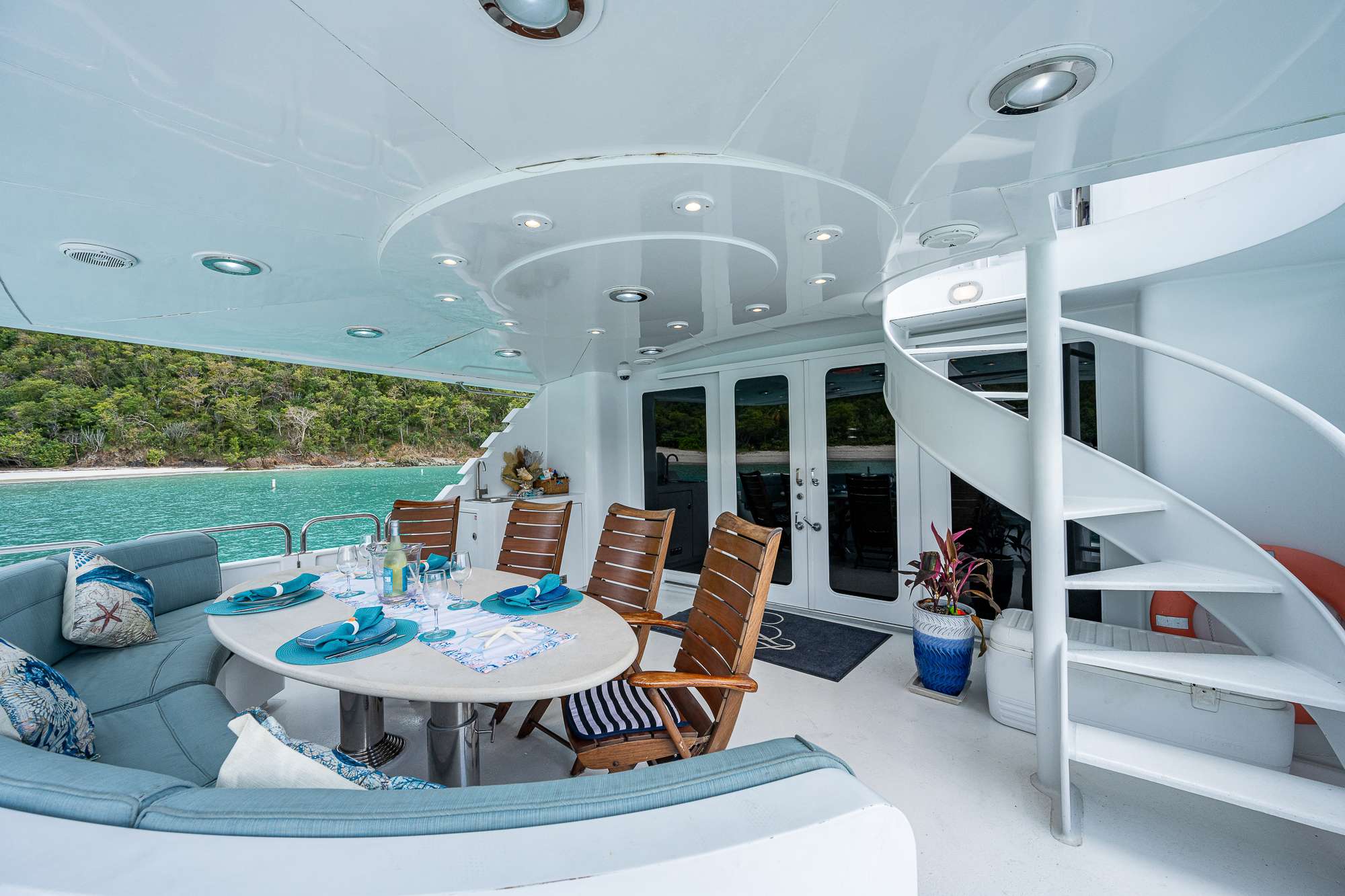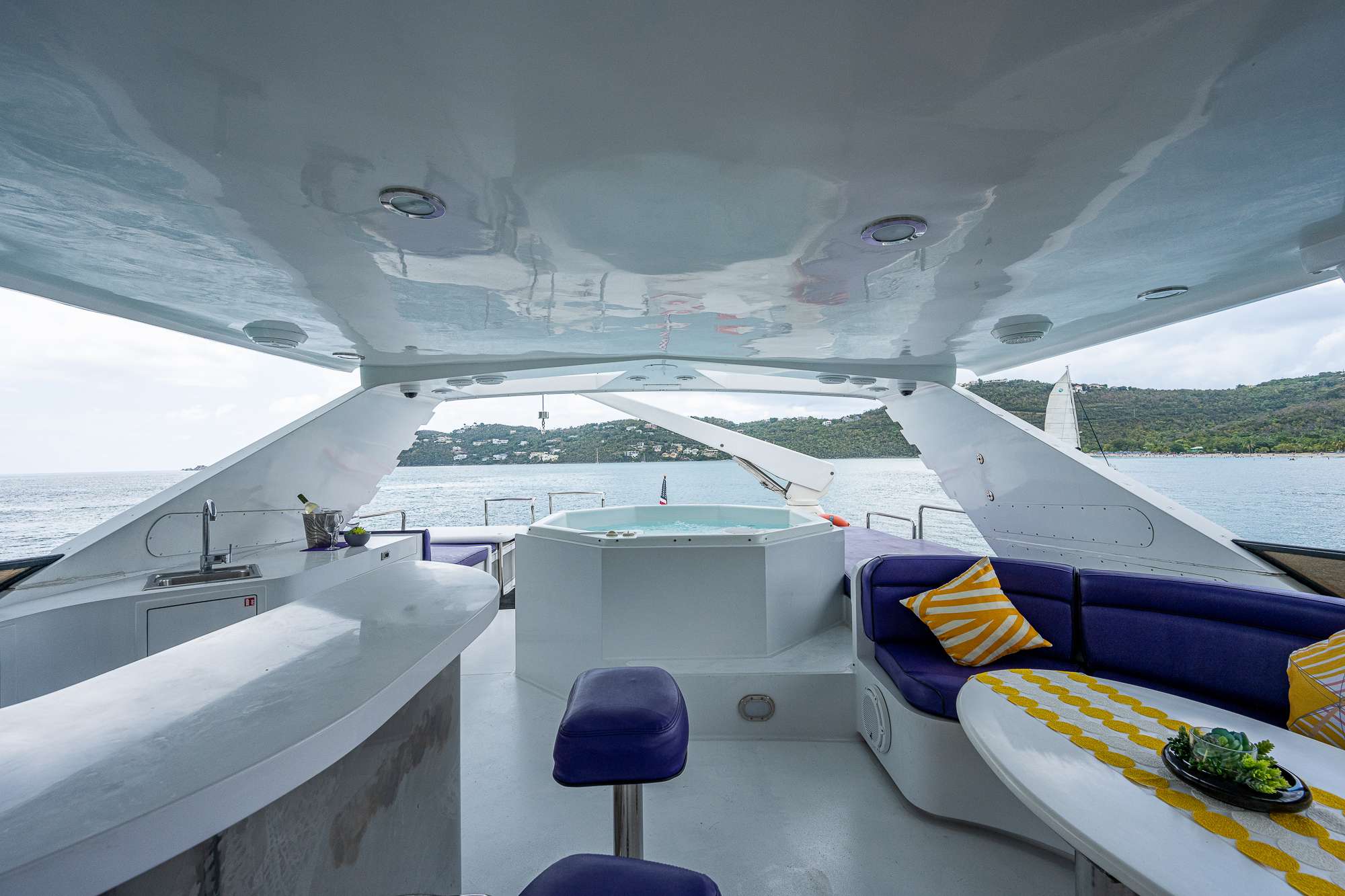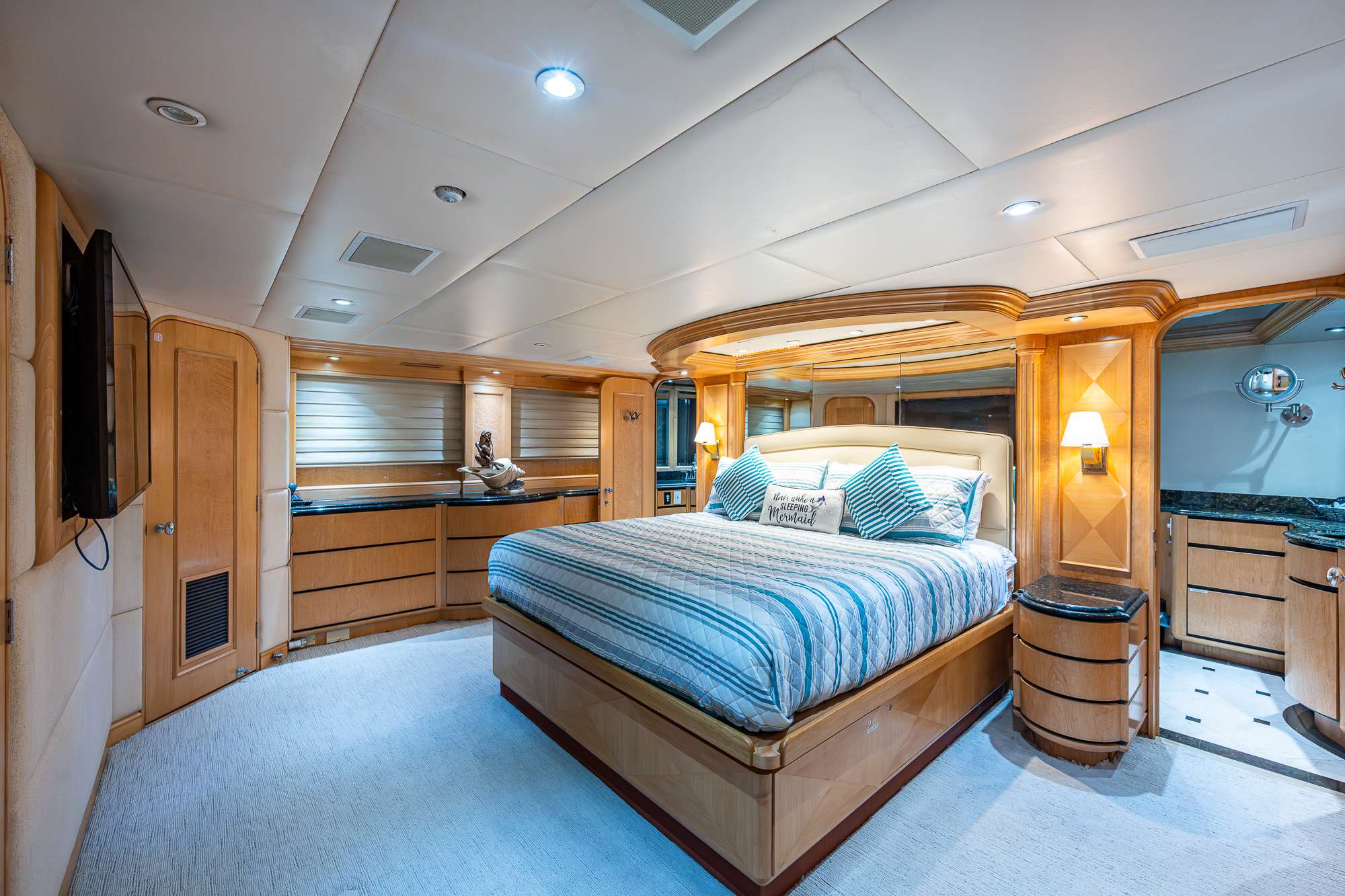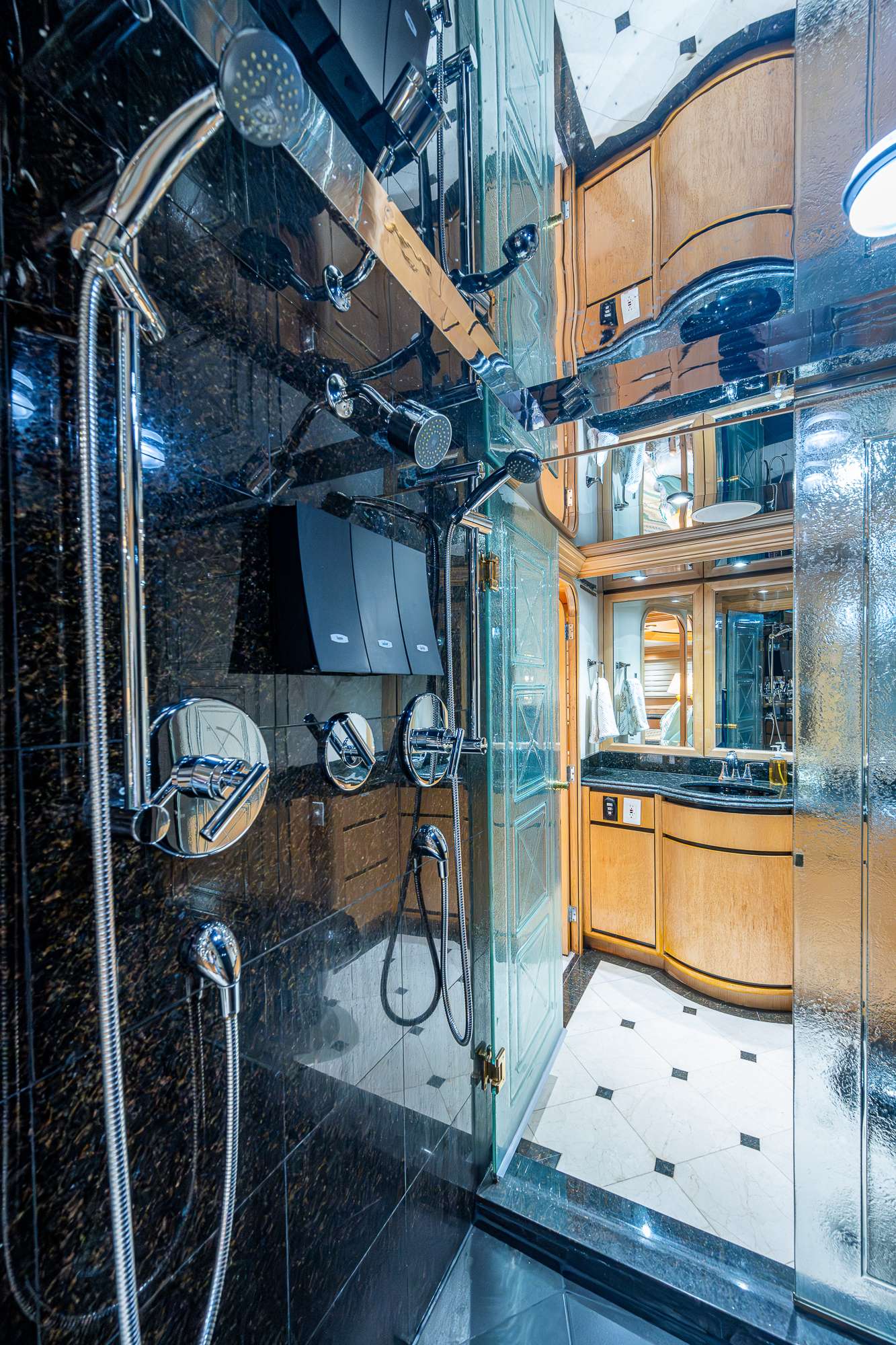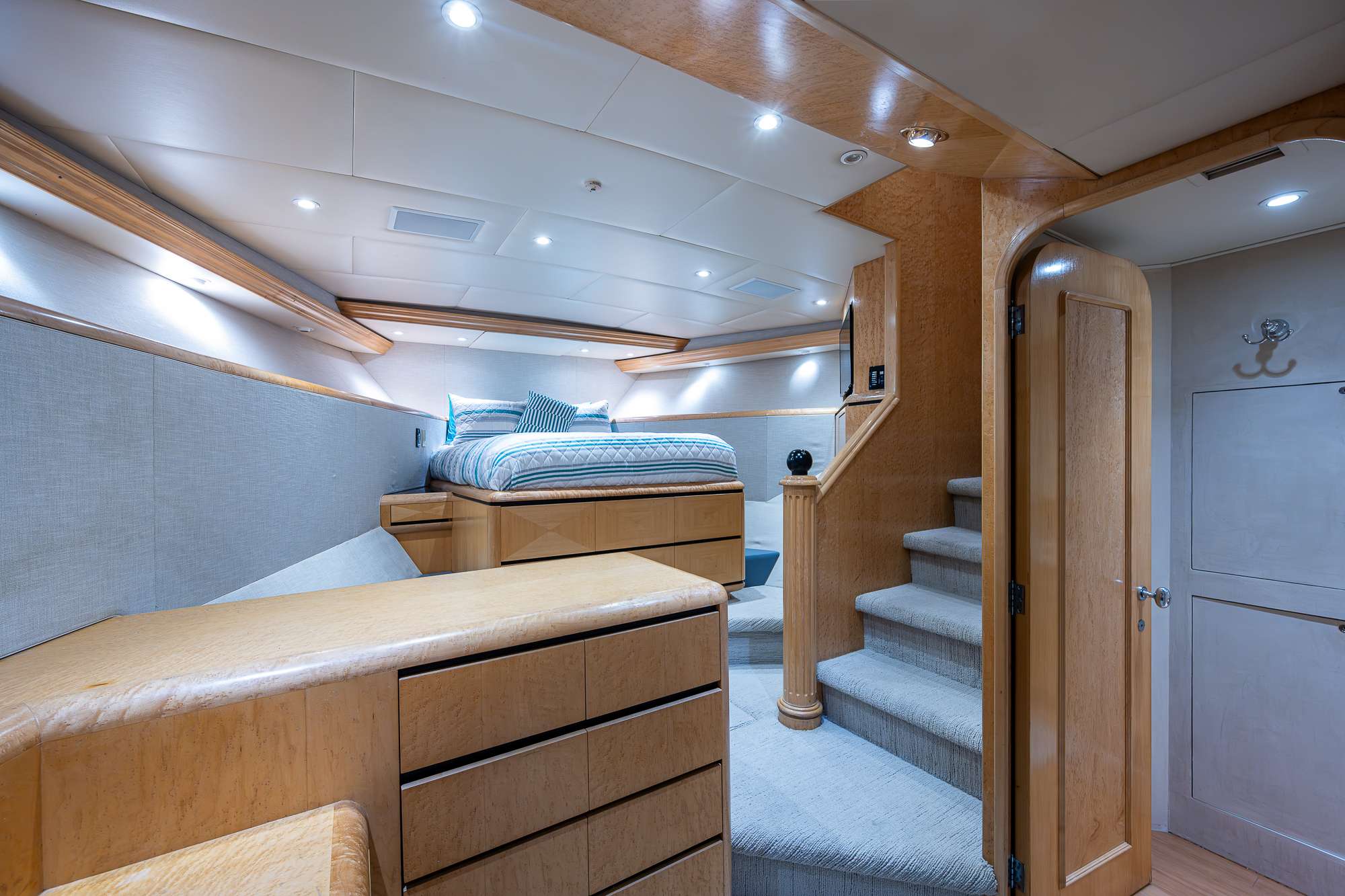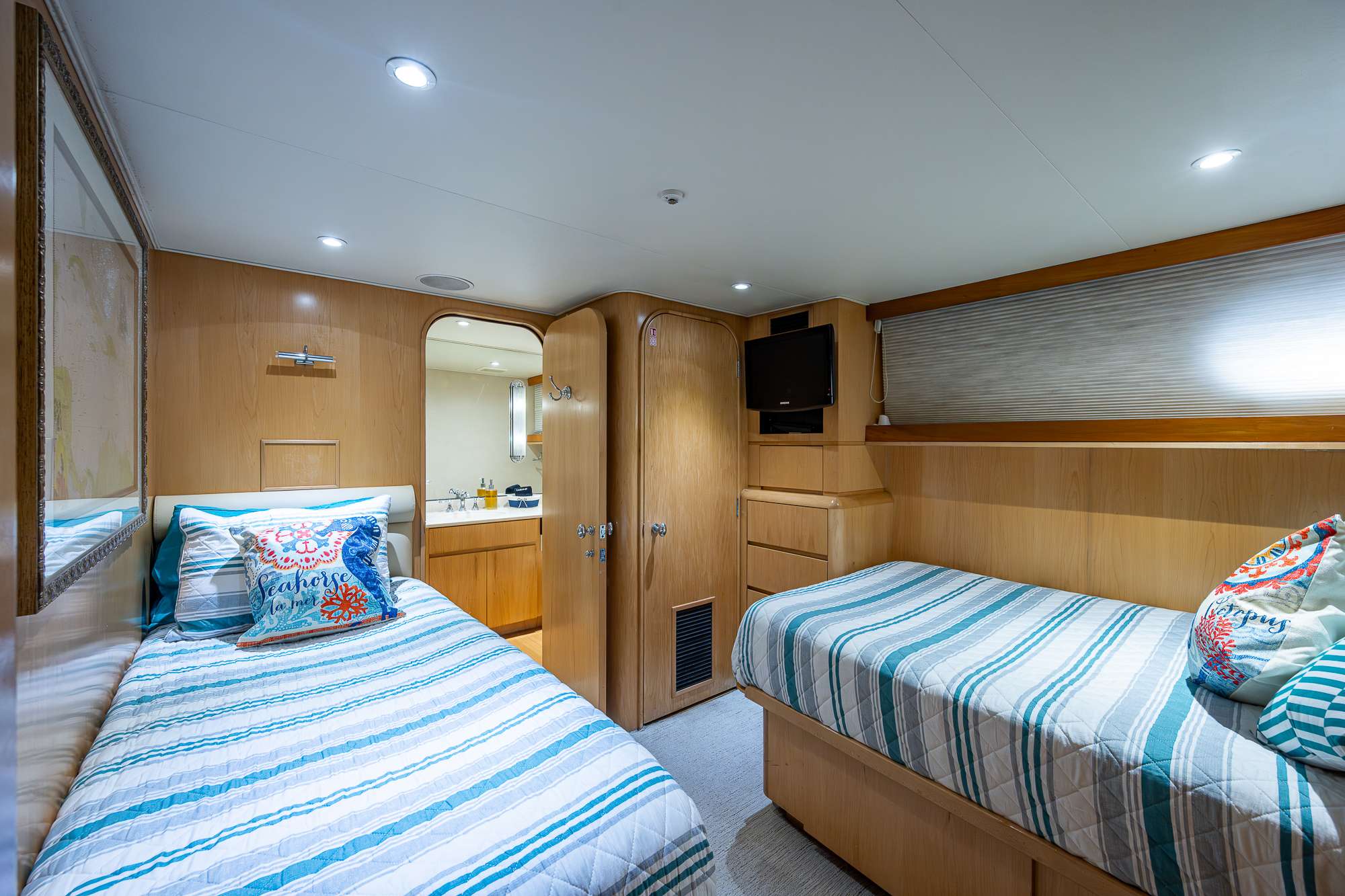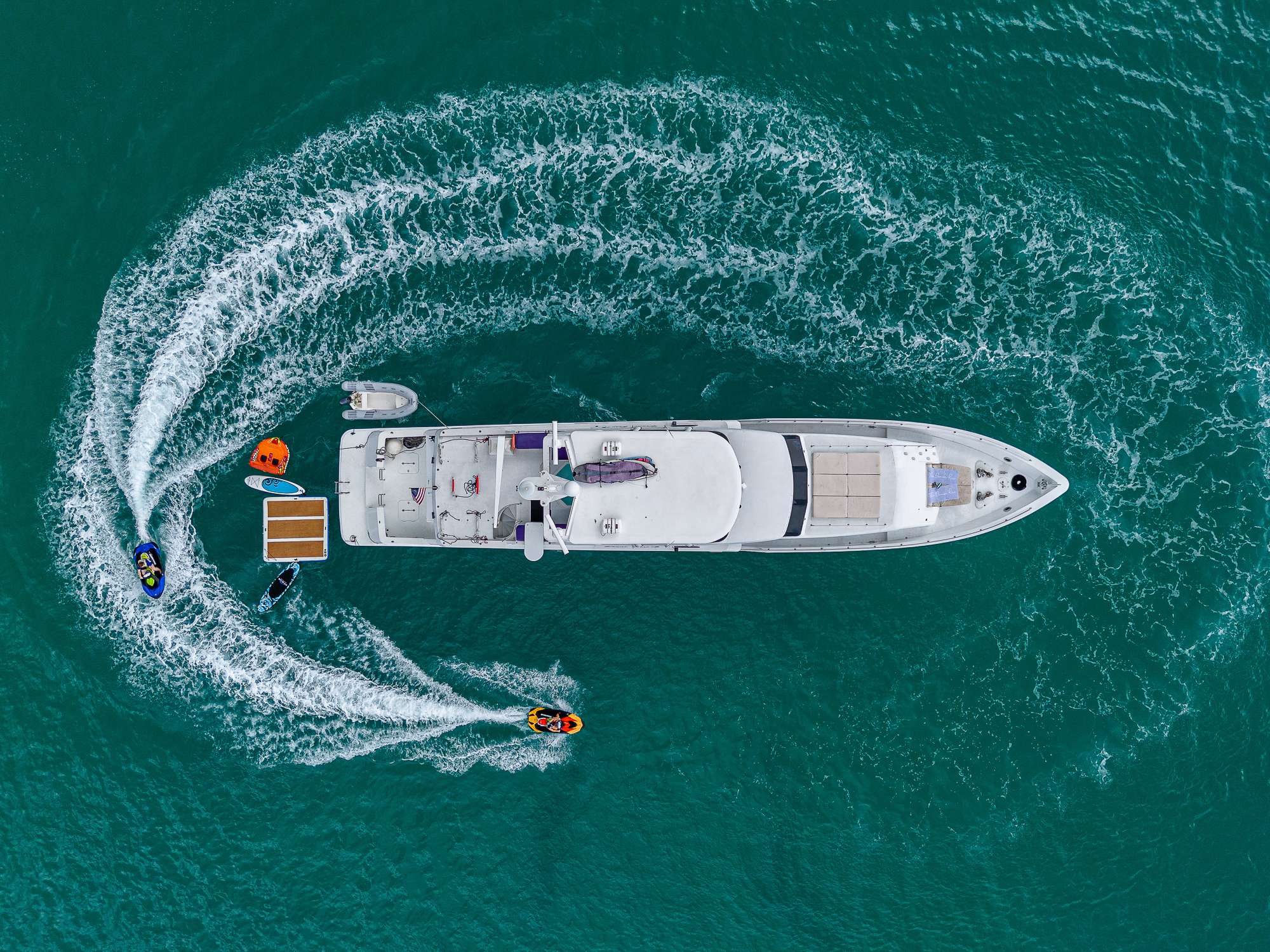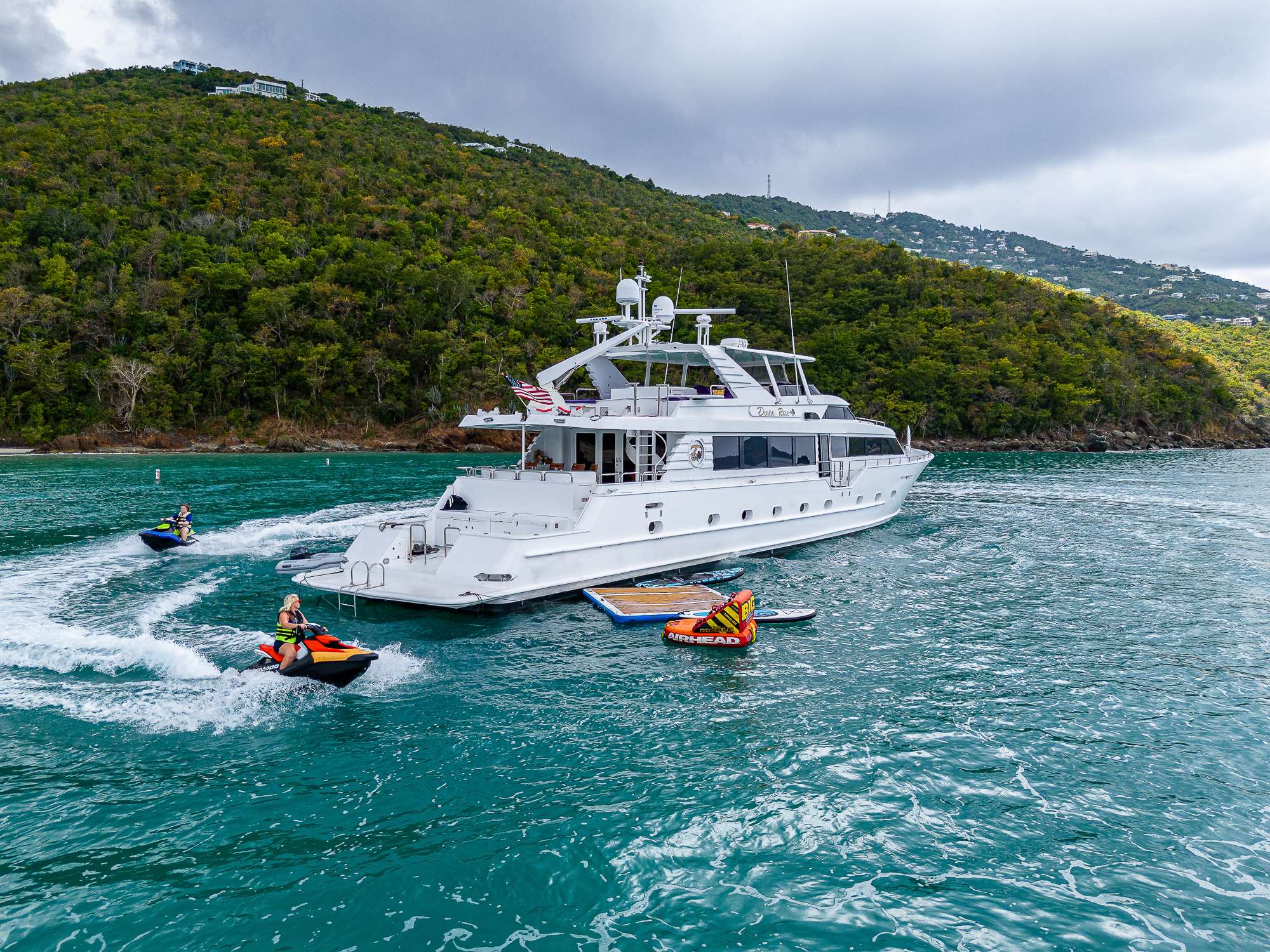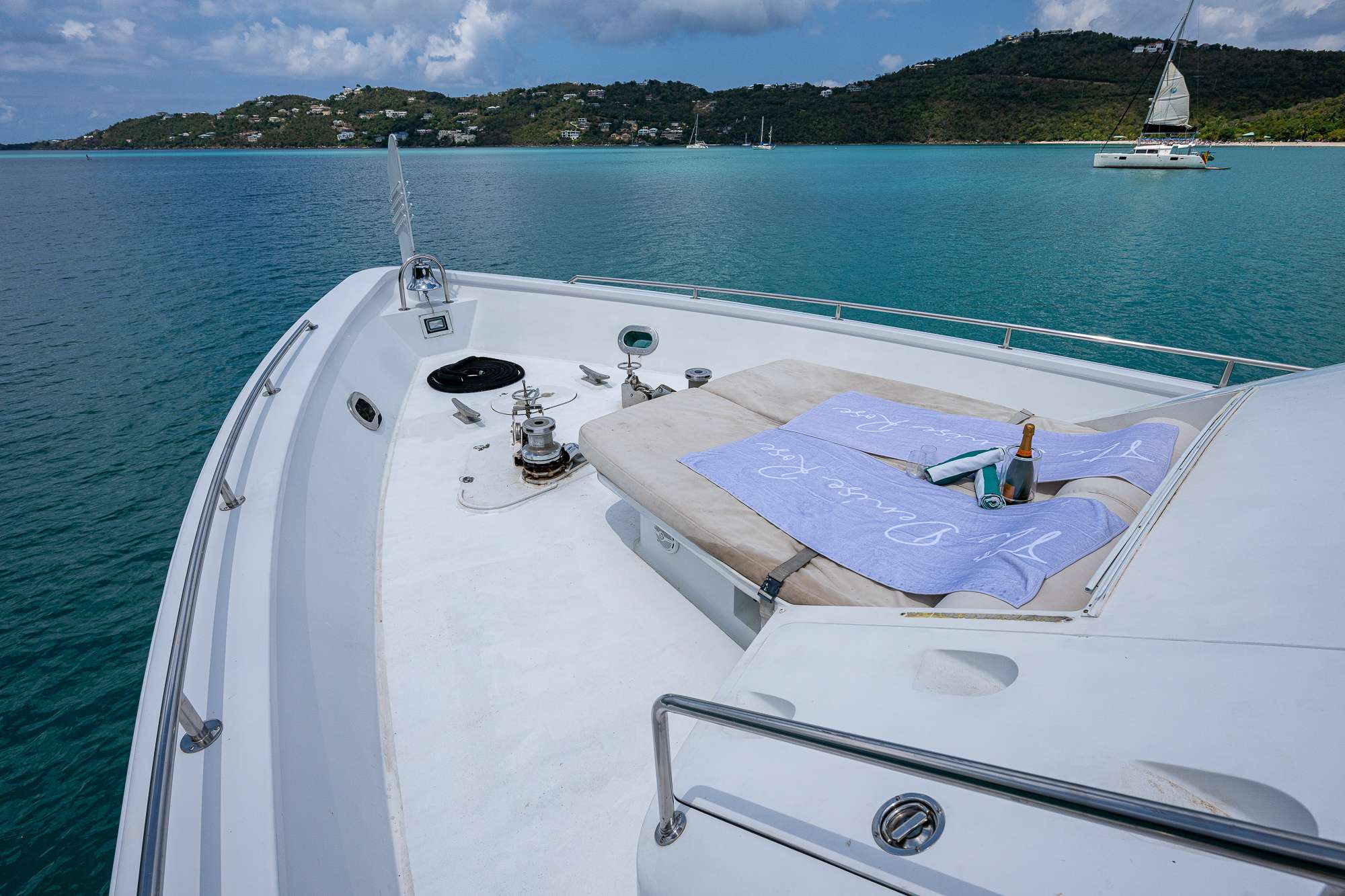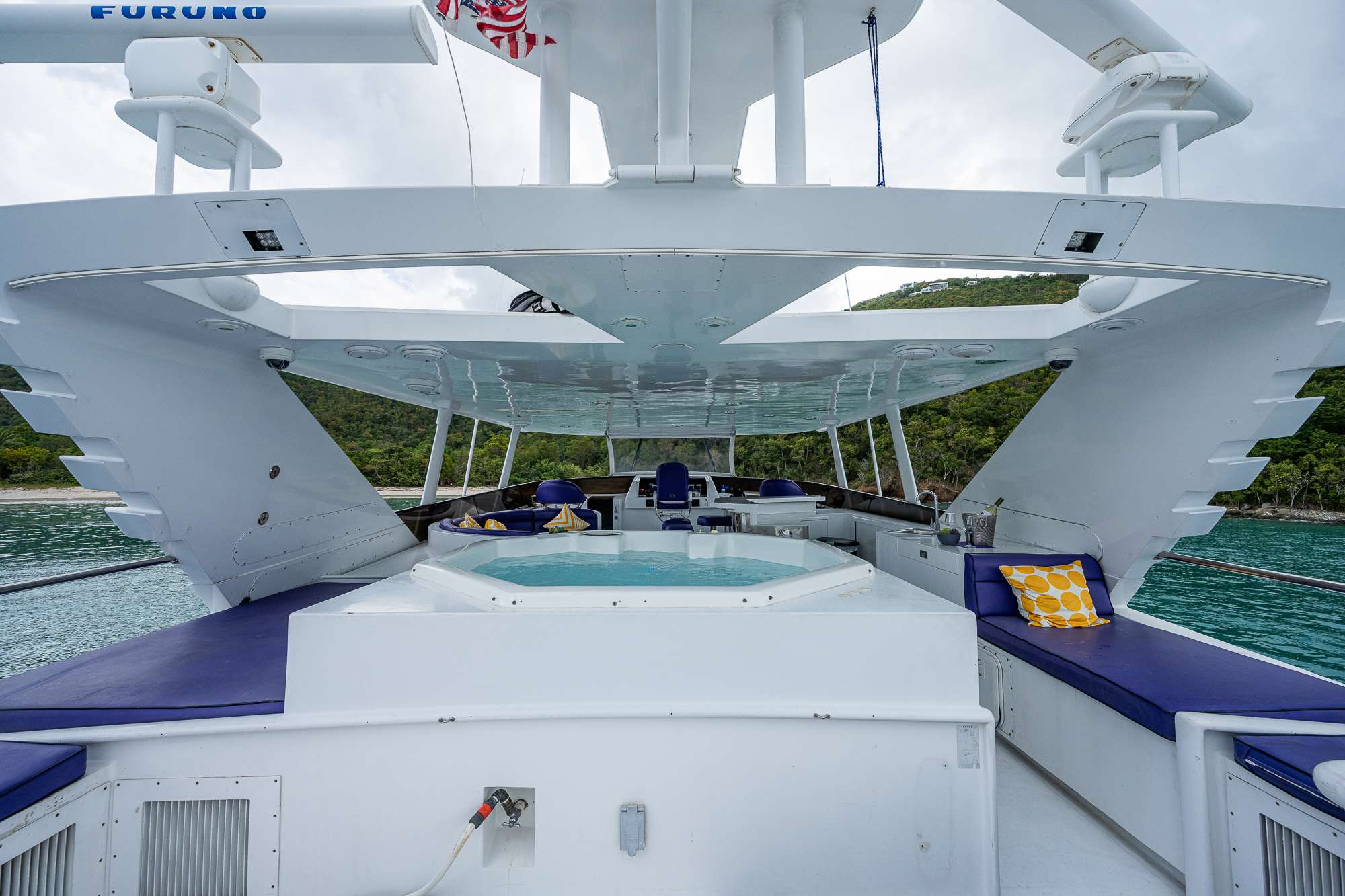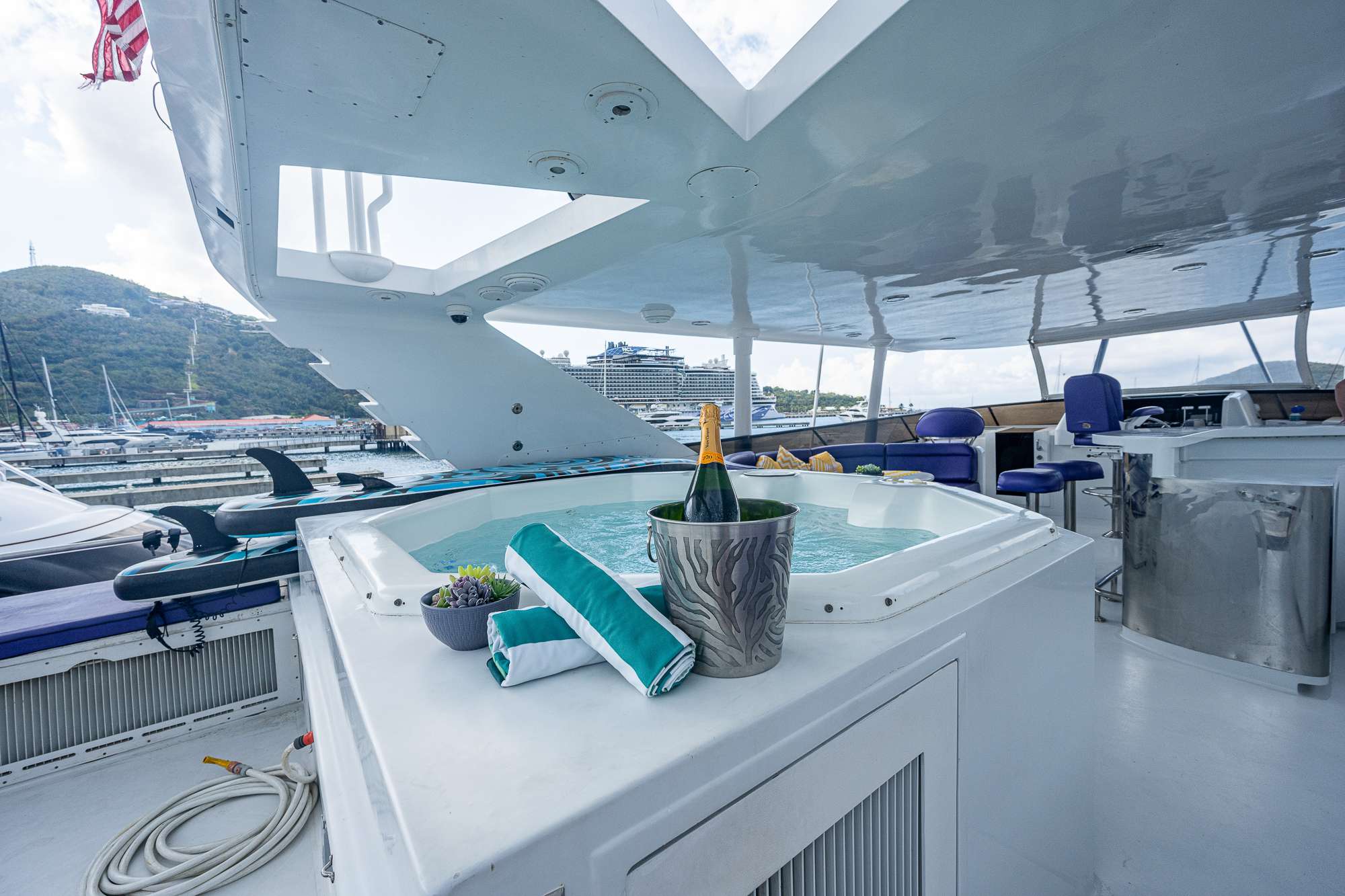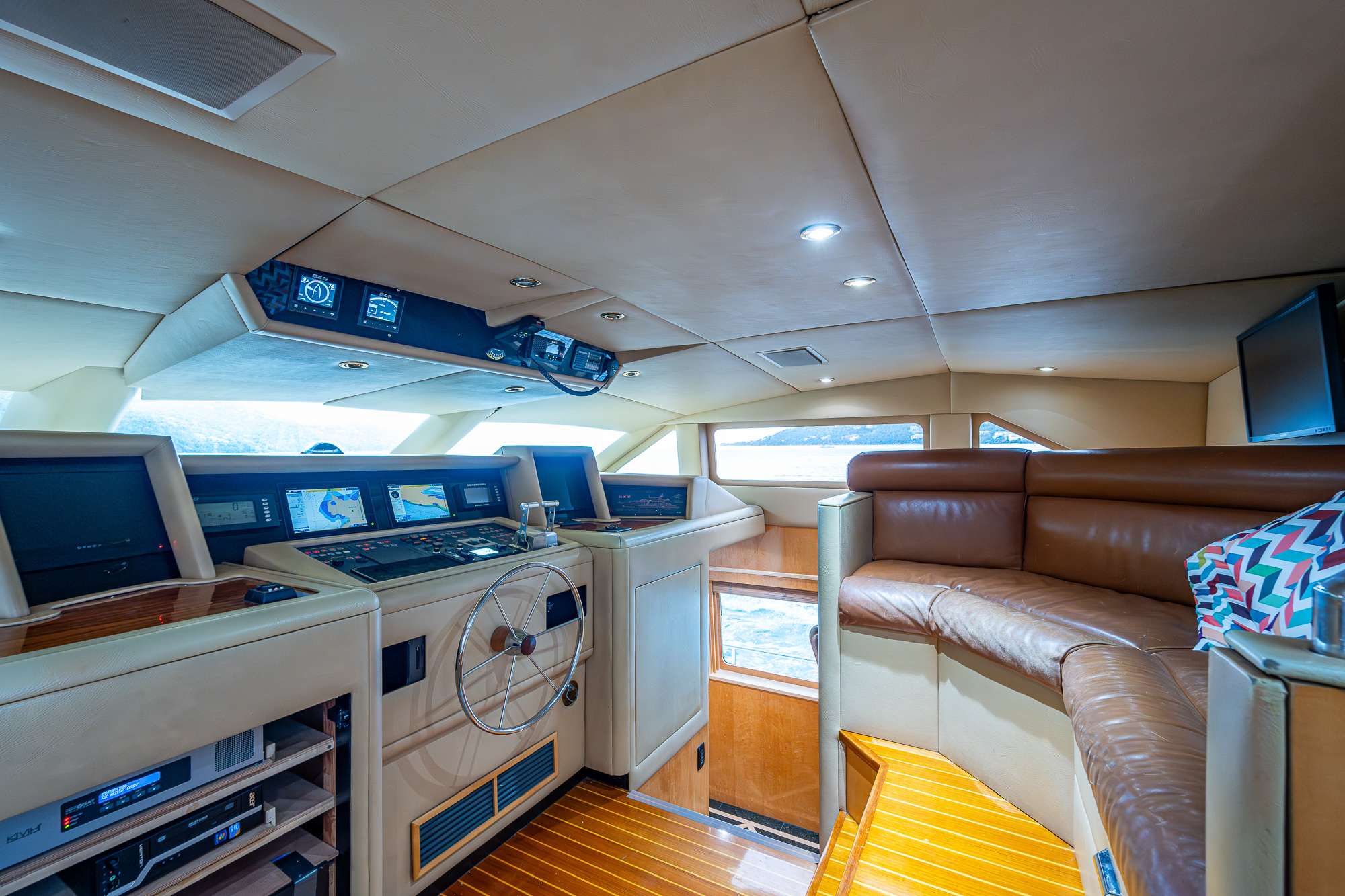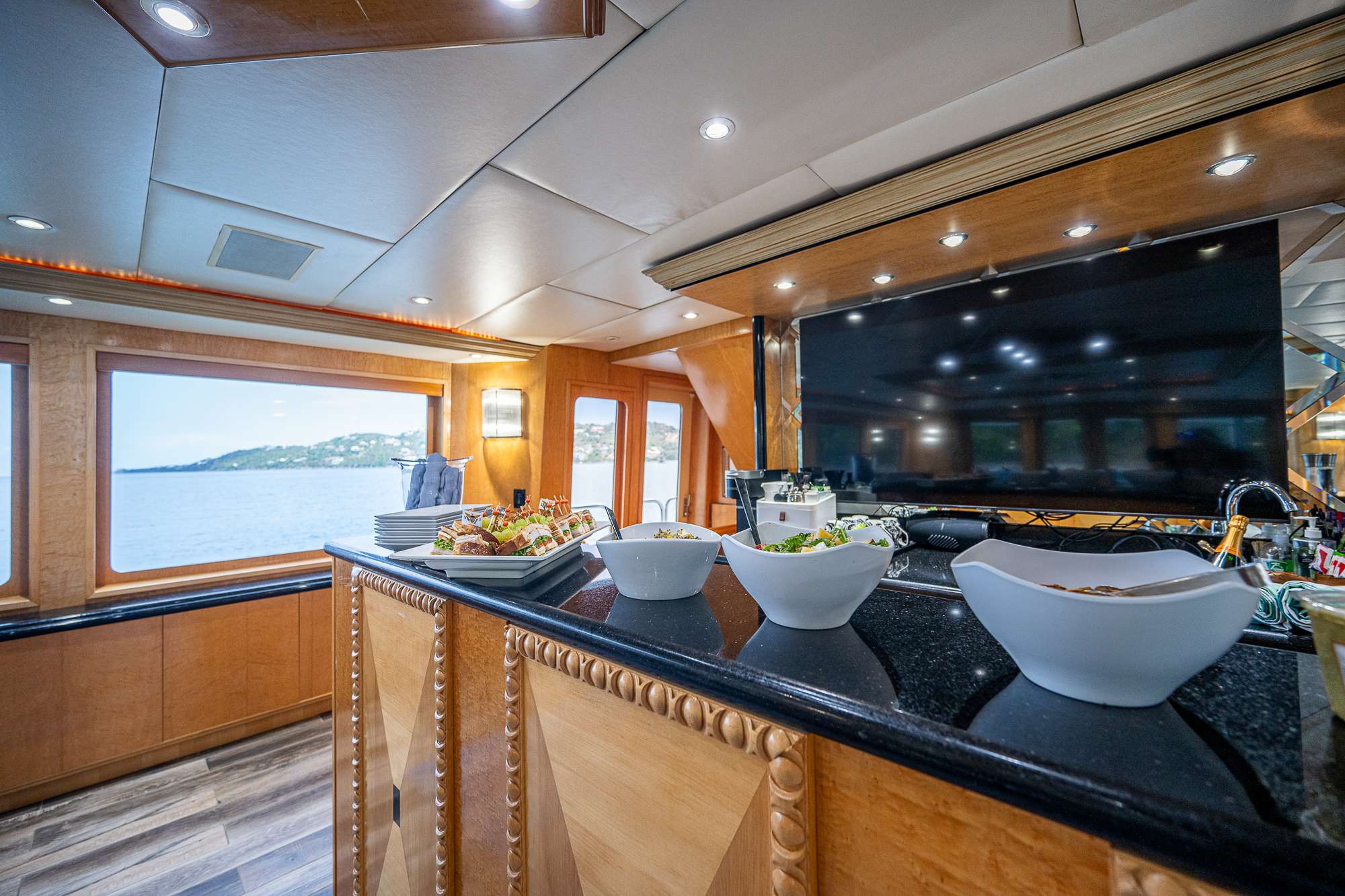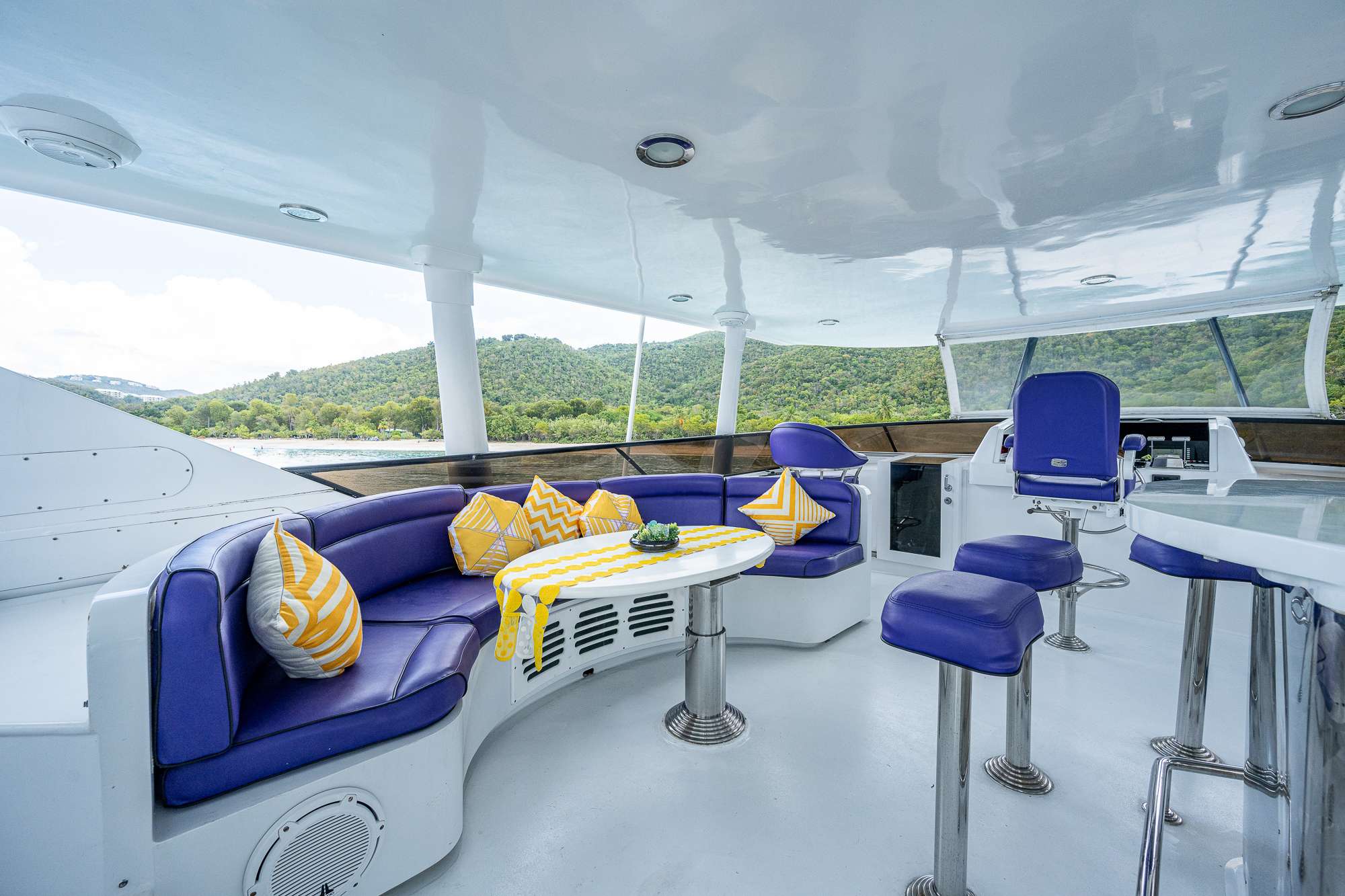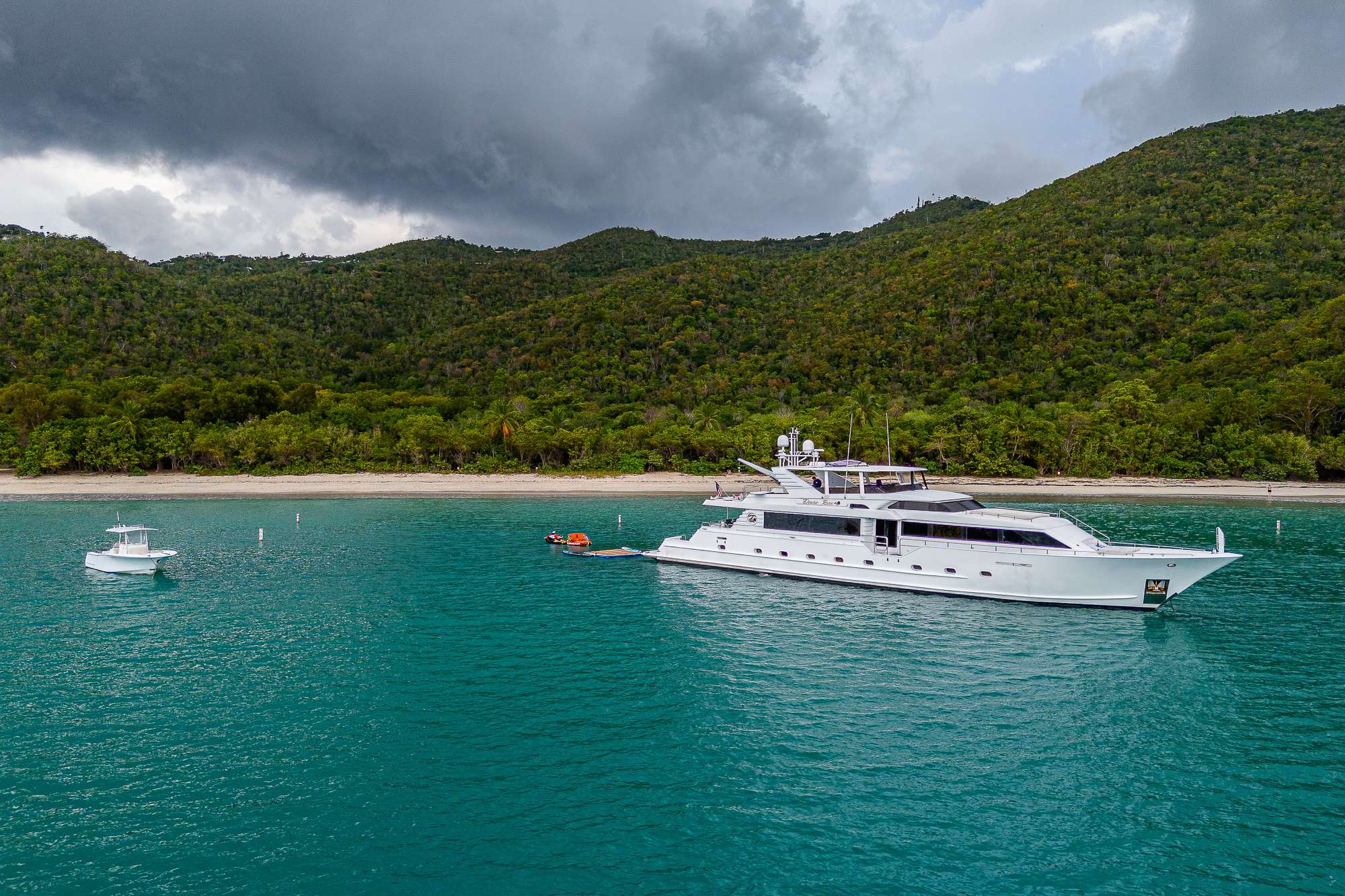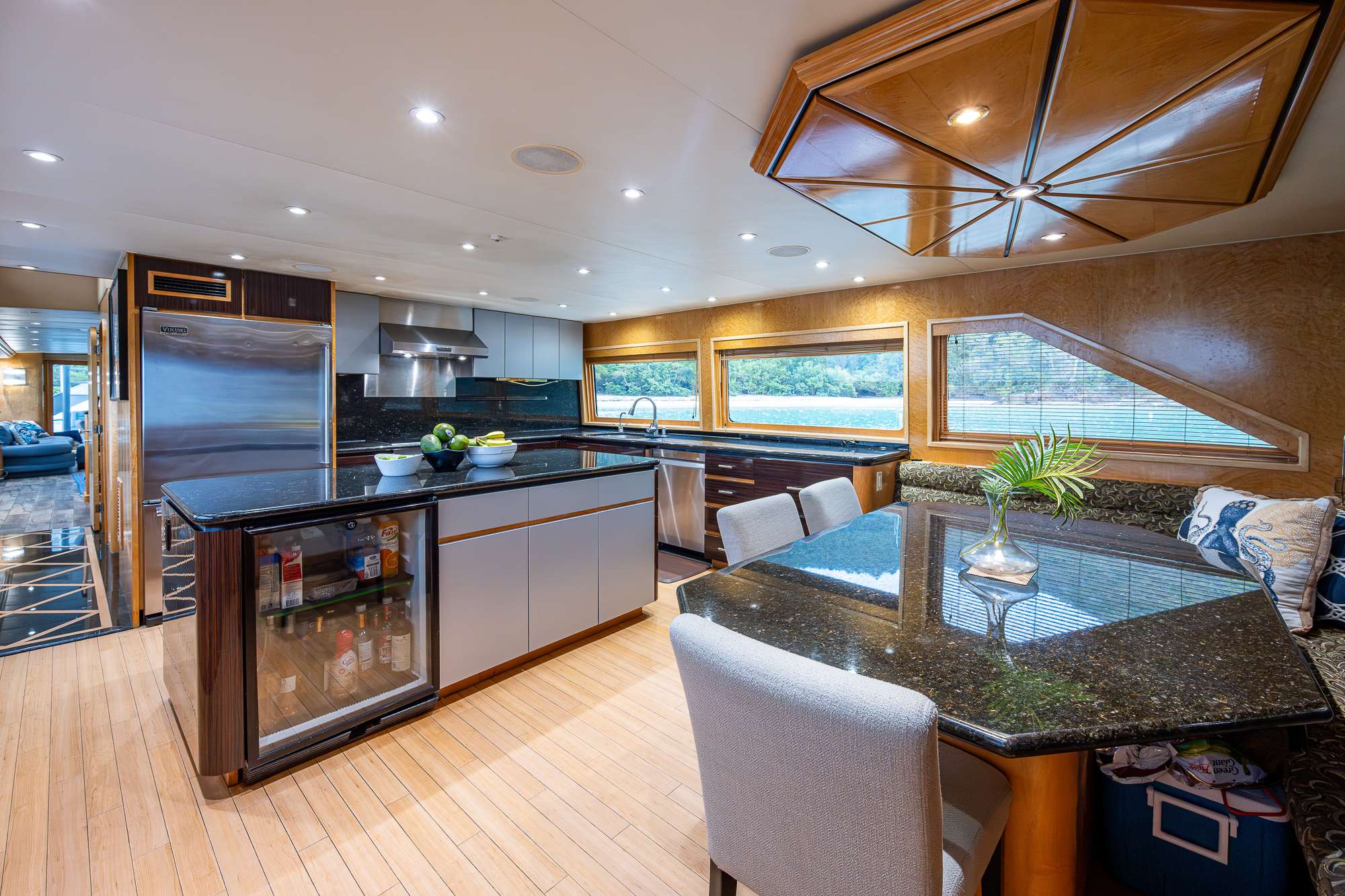 ---
Length:
112
Beam:
21
Draft:
6.5
Guests:
10
Crew:
4
Cabins:
4
Helipad:
No
Jacuzzi:
Yes
AC:
Full
Year Built:
1998
Builder:
Broward
Max Speed:
18
High Price:
$42,000
Low Price:
$42,000
Captain Name:
Keith Hyatt
Captan Nation:
USA
Wave Runners:
2
Snorkeling Gear:
Yes
Fishing Gear:
Yes
Onboard Scuba:
Onboard
Yacht Description
LADY SHARON GAYLE is a highly customized 112′ Broward superyacht. Indulge in a yacht that offers classic styling, elegant interiors, an energetic crew and gourmet chef at a remarkable rate. This luxurious charter yacht offers unusually large spaces and lavish features. Imagine relaxing with a signature cocktail and panoramic views from the sundeck hot tub. Enjoying the passing shoreline from the fully-equipped bar, or the roomy table surrounded by plush banquette seating. The retractable hard top allows guests to enjoy the expansive upper deck in sun or shade.
Interiors are designed to be welcoming, upscale yet informal, stylish and comfortable. The palette of muted earth tones is relaxing. Rich, maple paneling with a soft satin finish is featured throughout. The new furnishings, fabrics and stone are of the highest quality and create an ambience of casual elegance.
On the main deck, charter families and friends gather together in the spacious salon for canapés and conversation. Enjoy a cocktail from the bar, or music and videos on the yacht's complete entertainment system. Dine in the formal dining area, or al fresco with sea breezes and stunning views on the aft deck or sundeck.
Guest accommodations are wonderful for extended families and groups of colleagues and friends. There are four staterooms with six berths positioned on the lower deck level. The master stateroom features a king size bed, cedar lined closet and his-and-her facilities. The VIP stateroom occupies the entire bow area and is nearly equal to the master. It features a queen size bed, plenty of storage and sizable bathroom with shower. Two guest staterooms are furnished with one double bed and one twin bed, so extra berths for children, single guests or staff.
LADY SHARON GAYLE is ideal for island hopping. Powered by Detroit Diesel engines of 1800 HP each, she reaches a speedy 18 knots and happily cruises at 12 knots. Pick up the yacht in St Maarten and enjoy excursions to chic St. Barth's and pristine Anguilla.
Yacht Accomodations
Below, the master stateroom features a king size bed, large flat screen TV with all of the entertainment options, cedar lined closet and his-and-hers baths. Two of the guest staterooms are identical, and offer an oversize double bed in addition to one twin bed in each cabin. A VIP stateroom, below forward, is unusually large, and features a queen size bed, very spacious and comfortable en suite bathroom with shower, and the cabin occupies the entire bow area.

Originally commissioned as Varsity Jacket and then becoming Strait Jacket, LADY SHARON GALE has a successful charter history, a brand new updated interior, and is ready to resume making memories of a vacation of a lifetime.

On deck, Lady Sharon Gale offers an unusually large and multifunctional cockpit which is original to the yacht's construction. All outdoor living areas are easily accessed via comfortable stairs that transition from the cockpit to aft deck to the fly bridge. The fixed hardtop provides sun protection while the Jacuzzi and bow areas have great sunning spaces..

LADY SHARON GALE'S interior is beautifully paneled in satin finished maple throughout. The furnishings, fabrics and stone are of the highest quality. The decor is cohesive and comfortable, and provides a perfect combination of informal elegance. The main salon caters to practical and informal day to day living with comfortable furnishings, a formal dining area, living room area, and full entertainment system. Forward in the galley, she features the enormous Broward "country kitchen" that provides for a casual dining space and comfortable spot to converse with the chef.

Below, the master stateroom features a king size bed, large flat screen TV with all of the entertainment options, cedar lined closet and his-and-hers baths. Two of the guest staterooms are identical, and offer a double bed in addition to one twin bed in each cabin. A VIP stateroom is unusually large, and features a queen size bed, very large and comfortable en suite bathroom with shower, and occupies the entire bow area.


Other Entertainment
All new updated TV's and entertainment systems. Direct Sat TV in all rooms.

Fly bridge with customized table with seating for dining, large Jacuzzi and sunning areas.

Other Toys
The 30' Towable Tender is complete with bathroom + capacity for 10. Twin Yamaha 205.5' Southport 2900TE.
Additionally the yacht has an AB 12 inflatable tender with 25hp carrying 6 passengers.
Communications
Sat Com, cellular
Crew Profile
CAPTAIN KEITH HYATT - (USA)
Keith Hyatt: (Captain). Keith moved to the Virgin Islands in the 80's and found his passion on yachts. He started his career on sailboats, and as his license sizes increased he moved up to motor yachts. Captain Keith gained great boat handling skills and knowledge with time spent running ferry boats and ocean-going tugboats. He now holds a 1600 ton USCG license. Additionally, he worked for ten years aboard fishing yachts in Corpus Christi, Texas.

Keith is used to being Captain, cook and steward, from having to cover everything on fishing charter yachts. This well rounded background enables him to keep boat and crew well cared for and operating smoothly!
He is looking forward to taking guests on charter, and of course is one of the the best captains for enjoying fishing, whether from from LSG's tender or aft cockpit! Keith is also a Master Diver and enjoys all types of water activities. He became Captain of Lady Sharon Gale in April of 2018 and has overseen much of the latest refit, making him intimately familiar with the yacht.
Guests aboard will find Captain Keith's easy going, yet accommodating, personality perfect for hosting their time aboard. Besides his love of sailing, fishing, and diving, Keith is an avid runner so is able to keep up with even the most active guests! Keith and his team look forward to welcoming you aboard!


CHEF JOHANN ALEXANDER ROEBERT - (South Africa)
Charter guests aboard LADY SHARON GALE should plan for irresistible cuisine. Pack the linen pants with the elastic waistband. You are about to embark on a gourmet yacht charter. Chef Johann grew up in Durbanville, South Africa, surrounded by vineyards. His father frequently enjoyed taking his two sons to dine at "fancy restaurants". Johann's sophisticated palate and passion for cooking developed early on. He knew he wanted to be a chef, and as soon as he completed high school he enrolled at the ICA (Institute of Culinary Arts) in Stellenbosch.

Johann owned a very successful, upscale restaurant in St. Maarten for 11 years. Last year it was destroyed by hurricane Irma. He has catered to villas, private jets, and also worked as a yacht chef on several different yachts. His versatility and innovative talents are well known in the industry. Recently he has started making favorite South African recipes. Charter guests might sample Biltong, a jerky-style snack, or Boerewors, a special sausage. Barbecue is another South African tradition. Johann says, "I love cooking in nature over open flames or "Braai", as we say. Cooking on a campfire is one of the most enjoyable things to do. I have a special spot in my heart for traditional South African cuisine (Cape Malay), but my favorite cooking style is French cuisine. Japanese cuisine is also a favorite.

"I have always been drawn to the kitchen", says Johann, "If I have to choose one reason that I'm so into cooking, it's because everyone loves good food! I immensely enjoy the happiness I bring with this skill. Secondly, cooking has taught me so much about different ways of life, and about cultures and histories through traditional recipes. I grew up around yachts, so a career in the yachting industry is a perfect fit. I get to cook at my highest level for the pleasure of wonderful guests from all over the world."


STEWARDESS LISA VAN VEGHET - (Netherlands)
Lisa has a background in hospitality, although fairly new to yachting. She went to school in Holland at Avans University with a degree in business innovations. She later studied marketing and communications. After moving to St. Maarten in 2013 she was employed at IGY Marinas where she discovered yachting as a career.
Lisa learned to work outside the box, and this is apparent with her work on Lady Sharon Gale. She is ever in tune to the needs of the guests!
She has also worked in the bar and restaurant business, where she found that she enjoyed interacting with customers.

Lisa came to work on Lady Sharon Gale in April of 2018 and has been involved in the refitting and organizing of the yacht. She loves to cook, and besides keeping LSG tidy, she can be found it the galley helping Chef Johan and perfecting the meal service. Her hobbies include beach sports, and anything associated with water. She is a very good tennis player and has taken two yachting courses this summer. Lisa is very excited to take care of clients aboard Lady Sharon Gale this season!


FRANS CORNELISSE - ENGINEER (Netherlands)
Frans went to technical school in Amsterdam. He then worked for a carnival while young, which involved working with the customers but being able to make repairs on a minute's notice. This experience also got him very involved in safety, which is taken seriously on LSG.
Frans later became the head of maintenance for a complex of 100 apartments in Holland. He next moved to St. Maarten in 2013 to enjoy the wonderful weather, where he became the caretaker of a large estate that caters to vacation rentals.
Frans has been working with Lady Sharon Gale since February of 2018. He has been involved in every aspect of the recent refitting of Lady Sharon Gale and was hired as the permanent engineer in May of 2018.
Frans' endearing personality is warm and friendly, you feel at home as soon as you meet him. He loves the sun, beach and water. He has never met a stranger and looks forward to meeting future guests aboard LSG!
Crew Profile