Inquire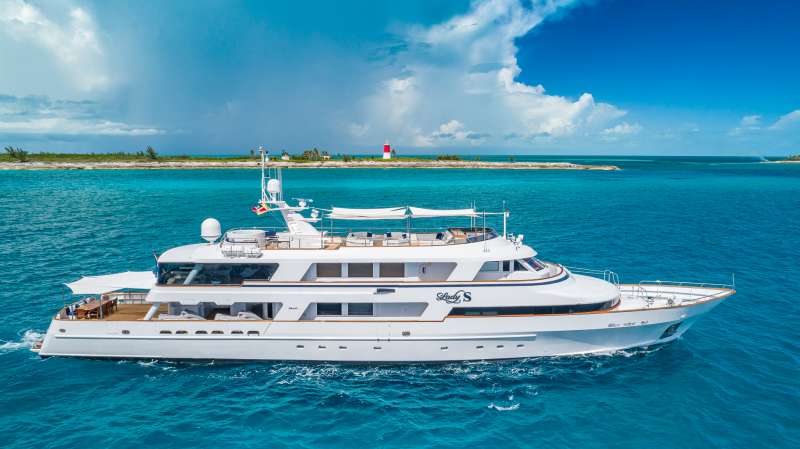 ---
Length:
151.0
Beam:
25.0
Draft:
9.2
Guests:
10
Crew:
8
Cabins:
5
Helipad:
No
Jacuzzi:
Yes
AC:
Full
Year Built:
1989
Builder:
Benetti
Max Speed:
18
High Price:
$130,000
Low Price:
$120,000
Captain Name:
Eric Olejniczak
Captan Nation:
Polish
Wave Runners:
2
Snorkeling Gear:
12
Onboard Scuba:
Onboard
Other Entertainment
32' Jupiter 2x 300 HP Yamaha
Crew Profile
CAPTAIN – ERIC OLEJNICZAK

Eric's Love of the Sea is in his Blood -- his Great-Grandfather was a Merchant Mariner, and Eric has been Sailing since he was a Young Child in Poland. Growing up, he Explored the waters around Europe and The Mediterranean. He later sailed in Australia and Canada where he settled into University and met his wife. Eric opened a Sailing School & Charter Company in Vancouver offering Classes and Charters throughout The Caribbean. Early on, he obtained his MCA Class IV Unlimited License and has been running Large Yachts ever since. Over the last 24 years, he has shown Countless Guests the Wonders of many Enchanting Areas including The Bahamas, Puerto Rico, Mexico and United States. When not at sea, he loves Playing Tennis, Hiking, Mountain Biking and Fitness Training of all kinds. Eric is Looking Forward to sharing his Love of the Sea and Land Activities with you.

FIRST MATE – RUBEN OLIVIER

Ruben grew up on the East Coast of Southern Africa where his Love for the Ocean started at an early age. His Passion for Fishing soon led him to Explore the Underwater World by Diving. While working aboard a World Expedition Yacht with his Partner Arisna, he enjoyed World-Class Diving in many locations including The Solomon Islands and Great Barrier Reef. During his time aboard, he sailed from the West Coast of Canada crossing The Pacific to the East Coast of Australia, the North Island of New Zealand and Tahiti. Before joining the Yachting Industry, Ruben worked in Mozambique for a Private Security Company specializing in Anti-Piracy Operations. Ruben is a Passionate Surfer and Kite-Surfer. If its time on or under the water you are looking for, you are in good hands! Grab your gear and meet Ruben on the aft deck. He's eager to show you some amazing water adventures.

DECKHAND – TAYLOR BOLAND

Raised in Ontario, Canada, Taylor was a Natural Fisherman and Hunter from a young age.
Yachting came Naturally to him as he spent most of his days on the water. Taylor became a Dive Master and Instructor and worked in many Locations around the World including Central America and throughout The Caribbean. He then Pursued his Dream in Yachting and Fell in Love with the Lifestyle. In his spare time, Taylor Keeps Active enjoying Deep Sea Fishing, Wakeboarding, Waterskiing, Surfing, Photography -including Underwater Photography and Fitness. Taylor is keen to share is love for Water Sports, Diving and Fishing with you.

CHEF – ADRIAN GONZALEZ

Adrian grew up in the holiday tourist town of Cabo San Lucas, Mexico. As an adolescent, he became captivated by the Joys of Cooking when he received third place in a cooking contest. Adrian trained at the Swiss Institute of Culinary Arts and Hospitality in Puebla, Mexico. The Travel Bug found him working at High-End restaurants in France and the United States. In Miami, Adrian discovered the yachting world. One of his many Thrills as Yacht Chef is to Explore Marketplaces in Foreign Lands and Create Fascinating New Dishes for his guests. He is looking forward to Providing you with a Taste Sensation to Remember! Outside of yachting, Adrian spends time with his wife, two teen-age stepchildren and an energetic two-year-old son who keep him busy. He is an Avid Cyclist and Participates in Marathons with his Niece and Nephew whenever possible.

CHIEF STEWARDESS – KELLY OLEJNICZAK

Kelly grew up in Alberta, Canada and has been Organizing Events of All Kinds since she was young. After Graduating with an Honors degree in Germanic Linguistics, she continued her Special Events Skills working for a Prominent Public Relations Firm in Frankfurt, Germany. Kelly further honed these skills in Canada by organizing many more High-Profile Events. Her Love of Sailing began as a child on her uncle's boat and was rekindled when she met her husband, Eric. Together they became Certified Sailing Instructors, opened their Sailing School/Charter Business out of Vancouver, Canada and soon expanded to The Caribbean. Kelly holds her equivalent 200-ton Captain's License and has been yachting professionally for more than 24 years. She has sailed the waters of Canada, Australia, The Bahamas, Puerto Rico, Caribbean, Bermuda, United States and Mexico. Outside of yachting, she enjoys Fitness, Nutrition, Animals, Nature, Hiking, and Mountain Biking. Kelly is looking forward to Spoiling you and contributing to a Delightful Vacation you'll Remember for Years to Come.

SECOND STEWARDESS – ARISNA MEYER

Arisna, born a Twin to her Sister, was raised in the Beautiful West Coast of South Africa. She has always been drawn to the Ocean and Nature and started her Yachting Career aboard a Sailing Yacht in The Mediterranean. Arisna has since traveled extensively from the West Coast of Canada crossing The Pacific to the East Coast of Australia, the North Island of New Zealand and Tahiti working aboard a World Expedition Yacht with her Partner, Ruben and her Twin Sister. She recently earned her Commercial Helicopter License & delights in spending time Flying, Diving, Kite-Surfing, Fishing and attending Sporting Events. Her Friendly Nature and Passion for Hospitality will help ensure your stay aboard the Lady S will Delightfully Enjoyable; she will help you Dive Right into Adventure.

THIRD STEWARDESS – RACHEL DENMAN

Rachael grew up on the West Coast of Canada in Vancouver Island. Her Love of Service started while working with the Island's Premiere Catering Company. In 6 years, she went from folding napkins to Running Events for 500 Plus People. When the Travel Bug bit, she Backpacked through Thailand and later headed to Florida to Further her Adventures through Yachting. Rachel journeyed her first summer in Florida, Bahamas and Puerto Rico. A year later she sailed across the Pacific to Spain and worked aboard in France and Italy. When not Busy Pampering her Guests, Rachel loves to spend time Hiking, Traveling, Creating New Cocktails. Rachel is looking forward to Spoiling you with Service and Treating you to a Wonderful Vacation.

CHIEF ENGINEER – ALBERT GALYCHANIVSKY

Albert grew up in a land-locked part of The Ukraine, but always loved the water. As a young man, he competed all over Eastern Europe in the Olympic sport of Canoe/Kayak Sprint Racing. Though he dreamed of joining The Marines, he started his Career aboard 600-foot Fishing Vessels instead. Albert became a Junior Engineer and went on to study at the Nakhimov Naval Marine Academy. He worked as Engineer aboard Cargo and Container Vessels where he traveled most of the world's bodies of water including The Pacific, Indian and Atlantic Oceans, the Mediterranean, and North, Baltic, Black and Red Seas. He extensively cruised Antarctica while working aboard a Passenger Ferry Boat. Later Albert became Engineer aboard the Discovery Channel's Research Vessel, "The Odyssey Explorer". He transitioned over to Superyachts 8 years ago after obtaining his Chief Engineer Unlimited/Y1 Certificate. Albert has over 22 years hands-on experience as Engineer. When not tending to yachts, Albert spends time with his Wife and Dogs, enjoys Playing Tennis, Solving Mechanical Problems and dabbling in Computer Software Analytics. He has a very Welcoming Personality and is looking forward to having you aboard.