Inquire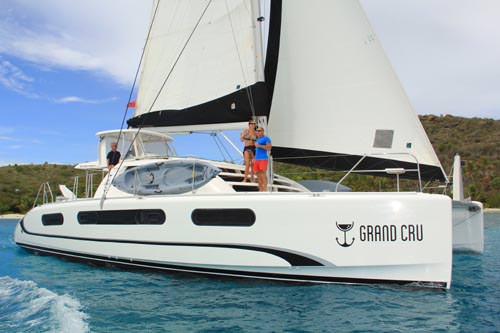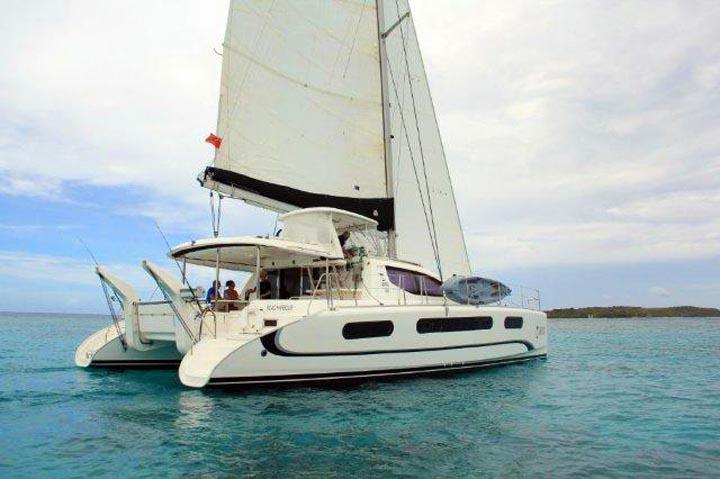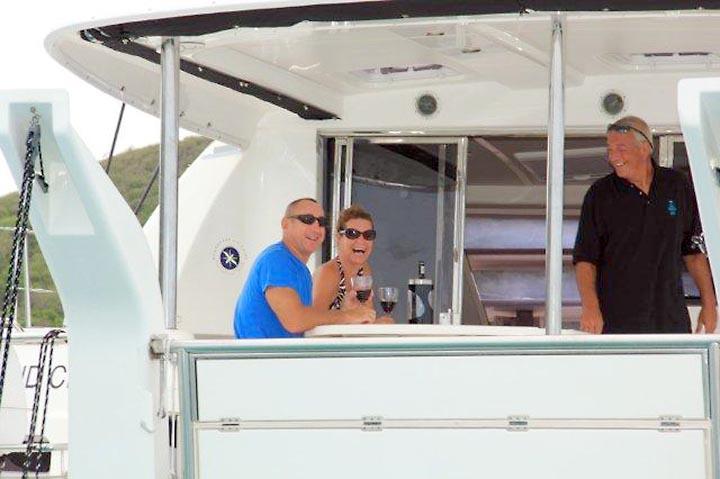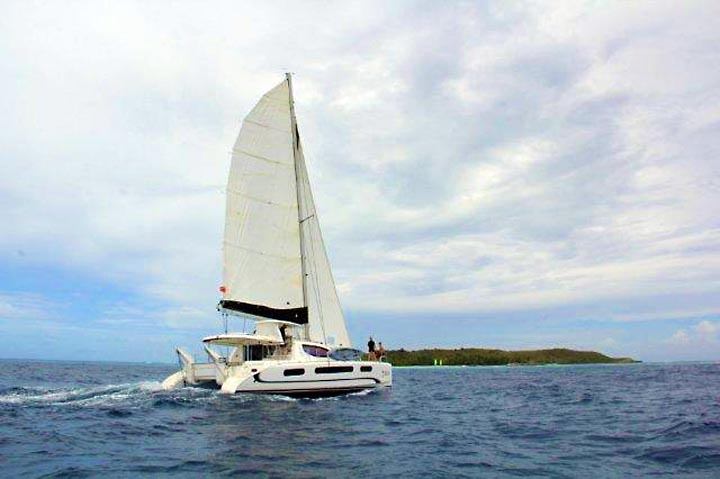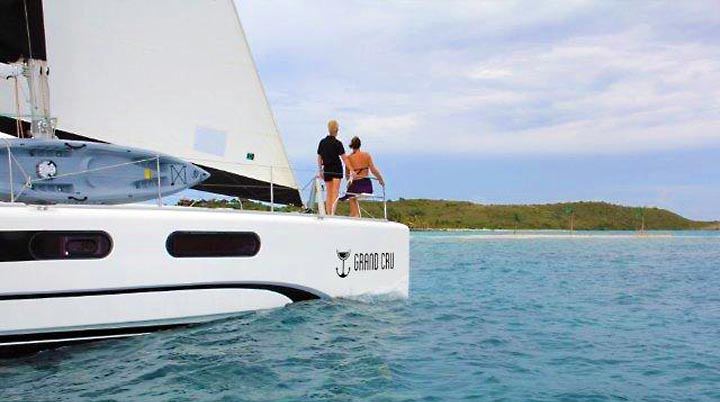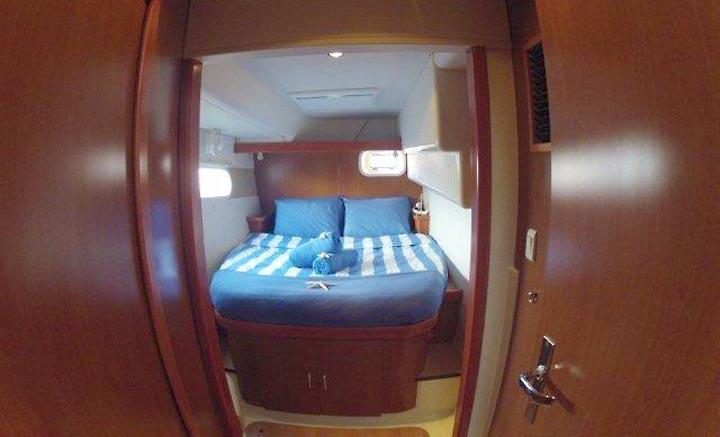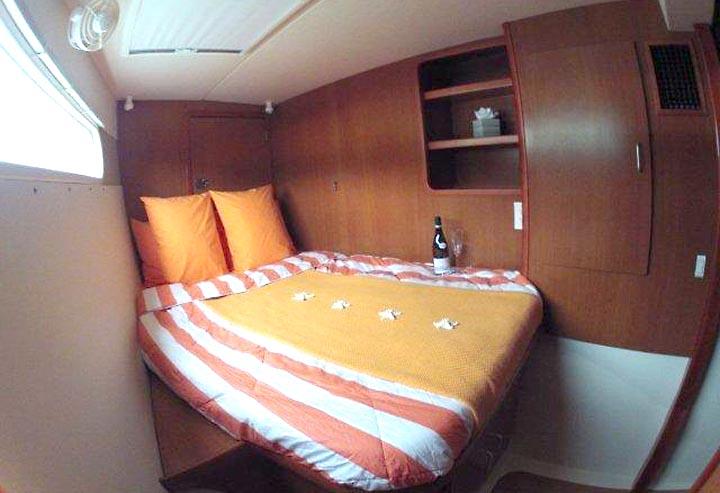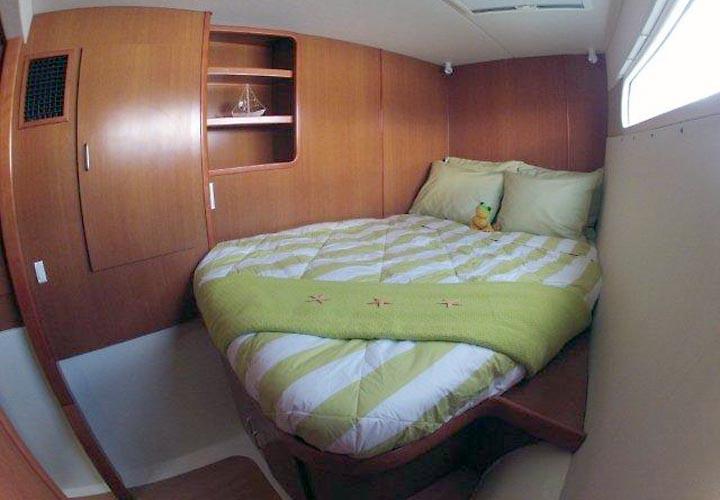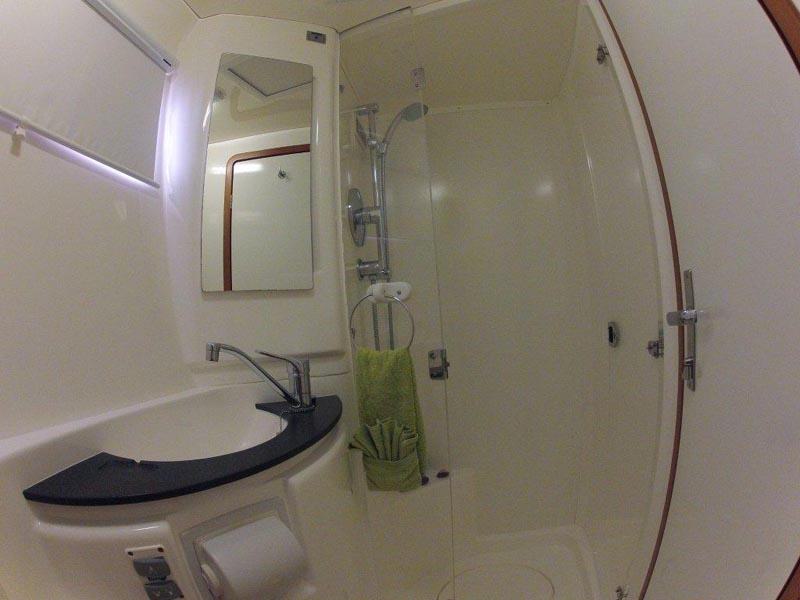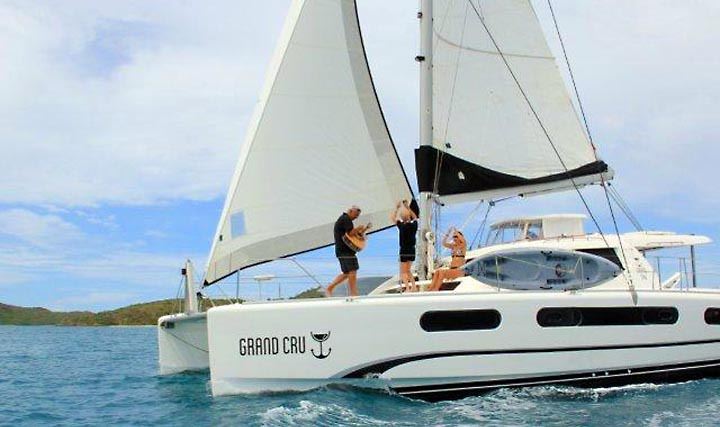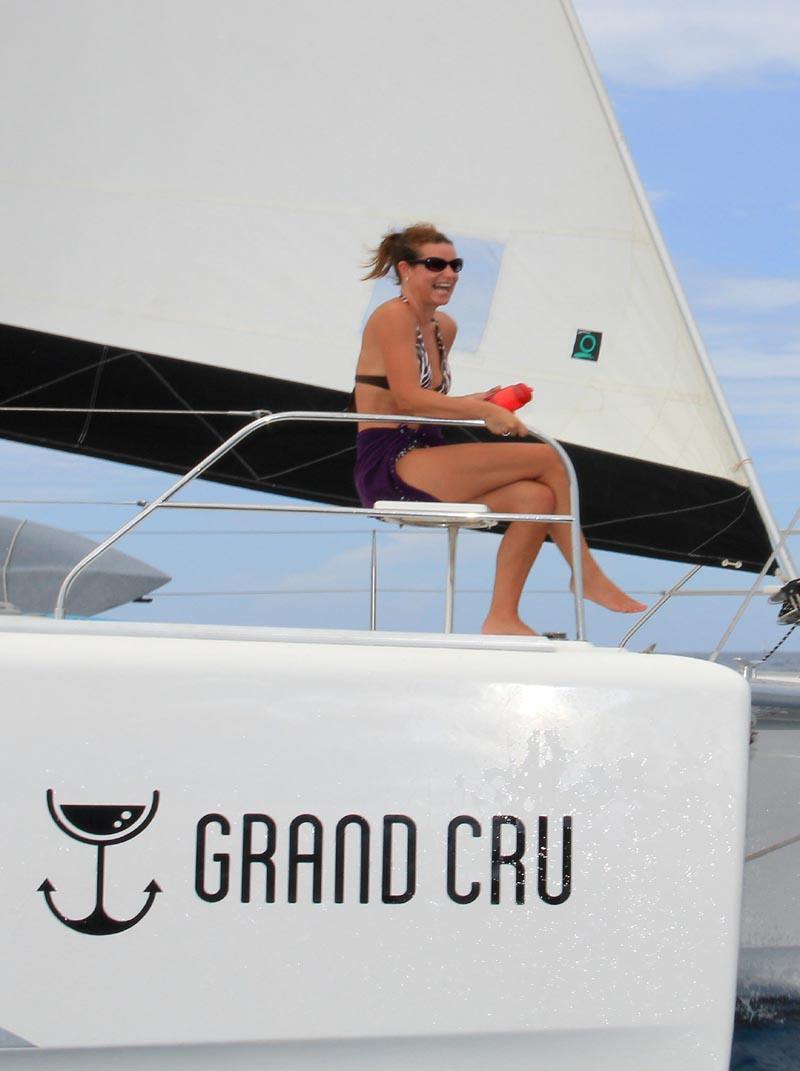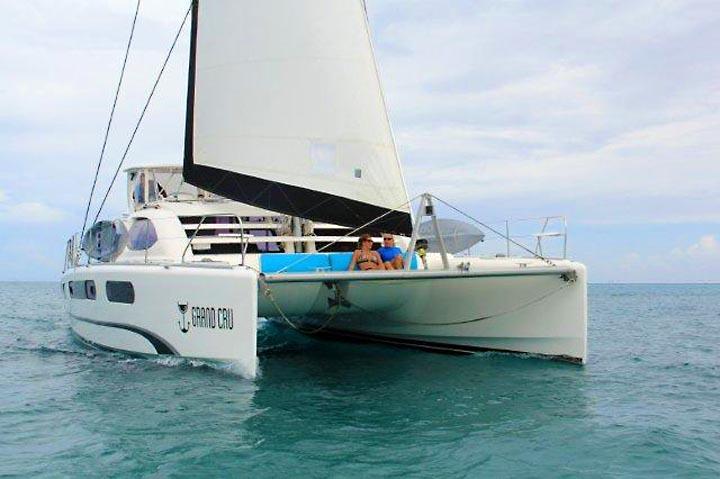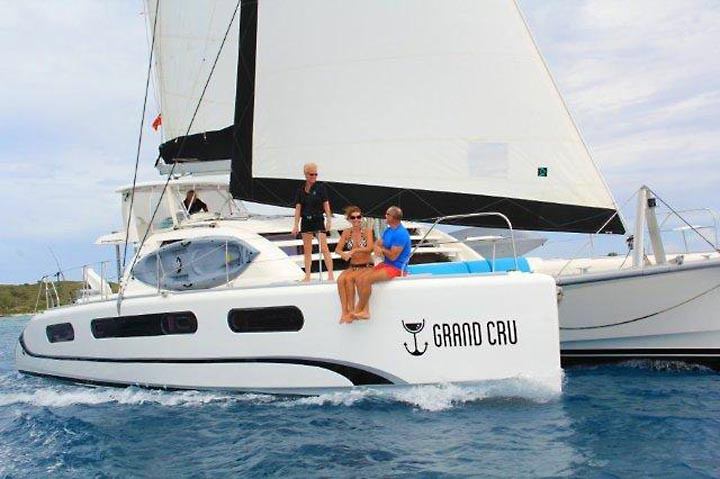 This expansive luxury catamaran offers top-of-the-line accommodations and entertainment options. The three queen-sized, fully air-conditioned cabins can house six guests, with each cabin containing a private bath with enclosed shower and electric head. High-quality linens and ample windows contribute to the luxurious feel.
Mingling and relaxing has never been as enjoyable as on board the Grand-Cru. An indoor saloon and an open-air cockpit offer you a choice of setting. Both provide ample space, stunning views and thoughtful amenities, including a 20,000-strong music library that spans the range of tastes and preferences. WIFI is also available so that you can stay connected while you are at sea.
Kayaks, fishing gear and snorkeling equipment are available, as is a stand-up paddleboard. A wide range of water toys for all ages ensures that no one has a dull moment, whether at sea or at anchor. Our experienced crew will help you find activities you will enjoy, including hands-on sailing instruction for those who are interested.
Like every other detail on this vessel, the meal service is designed to please the most discerning palates – whether belonging to an experienced gourmet or a picky child. Beautifully styled and perfectly cook, the meals are an experience to treasure.
The Grand-Cru's crew members are experienced and seasoned sailors, who ensure perfect safety and smooth sailing at all times, in addition to maintaining the vessel in tip-top condition, both inside and outside. The crew members do their utmost to provide guests with the vacation of their dreams. Their friendly demeanor and expertise in all things sea make them the ideal hosts for your perfect getaway.
The Grand-Cru offers a supremely luxurious experience, while remaining family-friendly and offering activities and accommodation for a wide range of ages and interests. Whether you want to relax on the deck with a cocktail, learn to sail a catamaran, take in the amazing island scenery or do fishing or kayaking, this yacht offers something for everyone.
---
Length:
46.4
Beam:
24.8
Draft:
4.5
Guests:
6
Crew:
2
Cabins:
3
Jacuzzi:
No
AC:
Full
Year Built:
2007
Builder:
Robertson and Caine
High Price:
$16,450
Low Price:
$13,450
Captain Name:
PETER SMALL
Captan Nation:
UK
Wave Runners:
No
Snorkeling Gear:
Yes
Fishing Gear:
Yes
Onboard Scuba:
Yacht offers Rendezvous Diving only
Yacht Description
Grand Cru
A wine of the most superior grade, or the vineyard that produces it.
The best of the best!
ABOUT GRAND CRU
There is usually a reason for a boat being given a particular name, and in the case of Grand Cru that reason is obviousShe is simply the best of the best. Grand Cru is a 46-foot luxury catamaran, one of the Leopard 4600s built in South Africa by shipbuilders Robertson and Caine. She has been lovingly up-fitted for private charter, and has on board every amenity imaginable for total comfort and entertainmentwater-maker, ice machine, and chilled beverage coolers begin the list.
Grand Cru is designed to accommodate six guests and a crew of two. Each of the four cabins is air-conditioned, and has a private bath, each with its own enclosed shower. A queen bed, sumptuous linens, ample storage space, and a skylight and large window make each cabin comfortable and bright.
On the main deck, the breezy and relaxing open-air cockpit is the gathering place for al fresco dining, lively happy hours, breathtaking vistas, or simply a comfortable place to get out of the sun. The indoor saloon gives a full view of the beautiful island scenery and provides additional space for dining or watching a favorite DVD. Music adds to the ambiance and the party, and can be heard from any area of the yacht. And with Grand Crus library of over 20,000 tunes, your favorites are guaranteed! For those who do want to stay connected to the outside world, WIFI is on board and available to guests who bring computers, iPads or Smartphones.
Kayaks, a stand-up paddleboard, and a full array of snorkel equipment make every anchorage an adventure. With Grand Crus powerful console dinghy and a variety of water toys available, guests may choose to add even more excitement to their trip. And of course, if sailing, sightseeing, relaxing and being pampered is what youre after, your crew is dedicated to helping you have your dream vacation.
You are invited to experience the best of the best. You are invited to experience GRAND CRU!
Yacht Accomodations
GRAND CRU can accommodate 6 people in 3 spacious queen cabins each with ensuite bath and electric head.
Other Toys
2 Stand-up Paddle Boards
Fishing License
Crew Profile
Upon meeting Peter and Bobbi you get the feeling that you have just reunited with some special, long-time friends. Their easy-going demeanor, sense of humor, and love of meeting new people create an immediate atmosphere of warmth and relaxation for their guests. As you sit and visit with Pete and Bobbi while enjoying that first welcome aboard cocktail, you will sense their love of the islands, sailing, the water, and adventure. You will also begin to understand why their delightful partnership, extensive experience, and many talents and skills have caused them to be dubbed by many "The Grand Crew".
Although Pete and Bobbi have sailed together all over the world, they first visited the British Virgin Islands in 2005 on their own sailing vacation. They fell head-over-heels in love with the islands, the people, and the lifestyle. Making the decision to leave the 9 to 5 work world, they returned to the BVI's in 2007 as a full-time Charter Yacht Crew. For the last 5 years, Pete and Bobbi have been exclusively aboard Grand Cru, entertaining more than 600 delighted guests on over 120 charters. Understandably, many of their charters are repeat bookings from guests who ask for them by nameand only them!
It is easy to understand why charterers arrive in the BVI's with high expectationsexpecting their yacht to be beautiful, their accommodations spotless and comfortable, their cuisine fabulous, and their hosts gracious. Pete and Bobbi do not disappoint! Pete's mechanical and technical skills keep Grand Cru sailing smoothly, and he and Bobbi work tirelessly to keep the yacht immaculate and well appointed. As for cuisine, Bobbi's culinary skills never fail to impress even the gourmets in the group, and she somehow manages to delight even the pickiest young guests. Want to learn a bit about sailing? Pete is an amazing, patient teacher, and will let guests do as much or as little sailing as they wish. Want to simply sun on the trampoline with a cushion and cool drink? Pete and Bobbi are a sailing team that makes it all look easy.
Hailing from Poole, England, Peter Small grew up on the water, and began sailing as a young boy. His father purchased his first sailing yacht when he was 7, and Pete and his dad alone completed the delivery trip! Since then, Pete has spent as much time as possible "at sea". Following his passion for sailing, Pete became a RYA Yachtmaster in 1982, not realizing that the hobby he loved so much would one day become a profession. Pete's sailing expertise, knowledge of the islands, and warm personality have made him a favorite among BVI Captains!

Bobbi Williams, chef and hostess on Grand Cru, is convinced that she has found her true vocation in life! Also from Poole, England, Bobbi is an accomplished chef, has perfected her skills in culinary classes, yet brings a love for traditional home cooking to the table. Her travels throughout the world have exposed her to many cooking styles and international flavors, which are evident in her exquisite presentations. The "hostess" part of Bobbi's title is also well earned, as she continually workssuccessfully to make every guest comfortable, entertained, and happy!
Crew Profile