Inquire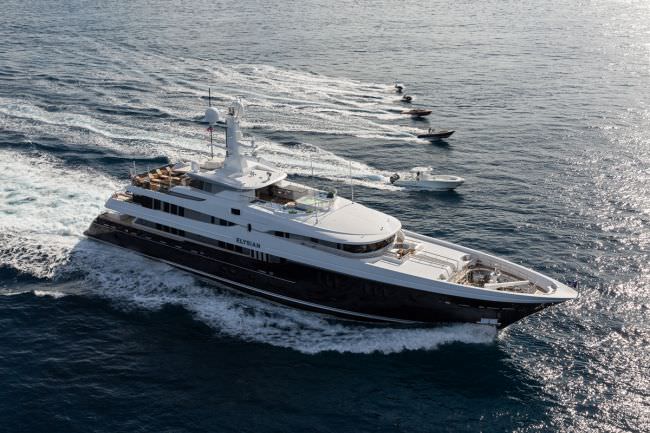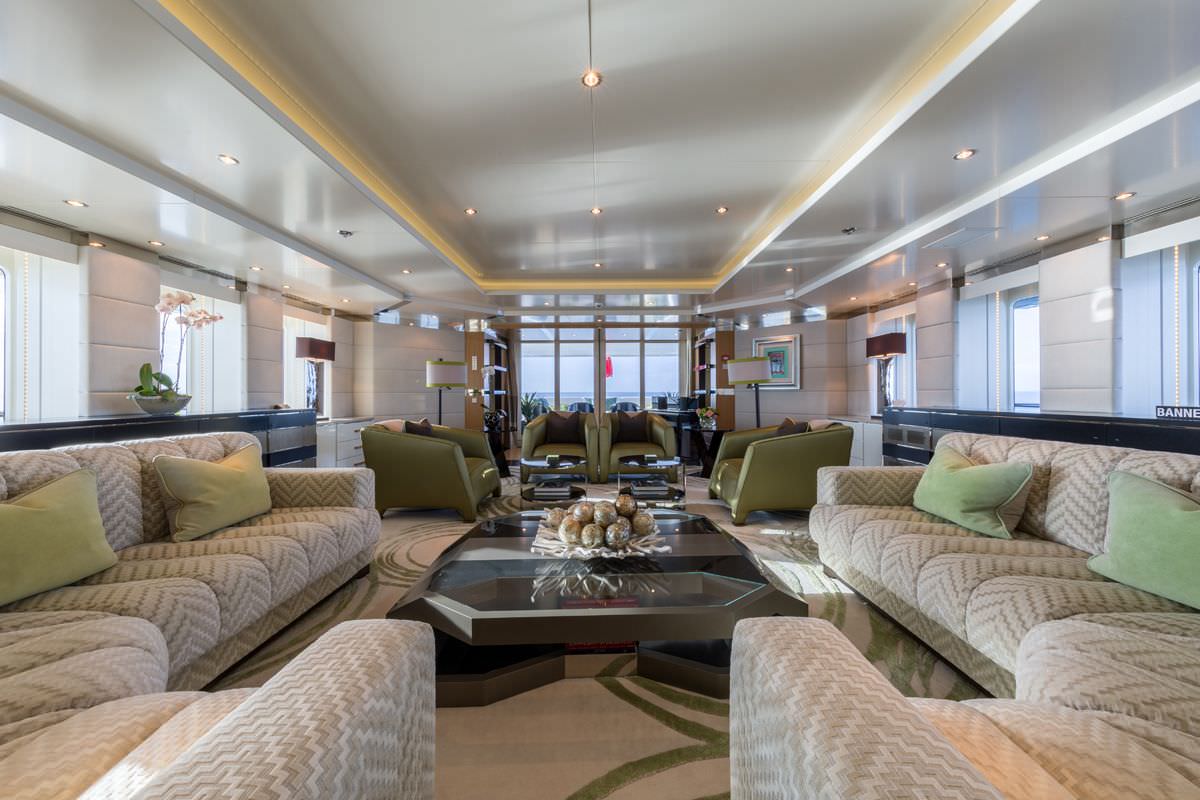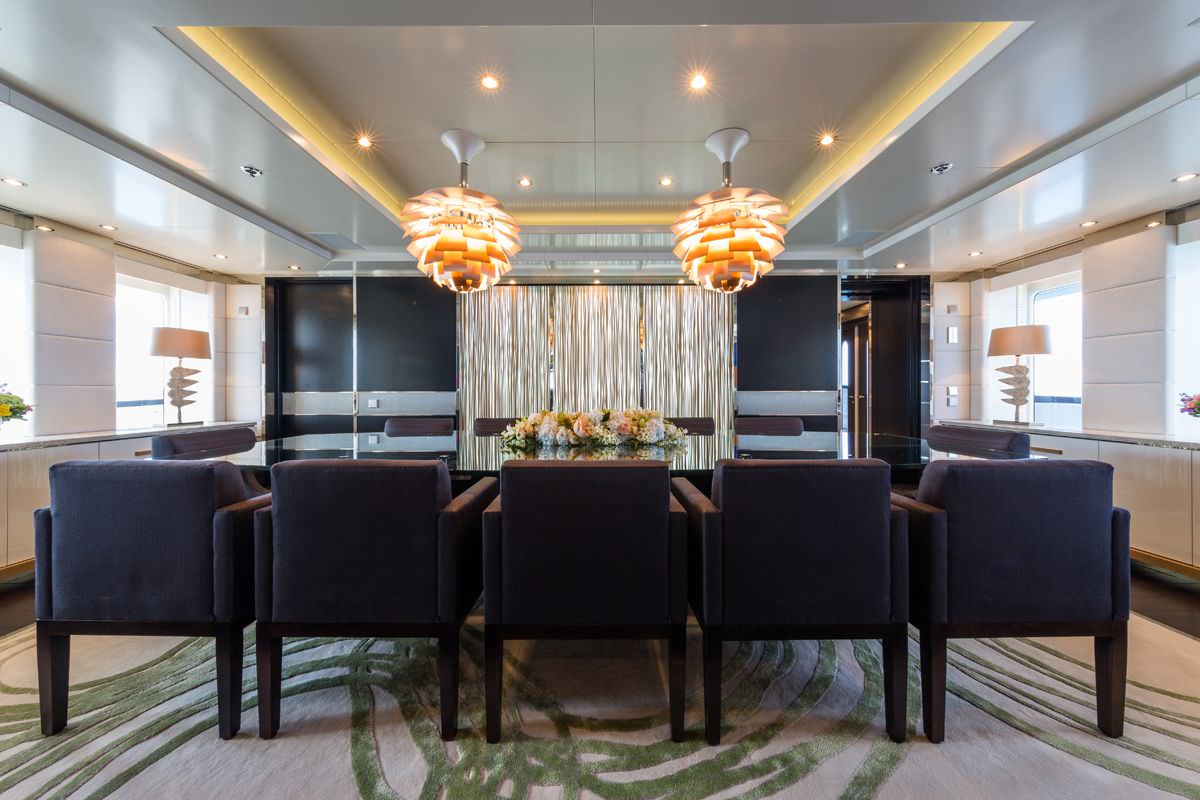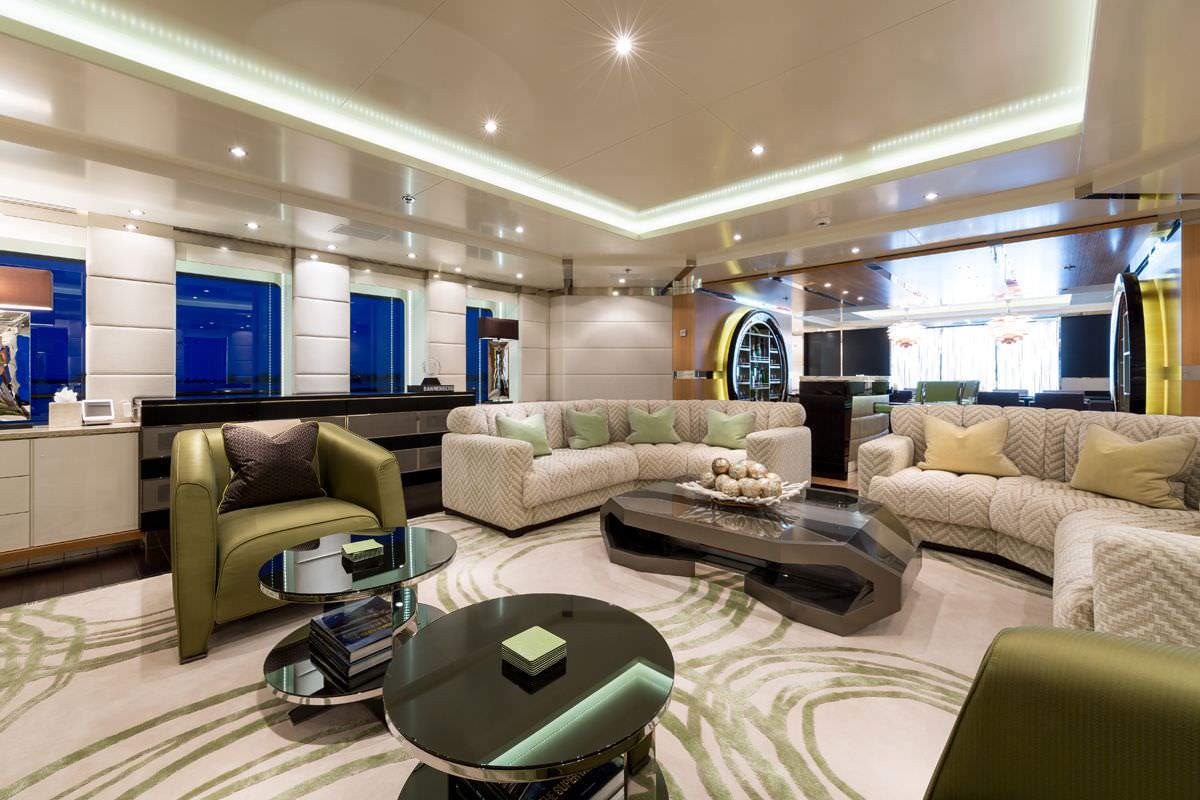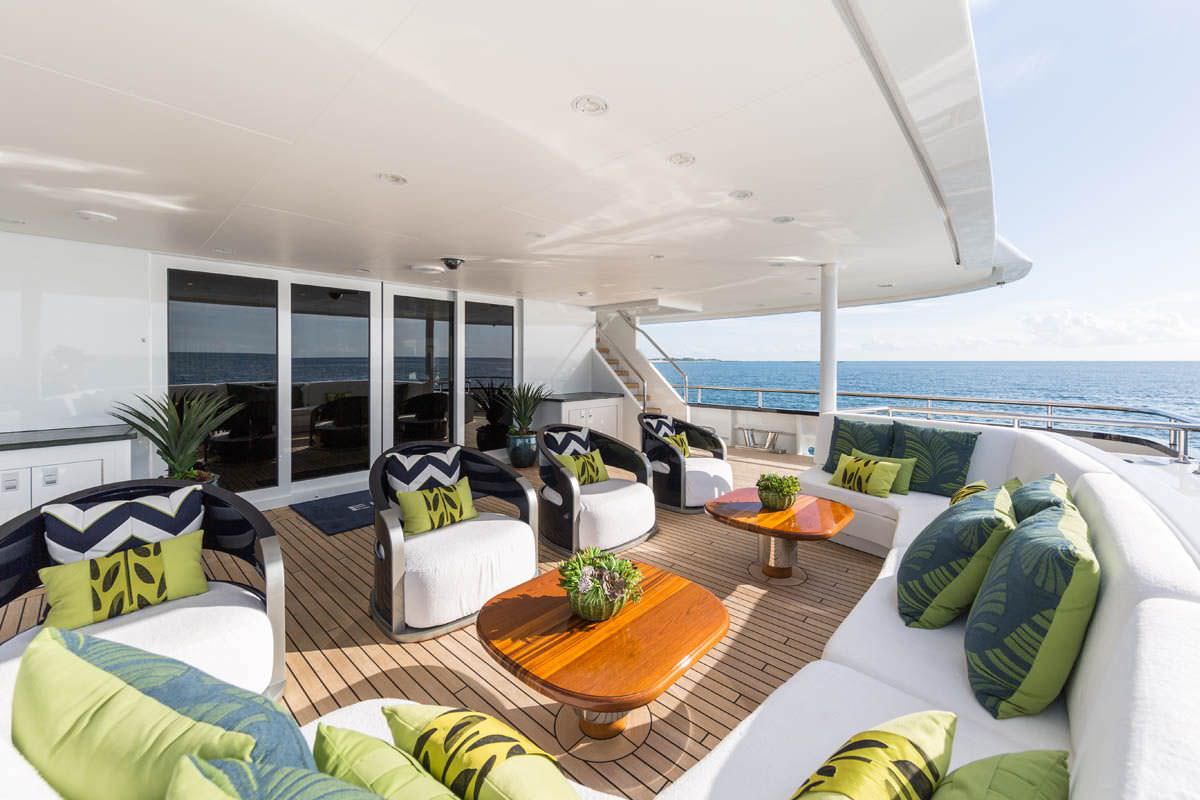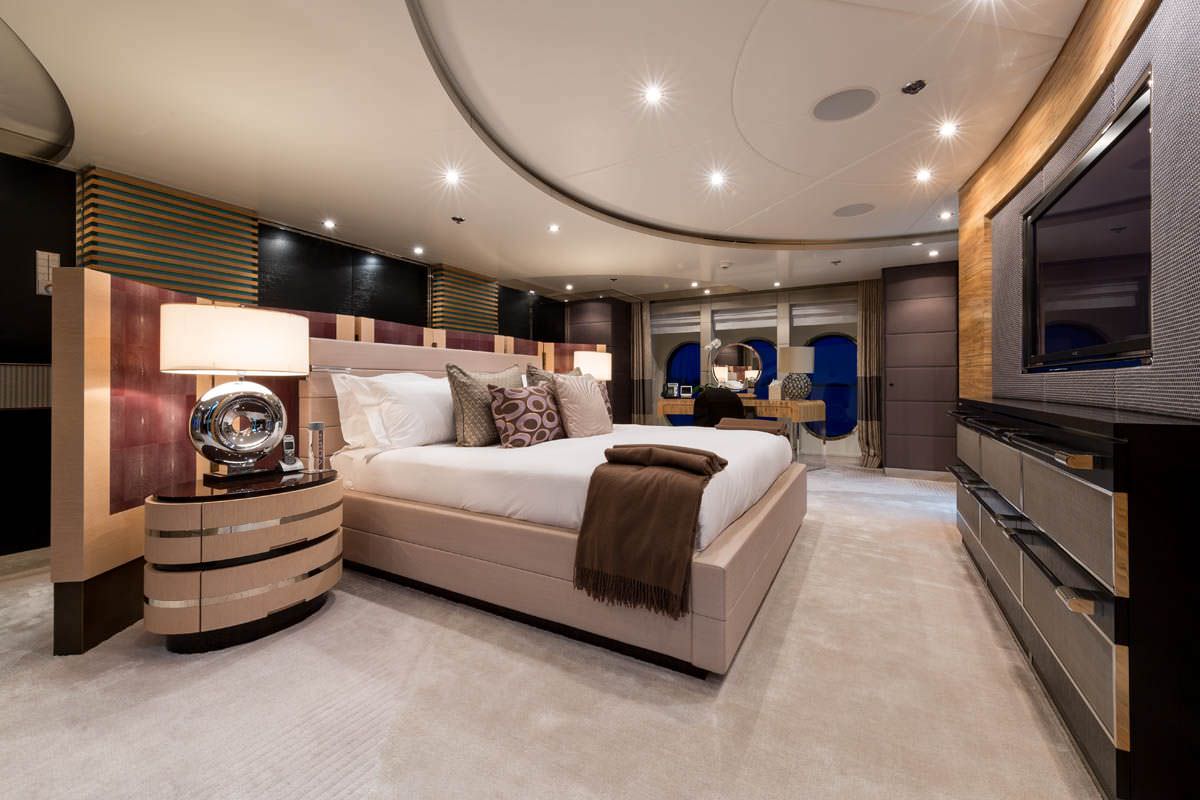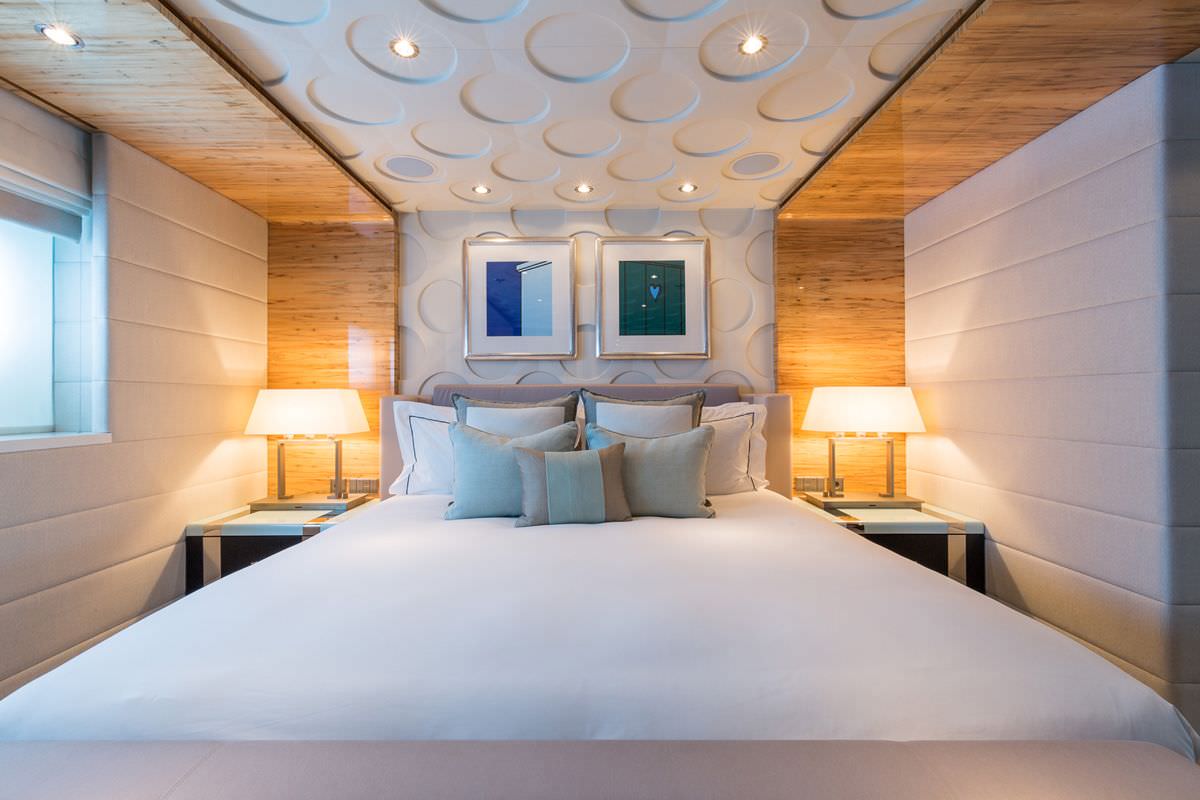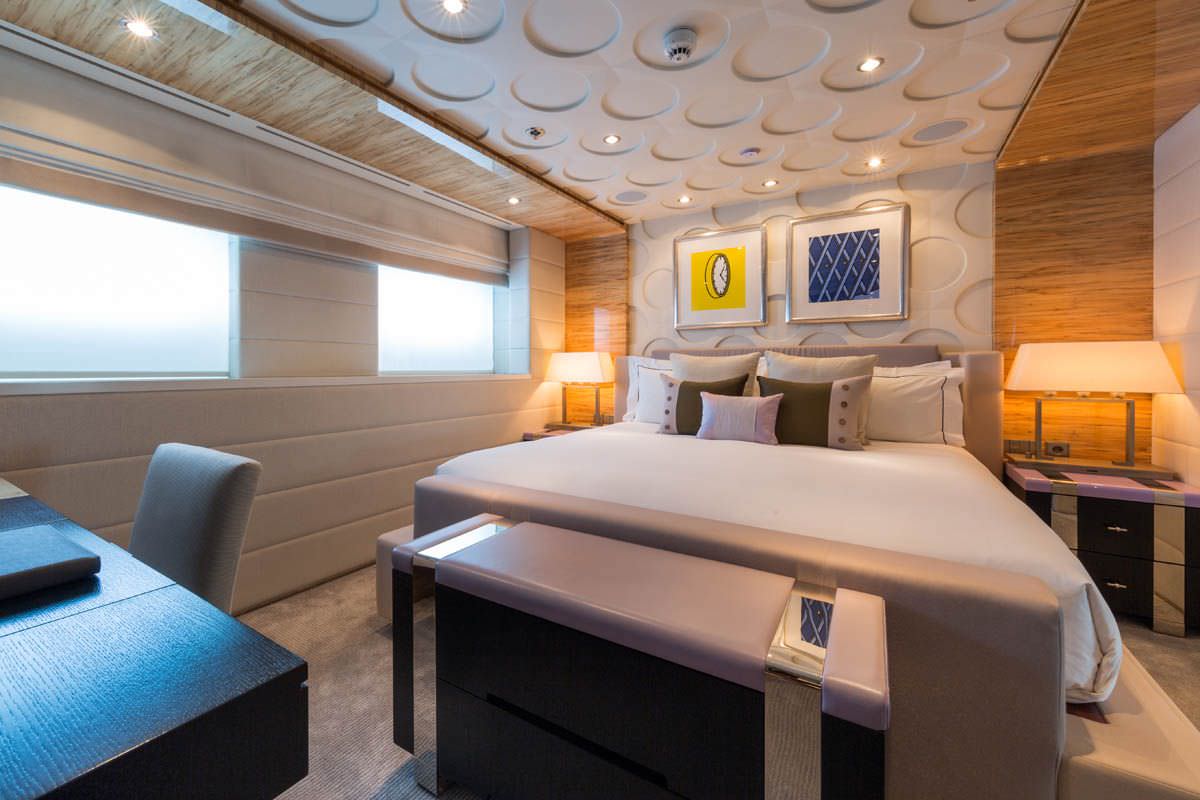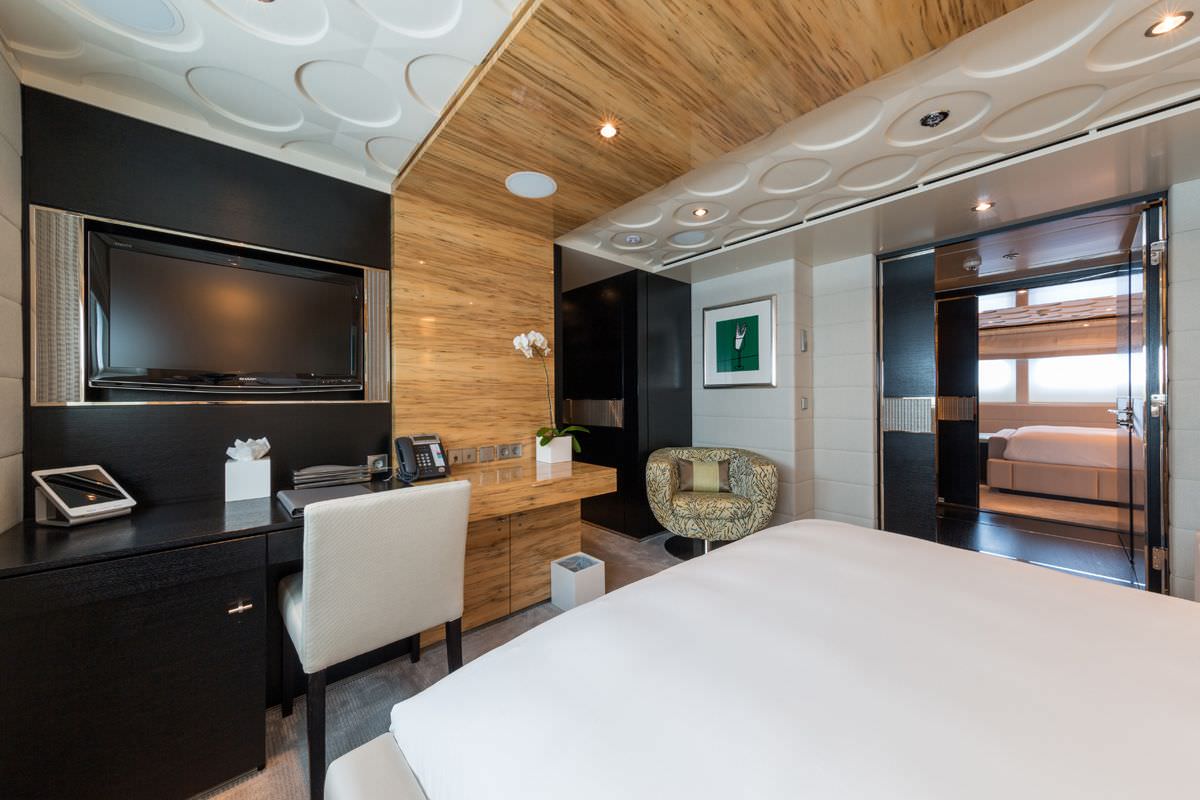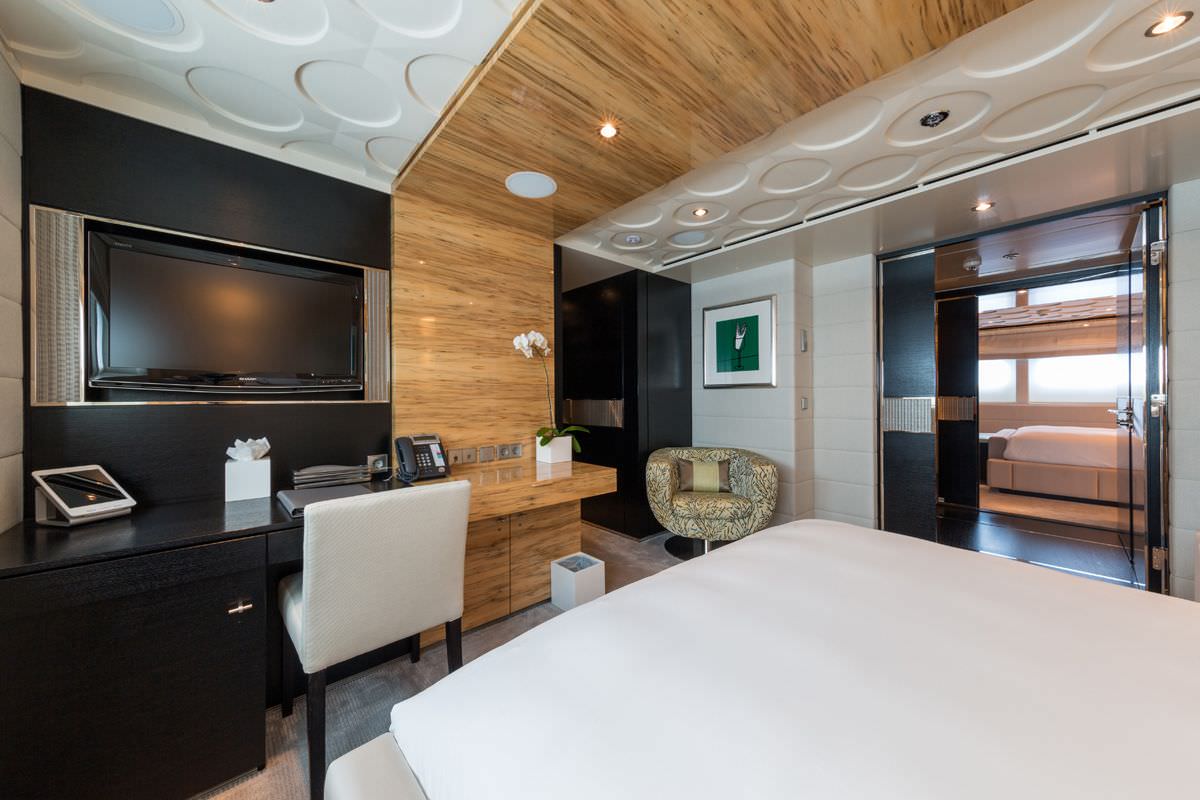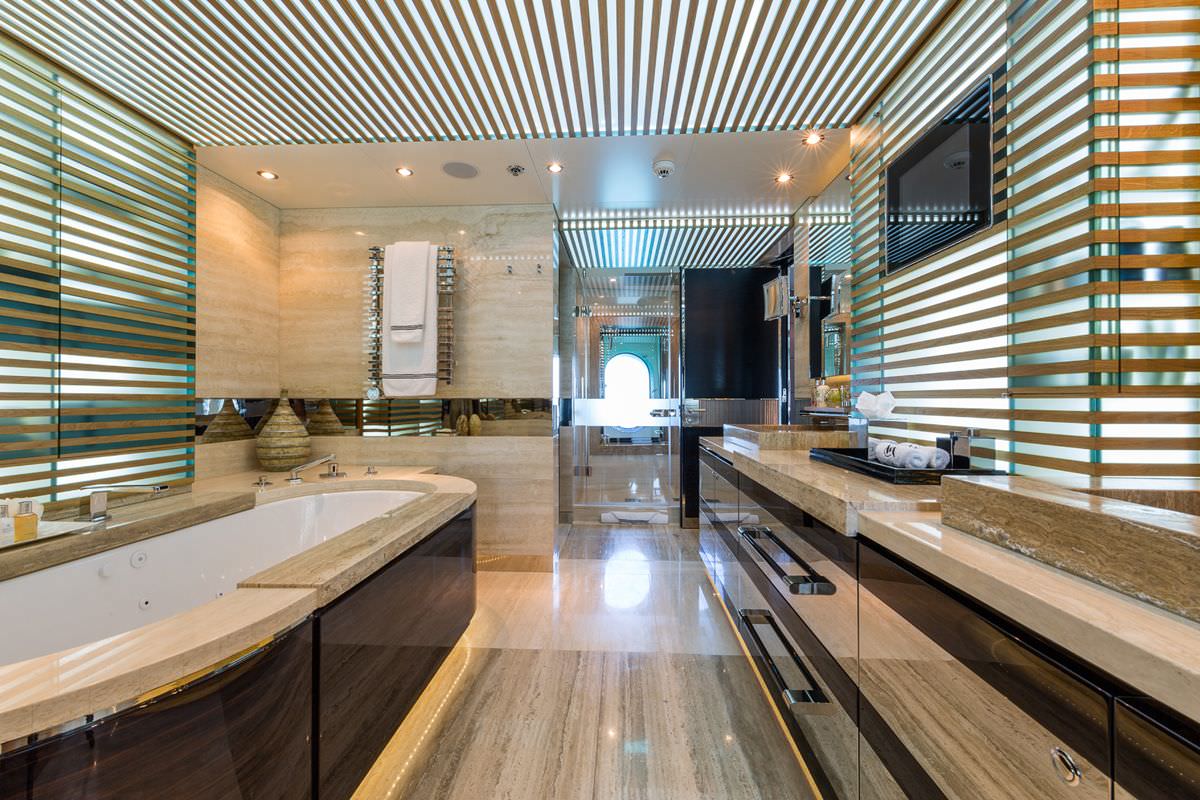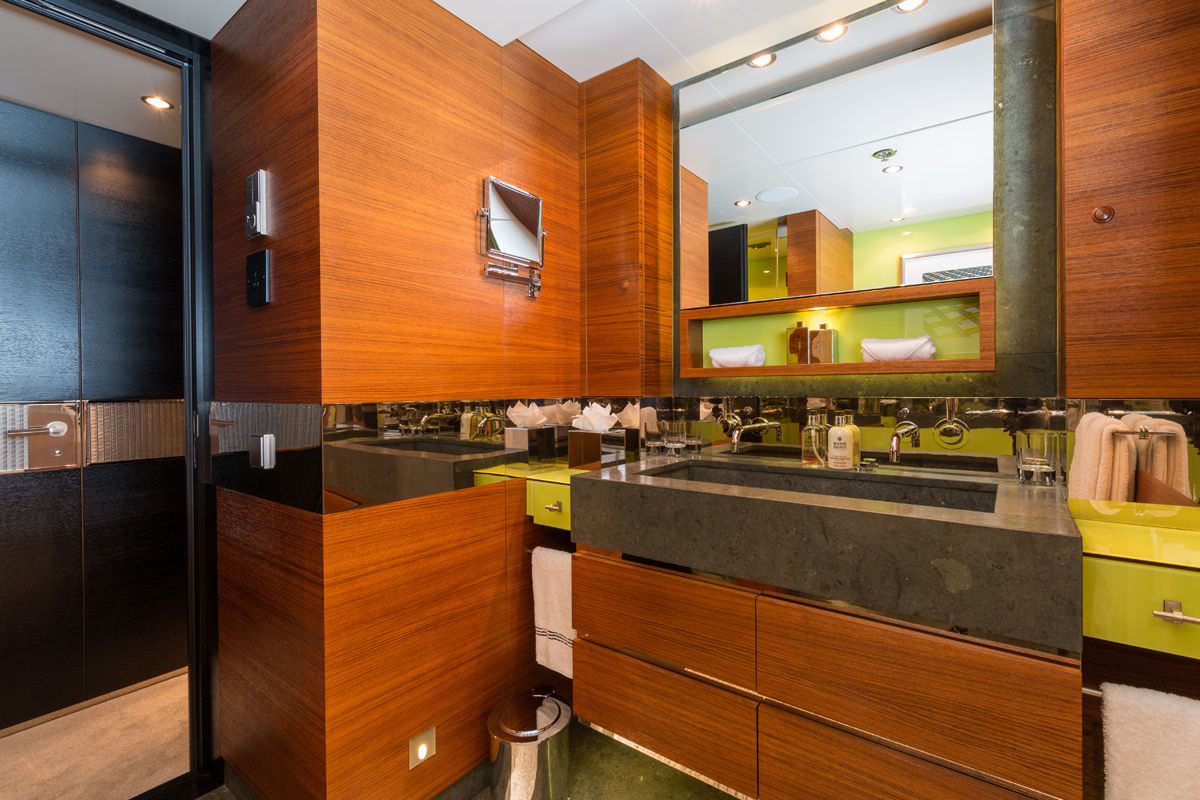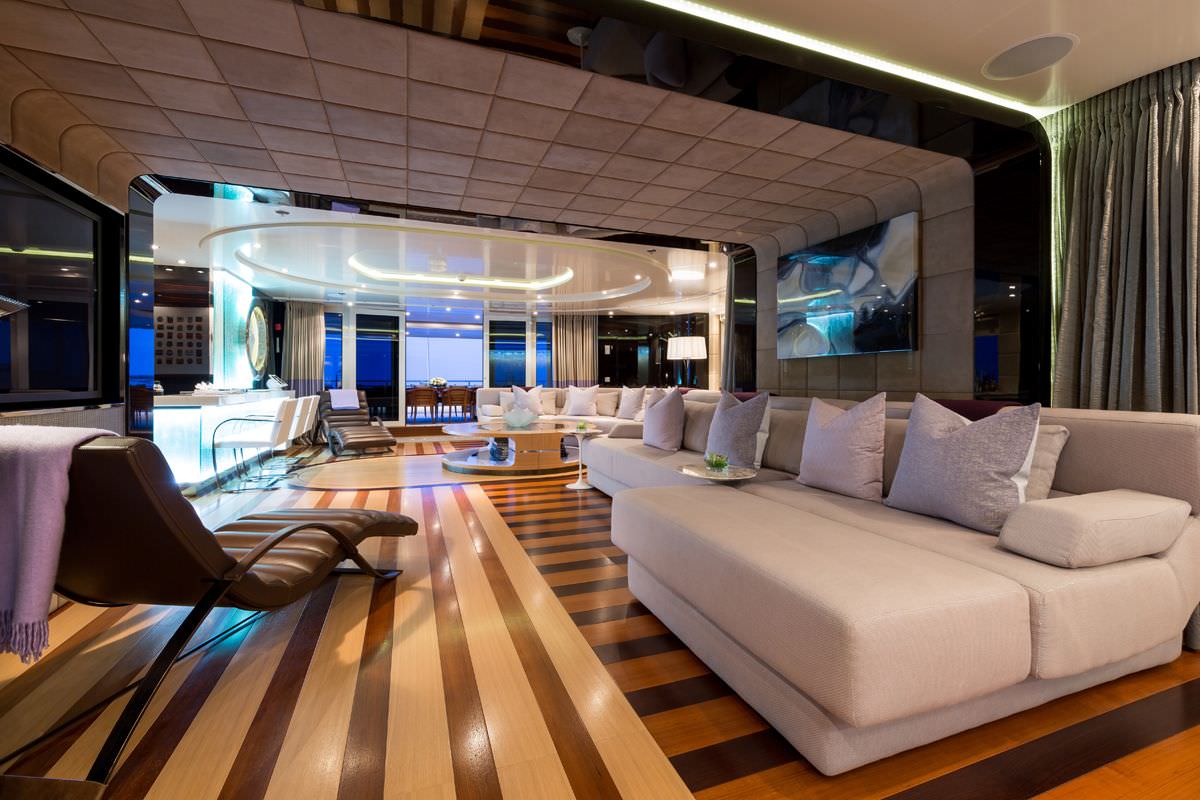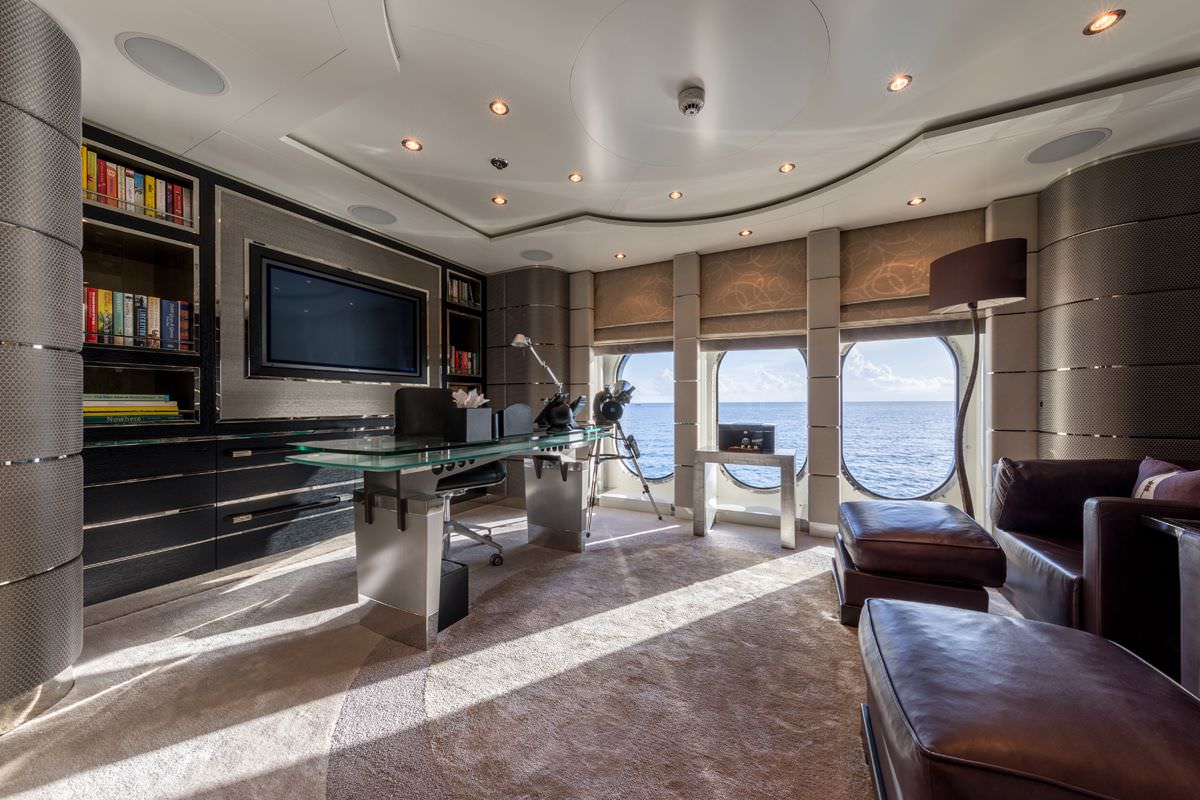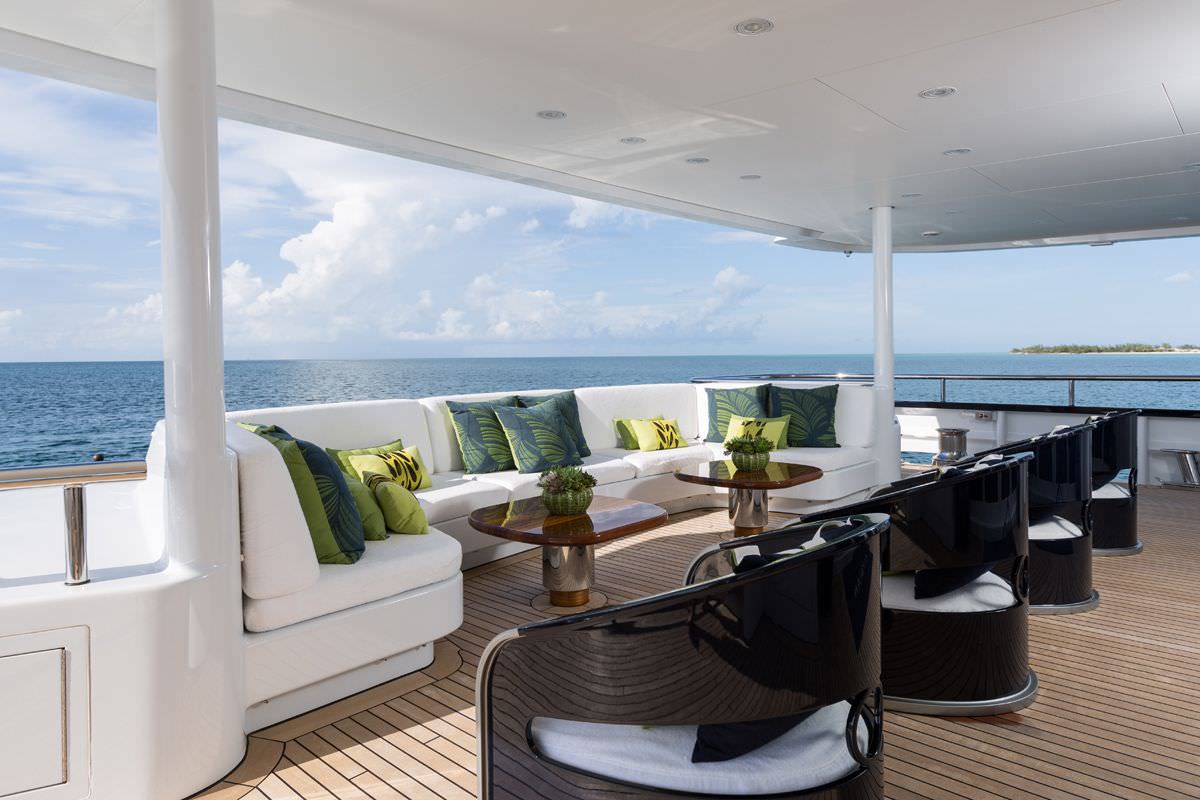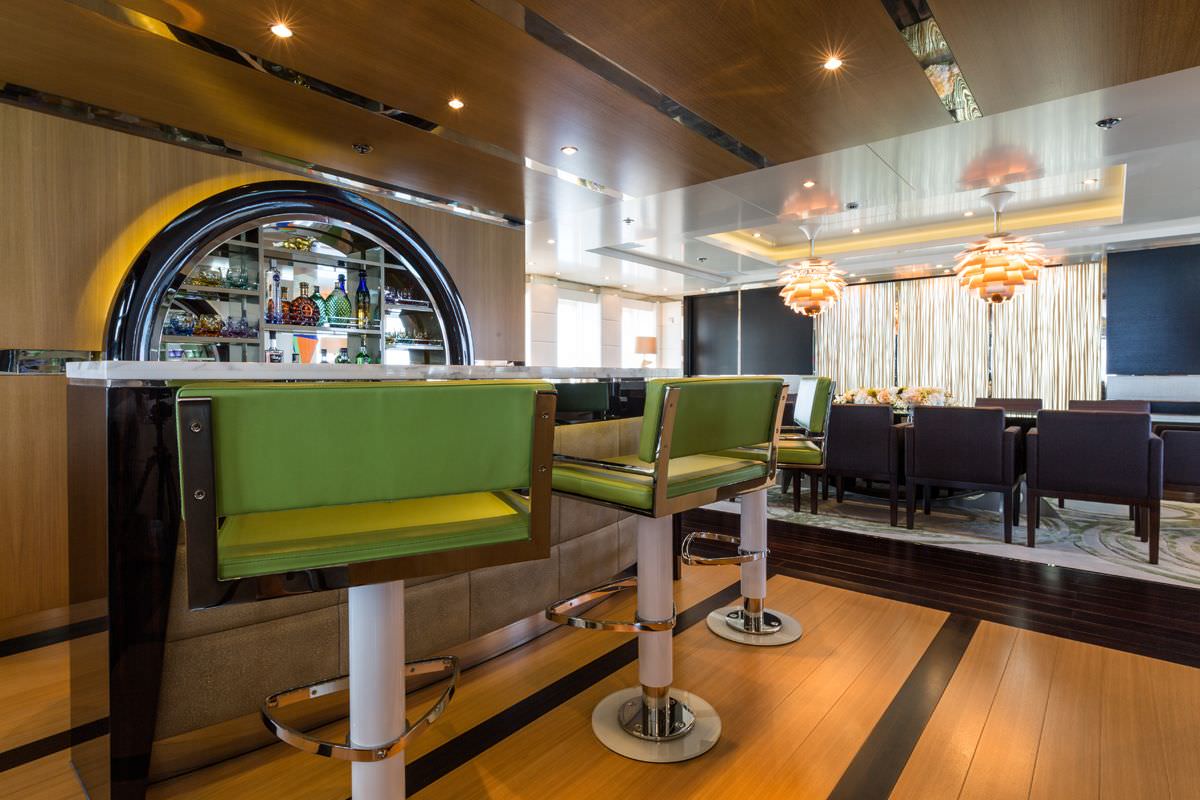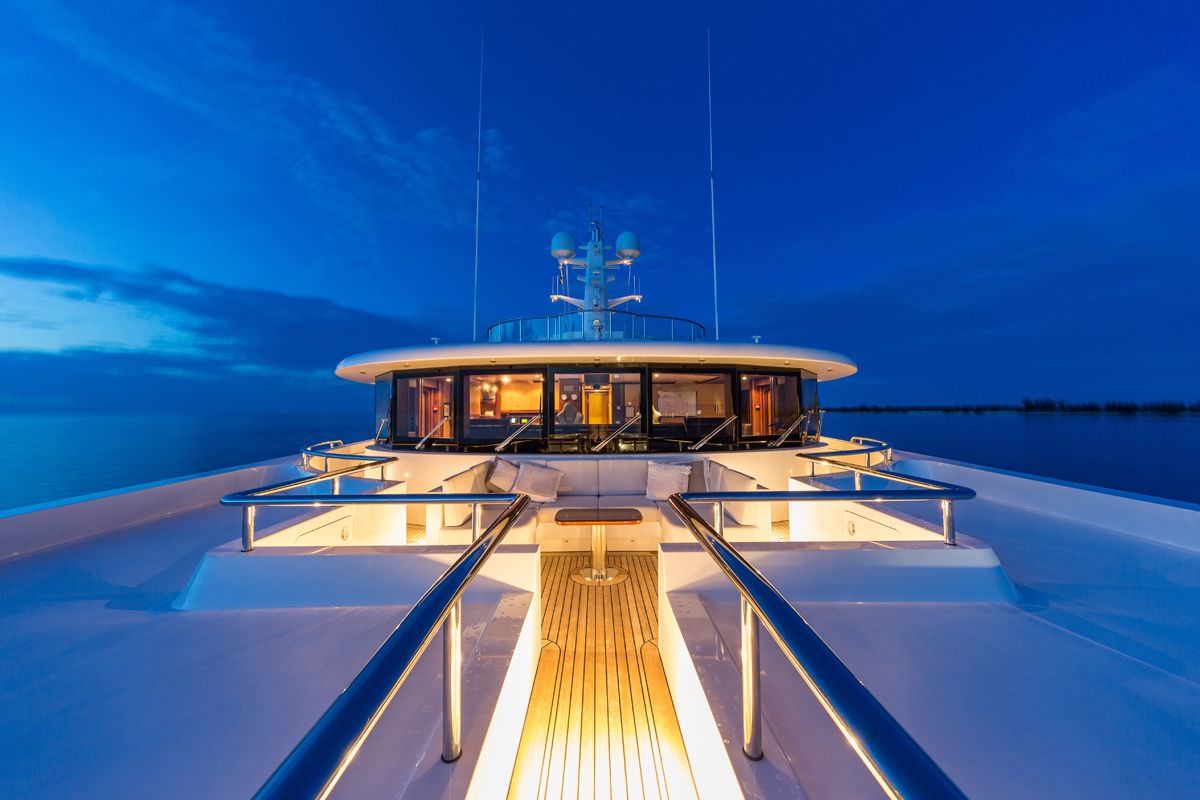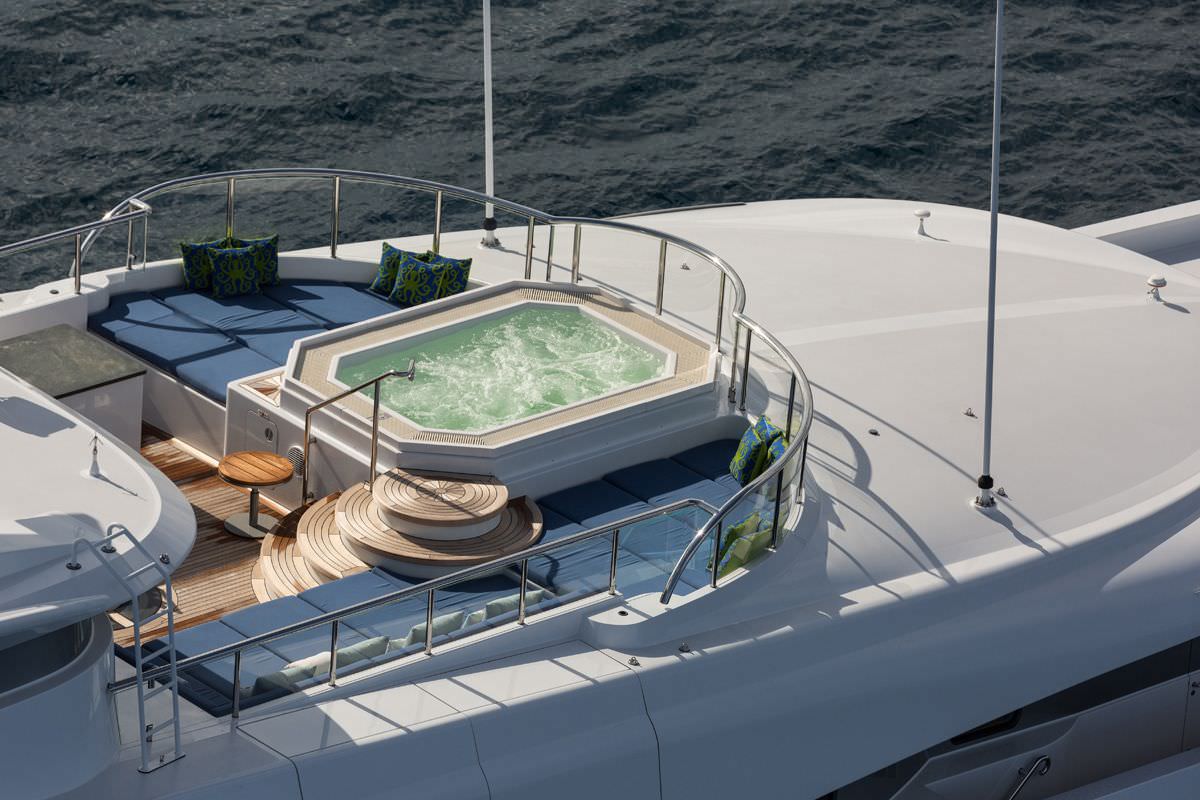 ---
Length:
196'10"
Beam:
35'1"
Draft:
11'6"
Guests:
12
Crew:
16
Cabins:
6
Jacuzzi:
Yes
AC:
Full
Year Built:
2009
Builder:
Abeking & Rasmussen
Max Speed:
16
High Price:
€380,000
Low Price:
€350,000
Captain Name:
Mark Lacey
Captan Nation:
English
Wave Runners:
2
Onboard Scuba:
Yacht offers Rendezvous Diving only
Yacht Accomodations
Main deck Master Suite:
Magnificent full beam Master Suite with the owner's grand lobby adjacent to the Owners office complete with en-suite day head with steam shower, computer, printer,106.7cm/42 flat screen TV, individual satellite receiver.

Moving forward, the entrance to the spacious stateroom has a set of vaulted doors ensuring ultimate privacy. The walk-around king bed faces forward and ample lounging area t with chaise and to port. Forward access to His and Her luxurious en-suite with Jacuzzi tub and separate steam shower, private head and twin sinks. Walk-in closet to starboard for Him and walk-in closet with vanity to port for Her.
The entire Master Suite features 12 very large oval windows offering stunning views and plenty of natural light. There is a 152.4cm/60 flat screen TV, with surround sound & Kaleidescape.

Lower deck:
A spectacular sculpted spiral stairwell with railings on either side leads down to the guest foyer.

ELYSIANs unique stateroom layout can either be 4 x separate staterooms or 2 x full beam suites.

Guest stateroom #1:
Located starboard aft with Queen bed, vanity/desk, en-suite bathroom features Jacuzzi tub and overhead rain shower, twin sinks, head and bidet and privacy glass and 127cm/50 flat screen TV.

Guest stateroom #2
Located port aft Twin stateroom two L-shaped standard twin beds, convertible to queen bed. Loveseat, en-suite bathroom features a rain shower, head and bidet. Includes a 127cm/50 flat screen TV
**This twin stateroom can also be converted into an en-suite full width lounge for guest stateroom #1

Guest stateroom #3
Located starboard forward
Queen bed, vanity/desk with en-suite bathroom features Jacuzzi tub and overhead rain shower, head and bidet and privacy glass. Includes a 127cm/50 flat screen

Guest stateroom #4
Located port forward
Twin stateroom two L-shaped standard twin beds, convertible to Queen bed. Loveseat, and en-suite bathroom features a rain shower with twin sinks, head and bidet
**This twin stateroom can also be converted into an en-suite full width lounge for guest stateroom #2.

Bridge deck:
Guest stateroom #5 has two pullman beds that can also be used as a multi-purpose room for a masseuse or childrens playroom.

Other Toys
Tenders
36 ft. Yellowfin center console with 3x 300 hp Yamaha outboard engines
24 ft. Yachtwerft Meyer custom wooden tender with dueling 190hp Volvo Penta inboard/outboard engines
24 ft. Yachtwerft Meyer custom sport tender with a 260hp Volvo Penta inboard/outboard engine
21 ft. Polaris rigid inflatable dinghy with 150hp Yamaha outboard

Water Toys
2x 2 person Seadoo RXP fuel injected wave runners
1x Hobie Cat 16' catamaran
4 x Sea scooters for snorkeling
2x Single person kayaks
2x Stand up paddleboards (rigid)
2x Stand up paddleboards (inflatable)
2 Pair of water skis
2x Wakeboards
1x Crane swing
Array of towables and inflatables
Beach games

Fishing equipment
Light & medium tackle rods
Heavy tackle rods
Hawaiian slings
Communications
VSAT
Apple configured throughout entire vessel
Wifi
Satellite phone
Satellite TV
Cell phone
Crew Profile
CAPTAIN - GRANT HEUNIS
Grant grew up in East London, South Africa and joins the Elysian family from a well-known and successful charter yacht - M/Y Passion. Having spent 12 years onboard his previous yacht, he is excited to join the team and venture into new waters bringing with him a world of experience from running such a busy charter yacht.

Grant began his career as a deckhand giving him invaluable understanding of each position onboard. He has held his MCA Master 3000 ton license since 2012 when he took over as full time Captain. Having acted as relief Captain for some time already, this was an easy transition for Grant and he has since exceeded all expectations in the role.

Grant has extensive cruising experience in the Caribbean, Bahamas, East Coast of the USA, Mediterranean, Adriatic and Aegean. Adding to his skill set he is a PADI rescue diver and a RYA Jet Ski instructor. A keen sportsman, having competed at a provincial level in water polo and surfing in South Africa, he enjoys the outdoors, keeping fit and hiking.

A combination of qualifications and experience from these various backgrounds ensures a well-developed sense of safety and security while at the same time guaranteeing a fun-filled vacation onboard. Grants strong emphasis on planning, organization, and training ensures an impeccable vessel, and that a professional and motivated crew is on hand to pamper you all through your time onboard with us.


CHIEF OFFICER - DUDLEY SALT
Dudley grew up with his twin brother on a hunting farm in Namibia and takes any opportunity to return home and spend time with his family.
Dudley has recently gained his MCA Master Yachts Unlimited 3000 Ton License and has 10 years of experience in the private yachting industry; 5 of which have been as a Chief Officer on some of the most elite yachts on the water including M/Y Satori, which won Best Interior and Exterior in the 50m category at the 2012 World Super Yacht Awards. With so much experience, Mr. Dudley Salt is indeed a well seasoned officer.
Some of Dudley's most memorable experiences include cruising through the Corinth Canal, a 4 mile long canal that is less than 70 ft wide. He was privileged to have the unique experience of wake boarding behind the yacht from time to time. Some of his other hobbies include golfing with friends, fishing and hunting.


BOSUN - JON ANDERSON
A man of many passports Jon was born in Dallas, Texas, raised in Zimbabwe until the age of 12 and now considers New Zealand his home. With such an adventurous start to life it is no surprise the yachting industry was an instant attraction, merely adding to his own personal list of world wide discoveries. With 3 years in the yachting industry he has quickly made his mark and is officially M/Y Elysians go to guy for just about anything. If you ask him nicely he might even trade in the rash guard to whip up a cocktail having spent many years working the bar scene in
the North Island of New Zealand. In his spare time Jon enjoys diving, water sports and socializing
with his friends never too far from a frosty beer.

HEAD CHEF - TYRONE POWERS
After 15 years working in Restaurants and Event Catering Tyrone discovered the Yachting Industry by complete accident after a ski trip with friends landed him in Antibes; one of the major yachting hubs in the Mediterranean. 12 years later he still has huge passion for the industry and takes great joy in mastering different culinary skills for guests and crew alike.
Having worked onboard some of the busiest charter yachts in the industry such as Lazy Z, Senses and Naia we are very fortunate to have both his expertise and his positive energy to share our days (and our appetites) with. During his time on Lazy Z Tyrone won two prestigious yachting awards at the Antigua 2012 Boat Show taking out the title of Concurs De Chef and the Caribbean Coffee Roaster Competitions.
Tyrone loves the outdoors and takes any opportunity to explore having travelled extensively through Asia, The Middle East, North Africa and Europe with his high school sweetheart Elizabeth. After eloping in 2010 Lizzy and Tyrone have two beautiful young children aged 3 and 4 who are now settled in the UK while Dad continues to tackle the high seas.


SOUS CHEF - KARL ELLIOTT
Karl is a California native and graduate of the prestigious Culinary Institute of America. Brand new to the yachting industry he is quickly finding his sea legs and is enjoying every aspect of the challenges that come with working in the environment.
Karl has gained his experience in some of the top restaurants in the world including the 3 Michelin star Essex House working alongside Chef Alain Ducasse. He has also been awarded a James Bearch Award for commitment on Sustainable Seafood.
Excited to see where his yachting career takes him Karl is ready to make the most of every opportunity to explore and gain experience onboard.


CHIEF STEWARDESS - JENNA MENTINK
Growing up in the beautiful South Island of New Zealand, Jen has been brought up to make the most of any opportunity to explore the great outdoors. Her love for travel led to a career as a flight attendant in her early twenties. It is through this that she discovered the yachting industry 5 years ago. Working along side Captain Mark Lacey she played an integral role in the launch of
Deltas largest 50m Super Yacht, M/Y Arianna and takes great pride in providing exceptional guest service at all times.

Always up for a new challenge Jen is a qualified Bikram Yoga Teacher, holds her Medical Person in Charge and Medical Care at Sea Certificates as well as her Underwater Dive Certificate.
As your Chief Stewardess onboard M/Y Elysian Jen is dedicated to making your stay as relaxing and as enjoyable as possible. Please do not hesitate to ask if there is anything that she can
assist you with.


2ND STEWARDESS - AMY MCDONNELL
Growing up in Australias sunniest city - Perth, Amy has always made the most of its outdoor lifestyle. Surrounded by world class beaches and home to an abundant array of marine life it is nosurprise that Amy feels right at home on the ocean. Leaving a career in the Finance Sector behind to travel America, Amy discovered the yachting industry by accident during a visit to FortLauderdale. Since joining the industry she has been lucky enough to cruise the Mediterranean, Caribbean and East Coast of America, taking every opportunity to explore the different cultures along the way.Documenting her travels through her love of photography Amy is always ready to discover new places with guests and crew alike.

With her infectious smile Amy, is a fun and energetic member of the crew that is dedicated to providing exceptional guest service and is rumored to make the best Bloody Mary in town. Should there be anything at all that Amy can assist you with, please dont
hesitate to ask.


3RD STEWARDESS - HANNAH STOTTER
Hannah was born in Eastbourne; a small seaside community of Wellington, New Zealand. From a young age, Hannah led a very active lifestyle, most of which was oriented around exploring the outdoors, playing team sports and socialising with friends and family. Growing up Hannah spent her summers and family holidays travelling, hiking and camping throughout New Zealand which naturally led to a strong desire to explore the world around her and immerse herself within other cultures. After finishing high school Hannah took a gap year abroad in Europe where she volunteered as an English Teaching Assistant in Warsaw, Poland before moving back to NZ to complete a Bachelors of Educational Psychology. Thought out her time at university, Hannah continued to travel and completed her final semester abroad in Southern Ontario , Canada.

Since joining the yachting industry 18 months ago, Hannah has completed two Atlantic crossings and thoroughly enjoy every opportunity to meet new people and travel to new places. With her bubbly personality and enthusiasm she is a wonderful addition to our team!

HEAD OF HOUSEKEEPING LEL MUNRO
Lel was born on the South Coast of England in a small seaside town called Exeter. Lel went to University in Oxford where she completed a degree in publishing. After graduating she ventured into the city, making London her home for the next two and a half years working in Partnership Marketing.

In 2014 Lel was introduced to the yachting industry and has joined the Elysian family after 18 months spent on an 80m yacht called Solandge. Excited to be a part of the team we feel very lucky to have her lovely smile gracing our hall ways as she ensures you never have to lift a finger in your guest cabin. A cheerful morning person Lel will be ready to assist you from the moment you wake up onboard M/Y Elysian




LEAD DECKHAND - CHAD WUTH
Chad was introduced into the industry through a good friend 2 years ago and has not looked back since. Before answering the call of the wide open sea, Chad studied and obtained his Bachelors degree in Commerce Accounting and Management at Rhodes University, Grahamstown, South Africa.

Through his travels, Chad has most enjoyed visiting places like Barcelona and Italy. Growing up on the coast of sunny South Africa, Chads hobbies include surfing, diving and fishing to name
a few but most of all he loves to enjoy time with friends, out and about exploring the nearest town.


DECKHAND - VERSTER VENTER
Officially the baby of the boat completing High School last year in Bloemfontein, South Africa. Verster, nicknamed Fish, has since obtained his Day Skippers license, Powerboat and Watercraft qualifications in order to get into the yachting industry. He is a determined deckhand who has worked hard to prove himself as a valued member of our team. Verster has visited the Netherlands, Germany and Belgium and enjoys playing golf or fishing when he has the chance.


DECKHAND/3RD ENGINEER - ALEX EATON
Born and raised in Western Australia Alex has always had a great passion for the outdoors. Perth is a vibrant and energetic city that offers a truly unique experience with both expansive parklands and stunning beaches literally at your doorstep.

After leaving school Alex undertook an apprenticeship at a local Butcher and quickly progressed to Store Manager. After 4 years in the industry, and with the glistening view of the ocean in front of him, it was time to hang up the carving knife and travel the world.

Starting out in America, Alex was introduced to the yachting industry and soon discovered his passion for engineering. He has since taken every opportunity to gain hands on experience and
obtain his certificates in both Engineering and First Aid. A friendly and approachable member of the crew please dont hesitate to ask if there is anything Alex can help you with.


CHIEF ENGINEER - ADRIAN COETSEE
In 1996 Adrian relocated from South Africa to the UK, where he found his new home on the South Coast of England. This is where he first discovered his love of the water and began racing sailboats. After a delivery from England to Antibes on a sailing yacht he was introduced to the world of Super Yachts and his hobbies turned into a professional career on the water.

Adrian has worked on both private and charter yachts and
brings with him 16 years of industry experience - the first 6
years on deck and the last decade as an Engineer.
When he moved to the U.K. Adrian started sailing as a hobby
and loves anything involving being in and around the water.
He enjoys water skiing and is currently learning to kite surf.


2ND ENGINEER THALEIA LEWIS
Thaleia lived and worked at a famous mountain resort in the French Alps for 10 years before she heard about the yachting industry through some of her good friends. With the
temptation of warmer weather she left for Antibes and has been yachting ever since.

In her 8 years of traveling she has had some incredible experiences from following whales to sitting out hurricanes in the Sea of Cortez. Thaleia has braved diving with sharks, manta rays and sting rays as well as visiting the Galapagos Islands where she had the privilege of meeting Lonesome George - a 100 year old giant tortoise, the last of his species and considered the rarest creature in the world in his time.

Thaleia studied at the University of Manchester, England, where she obtained her Masters Degree with Honors, in Mechanical Engineering. In her spare time, Thaleia enjoys cycling and meeting new people where ever she goes.