Inquire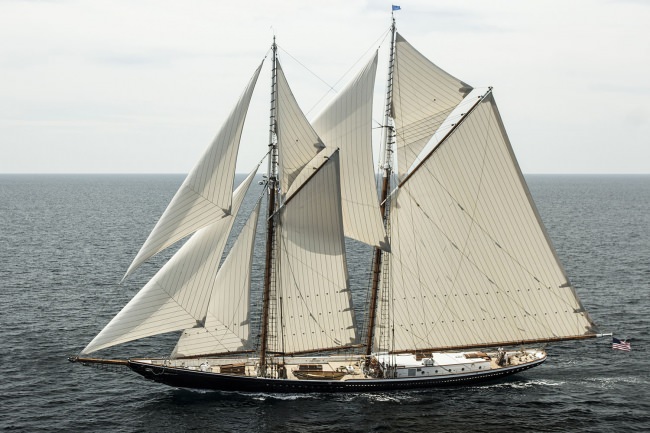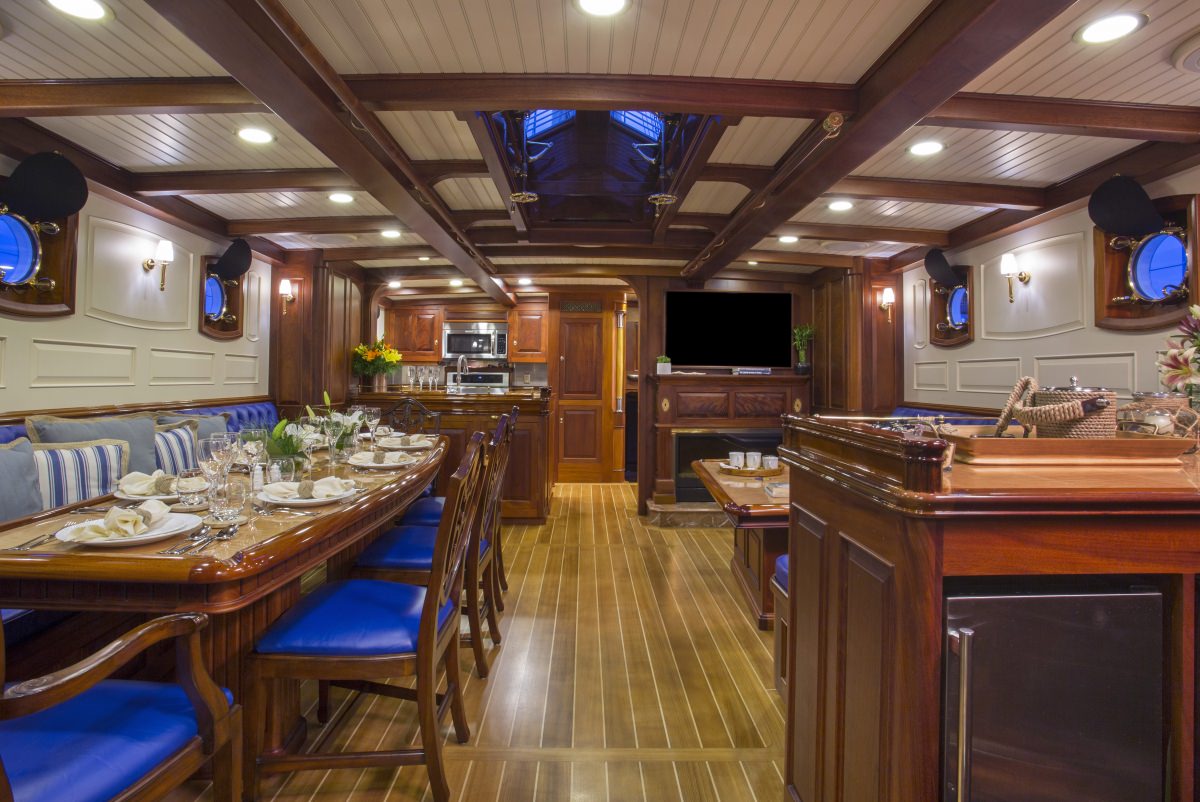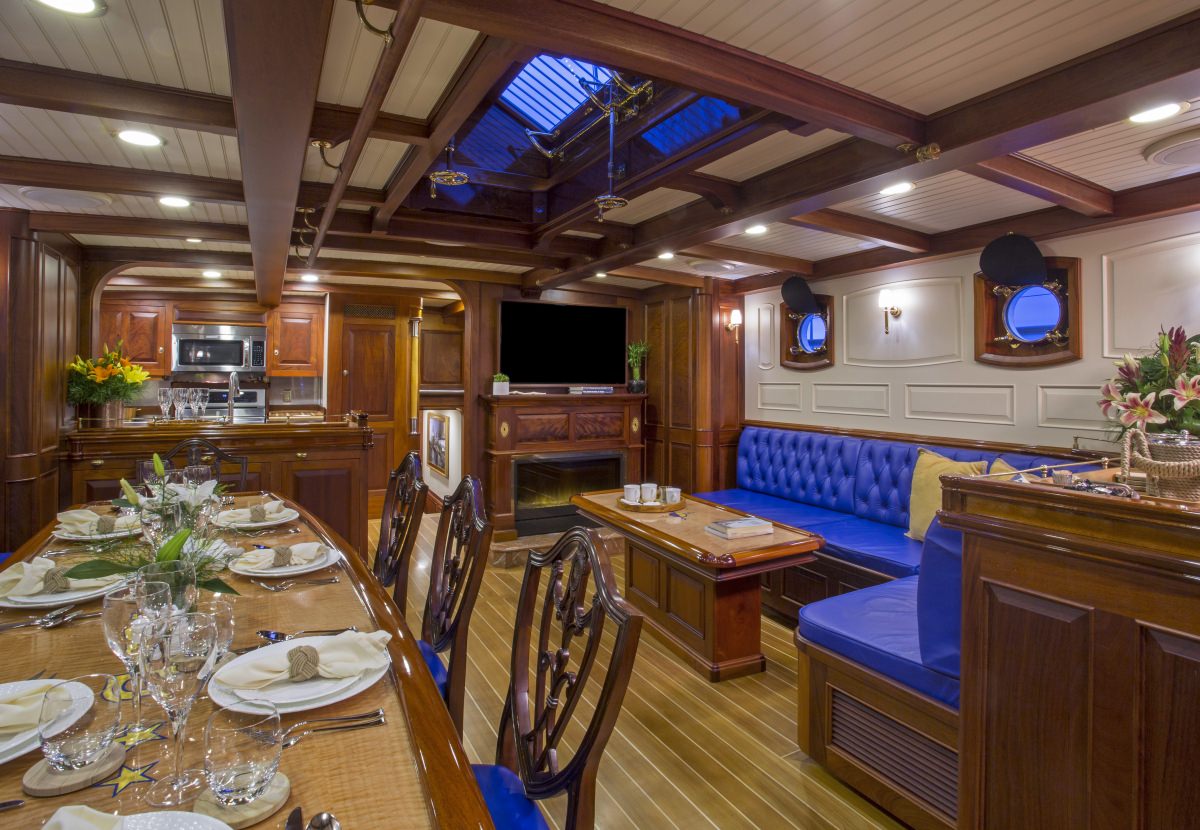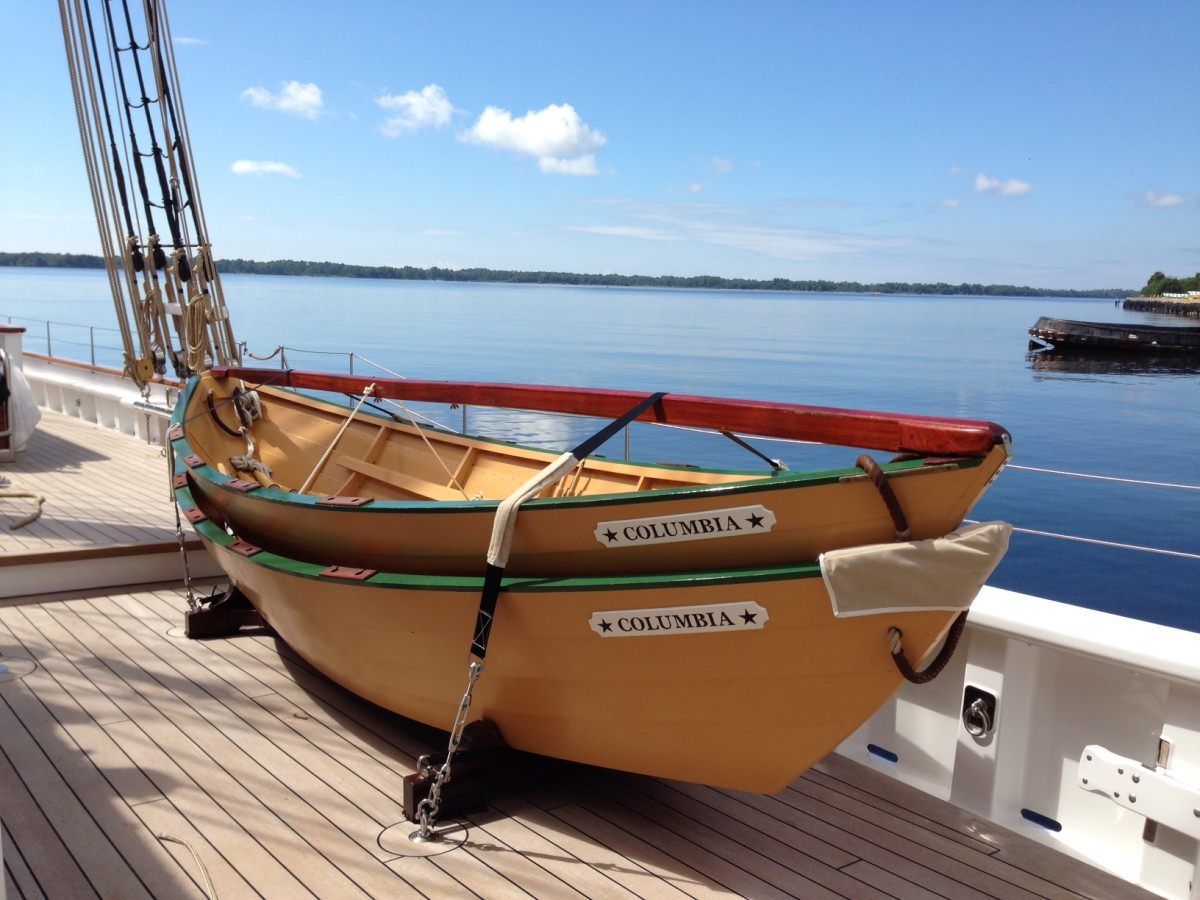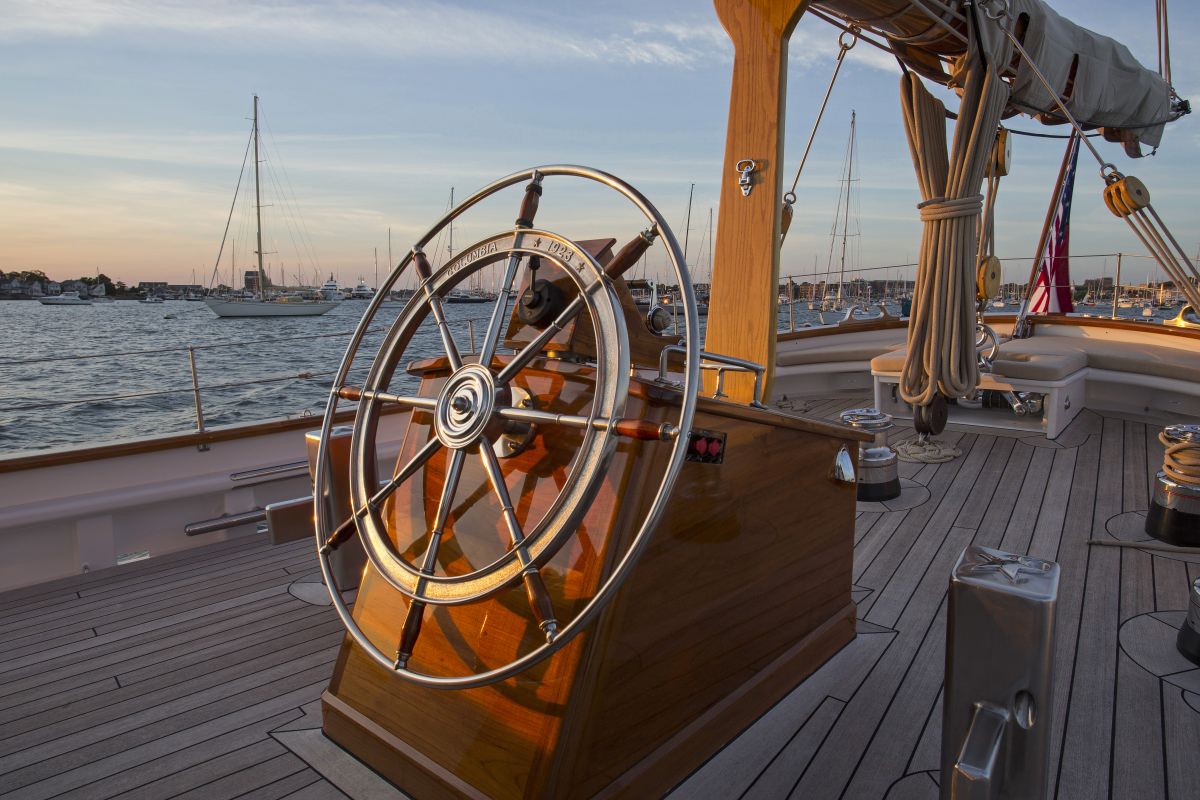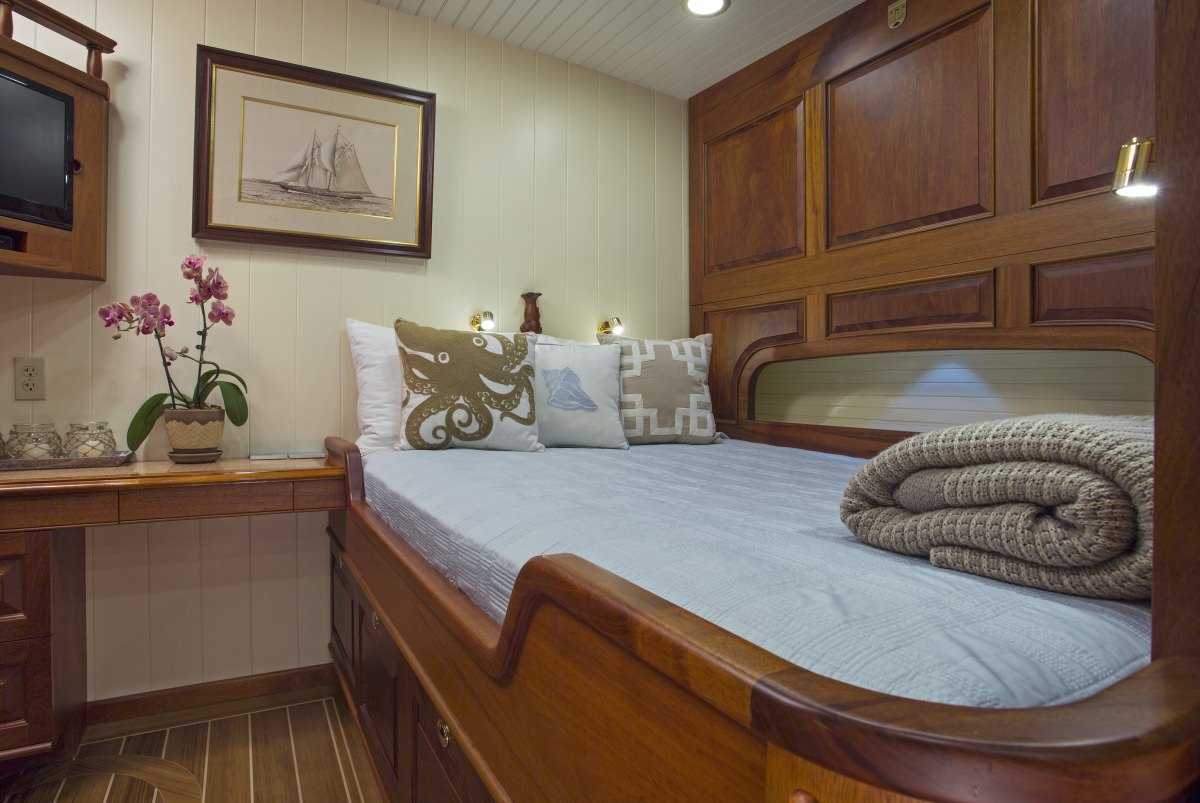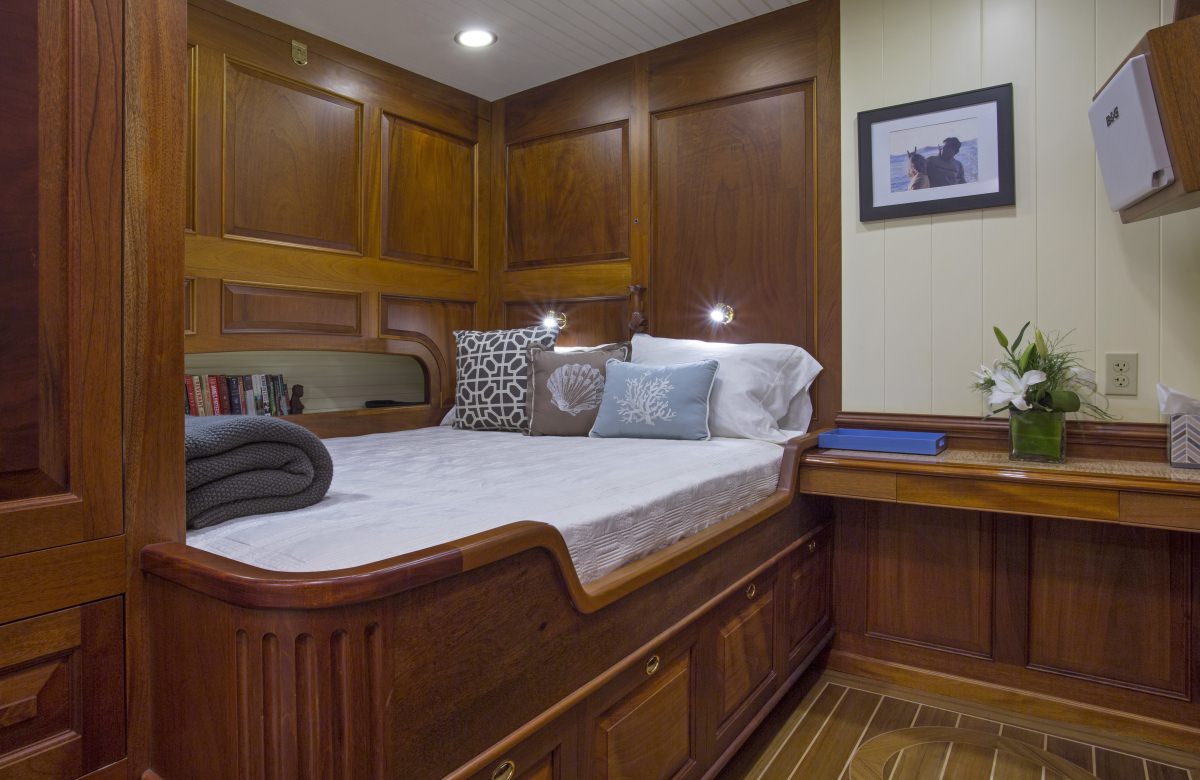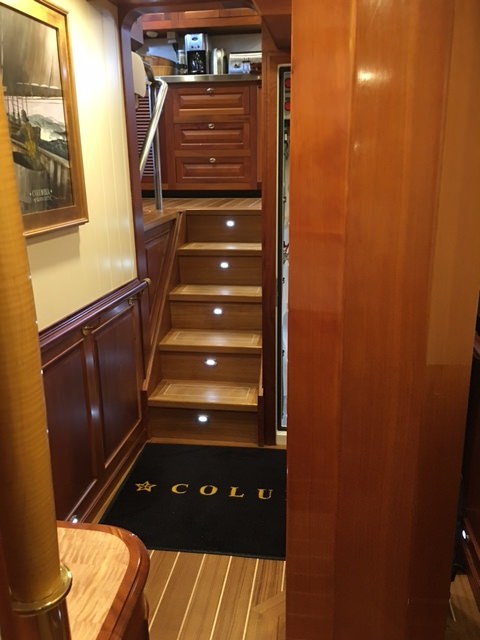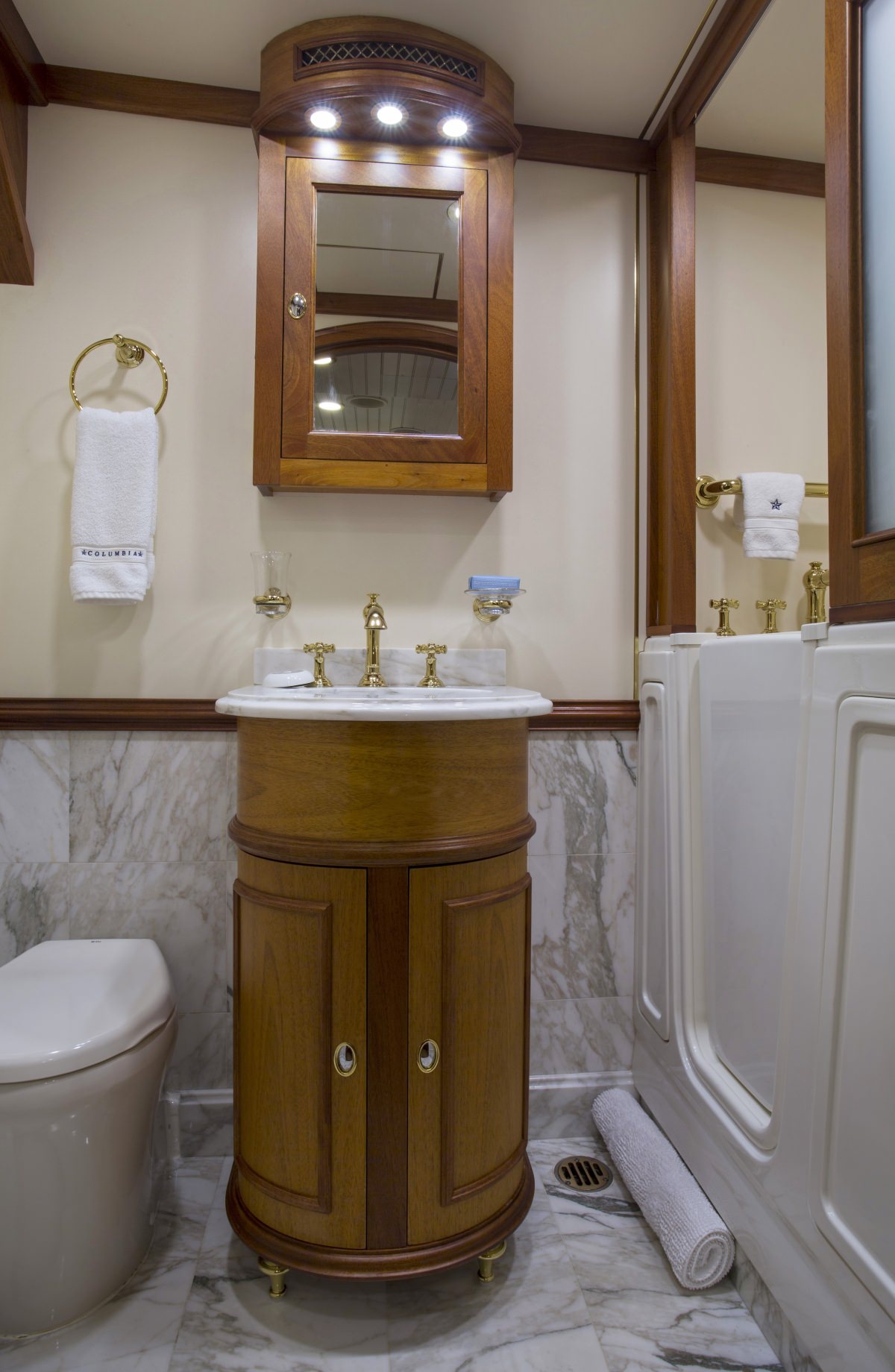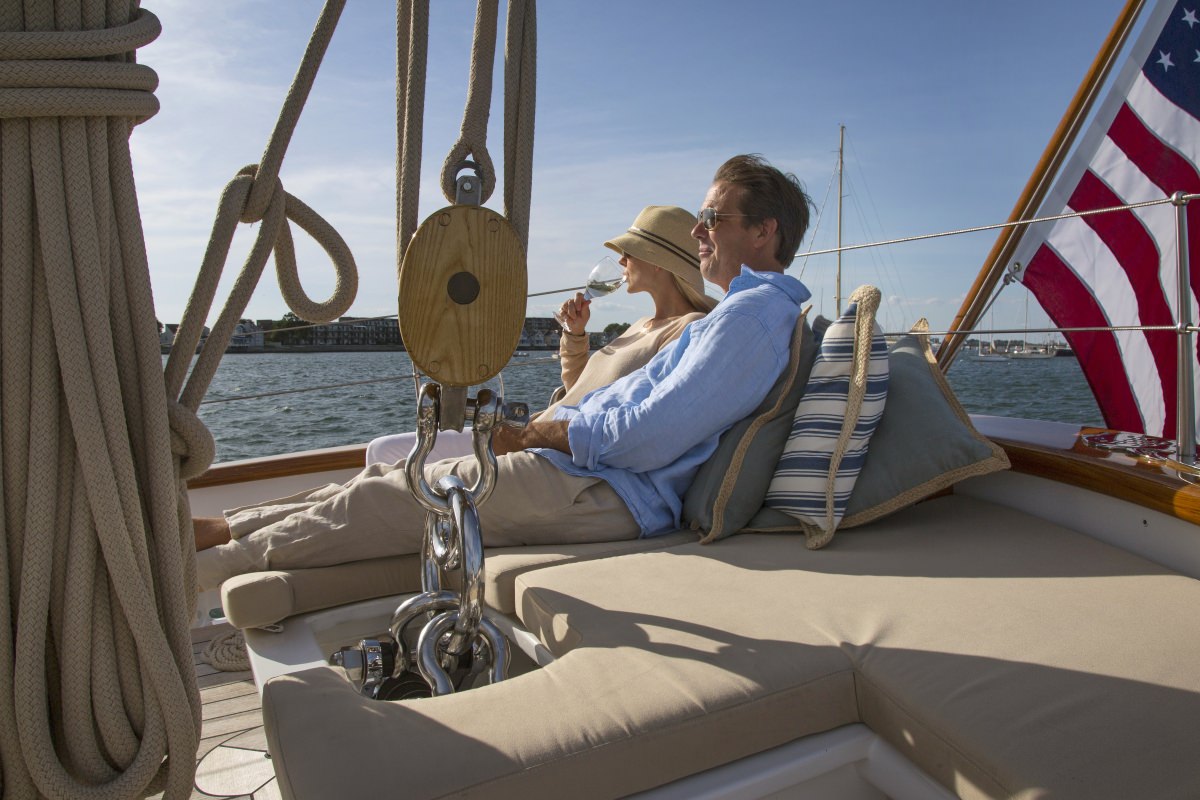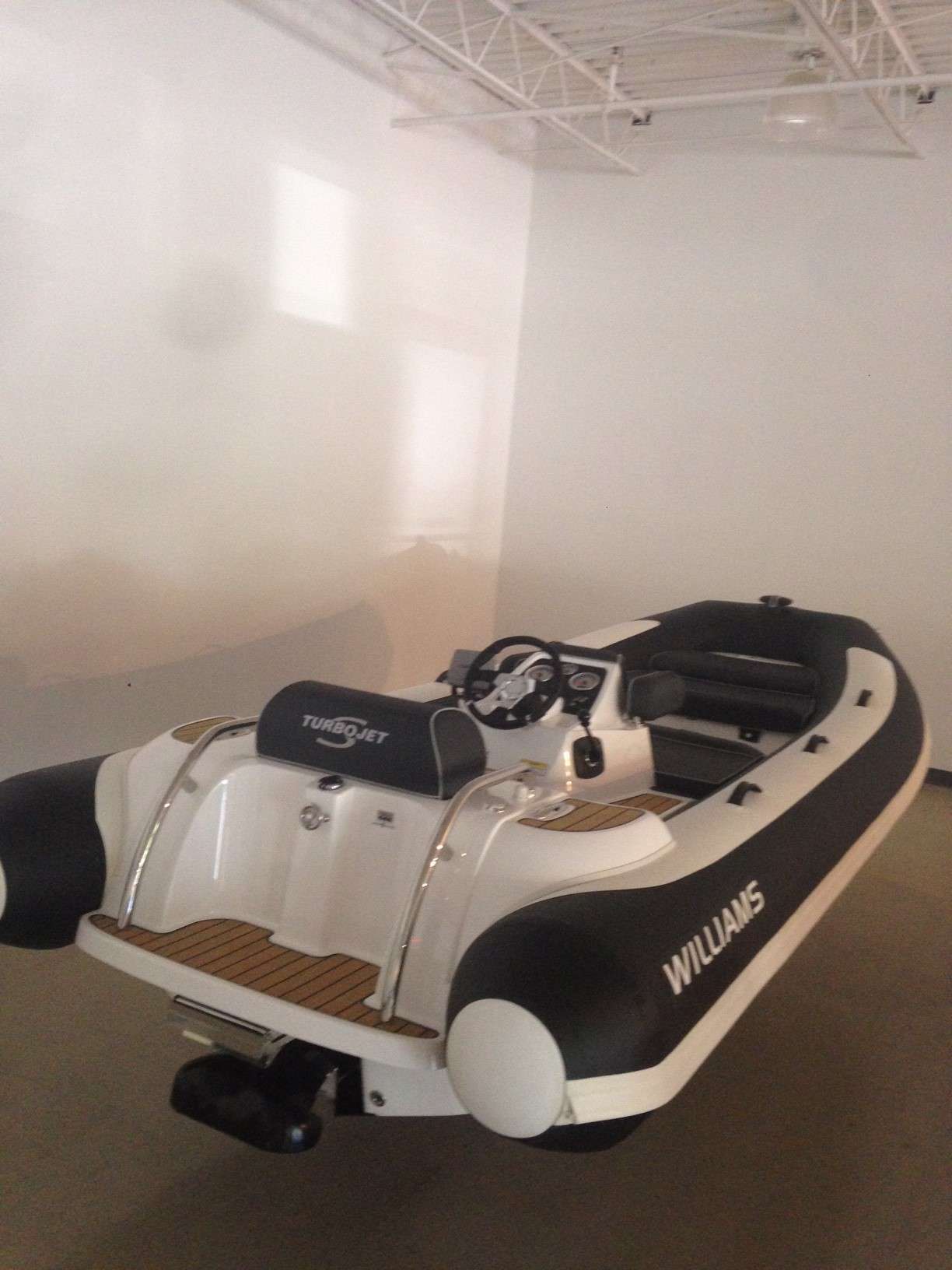 ---
Length:
141
Beam:
25.6
Draft:
15.6
Guests:
12
Crew:
8
Cabins:
4
Jacuzzi:
No
AC:
Full
Year Built:
2014
Max Speed:
13
High Price:
$62,000
Low Price:
$50,000
Captain Name:
Karl Joyner
Captan Nation:
American
Snorkeling Gear:
Yes
Onboard Scuba:
Yacht offers Rendezvous Diving only
Yacht Accomodations
Sleeps (12) in (4) staterooms:
1. Master Cabin: portside, mid-ship. Queen size berth with twin pullman. Writing Desk. TV/DVD combo with Direct TV. Ensuite marble bath with walk-in Jacuzzi tub with shower.
2. VIP Cabin: starboard side, mid-ship. Queen size berth with twin pullman. Writing Desk. TV/DVD combo with Direct TV. Ensuite marble bath with enclosed shower.
3. Guest Cabin: portside, forward of Master: Double lower bed with fixed upper twin bed. Writing Desk. TV/DVD combo with Direct TV. Ensuite marble bath with enclosed shower.
4. Guest Cabin: starboard side, forward of VIP: Double lower bed with fixed upper twin bed. Writing Desk. TV/DVD combo with Direct TV. Ensuite marble bath with enclosed shower.

Crew accommodations are separate and forward from guest accommodations.
Other Toys
15' Williams TurboJet 445 with 120hp
(2) 13' Lunenburg Dories (one rowing and one sailing)
(1) Brownies Third Lung 3-man Electric Hooka System
Snorkel equipment
Custom swim ladder
Additional water toys upon request.
Crew Profile
Captain: Karl G. Joyner II (American)
Hailing from the great state of Texas Karl was instilled with a sense of pride at an early age. That pride is evident in his operation of COLUMBIA as he strives to provide the best experience possible for every guest onboard. A move to Fort Lauderdale in his late teens exposed Karl to the world of yachting and large sailing yachts in particular. His fascination with these beautifully crafts lead him to literally come up through the hawse pipe working as rigger, engineer, and finally captain. In his long career he has sailed on some of the most well-known sailing yachts in their day such as BOOMERANG, NEVER SAY NEVER, MIKADO, PARLAY, TIMONEER, and worked as captain aboard RIPPLE, ATLANTA, SUMMERWIND, an original 1929 Alden schooner, and AVALON. He has completed 5 transatlantic crossings, and 1 transpacific crossing. His sailing experience ranges from 420s, to maxi yacht racing, to large luxury yacht racing in Transatlantic Challenge Races, Super Yacht Cups, and Bucket Regattas. His 32 years in yachting and over 90,000 miles at sea have taken him from the East Coast of the US, to the Mediterranean, Caribbean, Canada, Australia, New Zealand, Fiji and too many other Pacific Islands to list here. Karl holds a USCG 200ton Master, captaining both sailing and motor yachts in his career. Sailing has always been his first love so when the position on COLUMBIA was offered he jumped at it and has been onboard since she was launched in August 2014. Karl looks forward to showing his charter guests the beauty of the sea and some exciting sailing. When he gets a day off he enjoys off road adventures in his 25 year old Land Cruiser that he has modified for overland trekking. He also enjoys shooting sports and is a certified scuba diver.


Stewardess: Ruth Joyner (Australian/American)
Born in Dalby, Queensland, Australia to ex-pat American parents, Ruth benefits from dual citizenship, and a combined Aussie/American perspective. Ruth's family moved to Tasmania when she was a small child, it was there that she developed a love a sailing in the D'Entrecasteaux Channel near Hobart. Her love of sailing and a passion to explore lead to the eventual purchase of a 35 foot sailboat, in which she travelled extensively on the east coast of Australia and to New Caledonia and Vanuatu. With a combined 14 years of resort and hospitality experience it was a natural progression to yacht stewardess. Her first job onboard the 108 foot ketch AVALON in 1998 took her on a Pacific crossing from Panama to New Zealand via the Galapagos and Tahiti. It was in New Zealand that she met her future husband, Captain Karl and they have worked together on large sailing yachts for nearly two decades. In addition to her Pacific crossing Ruth has completed 2 trans-Atlantic crossings and experienced The US East Coast, Canada, the Mediterranean, and Caribbean as professional yacht crew. She has sailed over 75,000 miles at sea since those early days in Tasmania. Ruth looks forward to providing her guests a warm and inviting atmosphere with excellent service and her keen eye for detail. In her down time Ruth enjoys horseback riding, beachcombing, and gardening.


Chef: Robbie Bateh (American)
Born and raised in Jacksonville, Florida, Robert Bateh is a first generation American of Palestinian heritage. His parents operated a grocery store, Brentwood Food Market, in Jacksonville. Growing up in the grocery store, sandwich shop, and deli business, his childhood home was overrun by constant cooking and gatherings. These experiences fueled his interest in cooking which started at a young age. During his time in Florida Community College of Jacksonville, he was exposed to hospitality industry and decided his calling was to become a successful chef. This led to an Associate's Degree in Applied Science at the Baltimore International College School of Culinary Arts. As an Honor Student, Robbie was accepted into an internship program at the Park Hotel Virginia in County Craven, Ireland. Working in various facets of the culinary world he soon found yachting was a challenging field in which to master his trade. During the past 14 years Robert has experienced extensive international travel, cuisines, ingredients and culture while working aboard a variety of both motor and sailing yachts. In addition, with the onset of the information age and expansion of specific diets and supplements, his knowledge of what are true healthy foods and eating has expanded a great deal. Robbie looks forward to sharing his passion for great food and the culinary arts aboard COLUMBIA. When Robbie is not cooking or experimenting with new recipes, his hobbies include SCUBA diving, collecting native drums from places visited and his recent purchase of a vintage 1971 VW Westfalia Bus which he is working to restore to like new condition.


Mate: Greg Wessel (American)
Maintaining the relaxing atmosphere on deck of COLUMBIA and ensuring all his guests enjoy themselves to the fullest is first mate Greg Wessel. Growing up in Sarasota Florida, Greg learned the rhythm of the ocean at an early age, devoting his time to surfing, fishing, and diving. While attending school in South Florida, he began working with a team of highly trained commercial divers who specialized in spearfishing, collecting tropical fish and lobster. After earning his degree in Anthropology from Florida Atlantic University, the decision to remain working on the water was undeniable and yachting was a natural step. Greg has been sailing on large yachts since 2009 having worked on SUMERWIND, SEA DIAMOND, and AVALON. His experience will ensure that your time onboard Columbia will be a memory you never forget. Greg is a water sports enthusiast and can be found in or on the water whether at work or on the rare day off.


Engineer: Yuri Bartz (American)
Yuri is from Columbus, Ohio, Buckeye country. One might ask themselves, "How does a person in the middle of a landlocked state become a professional sailor? The answer would be the movie Captain Ron had something to do with it. Also, as a younger man, Yuri received sailing lessons as part of summer camp on the Scioto River. Then after graduating with a BFA in theater from Ohio University he moved to NYC to become a starving actor. He soon discovered that living in New York really requires one to have an income. He had to find a job and as an actor he was immensely qualified for customer service. This landed him in the employment of Classic Harbor Line, a day sailing company that has several schooners and motor yachts sailing out of Chelsea Piers in New York. He was reintroduced to his love of the water and being a professional mariner. In the winter of 2012 and 2013 he attended The Landing School in Maine where he received professional training in marine systems. After returning to New York, and working for The Manhattan Sailing Club aboard their flag ship schooner ARABELLA for a while, he relocated to Key West Florida where he worked aboard the schooner AMERICA 2.0 and was also self-employed as a systems tech. He heard about the opportunity aboard COLUMBIA from one of his clients that had been a part of the initial sea trials aboard her and soon his adventure began on the majestic 175ft classic fishing schooner replica joining the vessel in May of 2015. He holds a 100 ton Masters License from the US Coast Guard and a Master Technician in AC/DC Electrical, Marine Diesel Engines and Marine Systems from the ABYC. Yuri's hobbies include video games, archery, general mechanical tinkering, and writing and reading poetry, which he often reads aloud for guests aboard at sunrise or sunset.


Deckhand Rachel Whynot (Canadian/American)
Born and raised in the small seaside town of Mahone Bay, Nova Scotia, Canada, Rachel has always had a close connection to the ocean. After spending two years living and working in New Zealand, she returned to Nova Scotia to pursue a Bachelor of Science degree in Therapeutic Recreation from Dalhousie University. While studying, she continued to remain engulfed in her own recreation pursuits as well as assisting others in theirs. In 2015, Rachel had the opportunity to work aboard the Canadian schooner, BLUENOSE II. This had been a dream of hers, as her father had been a crewmember aboard famed Canadian schooner in the early 1980s. Working on the rival American schooner, COLUMBIA, has given Rachel a great sense of pride in her work and she has a strong appreciation for the rich history the vessel holds in both countries of which she is a citizen. When not working on the deck of COLUMBIA, Rachel enjoys practicing yoga, biking and exploring the outdoors.


Deckhand: Henry Ebinger (American)
Henry is no stranger to the ocean being born and growing up within 10 miles of the original COLUMBIA building site Essex, on the North shore of Massachusetts. Henry spent his early life steeped in the New England culture and climate that has helped shaped Henrys admiration for schooners, and wooden classics of all kinds. Drawing skills from a multitude of trades including: sailing instructor, dock attendant, mooring tender, working at a boat yard and being employed on the schooner THOMAS W. LANNON out of Gloucester MA, make Henry an able deckhand. Henry wants to ensure your time on the COLUMBIA is a positive experience because having a good time is what he enjoys most in life. On Henry's lay days he likes to travel, surf, mountain bike, disc golf, and occasionally play some backgammon in focsle.


Deckhand: Daren Hoffman (American)
Daren grew up on St. George Island off the Florida Panhandle Coast near Apalachicola, Florida where she learned to sail at a young age. Competitive sailing through the local Boy Scouts of America Troop 22 led to earning trophies in the Mid-Winters, Mid-Americas, U.S. Youth Multihull Championships and the North American Youth Championships to name a few. During her time at Gulf Coast State College she lived aboard a sailboat with her father and was introduced to coastal cruising. She continued her competitive sailing throughout her time in college and was part of the University of West Florida Sailing Team in Pensacola, Florida. Painting and doing fiberglass work on the side she lived the cruising lifestyle along the Florida Coast and Bahamas. Daren has been a part of 2 full restorations on small sailboats and has been actively living, working and cruising onboard sailing yachts ranging from 27 feet to 37 feet for the last 9.5 years. In 2015, Daren completed her STCW and Marine Security Awareness Courses at MPT in Fort Lauderdale. Her continued training has helped with her desire to work on larger yachts. As a part of Columbia's crew Daren looks forward to continuing her life, learning, and career on the sea. In her time off, Daren enjoys reading, playing the Ukulele, working on her own boat, a Hobie 18 catamaran, and spending time outdoors or on the water with friends and family.

Crew Profile