Inquire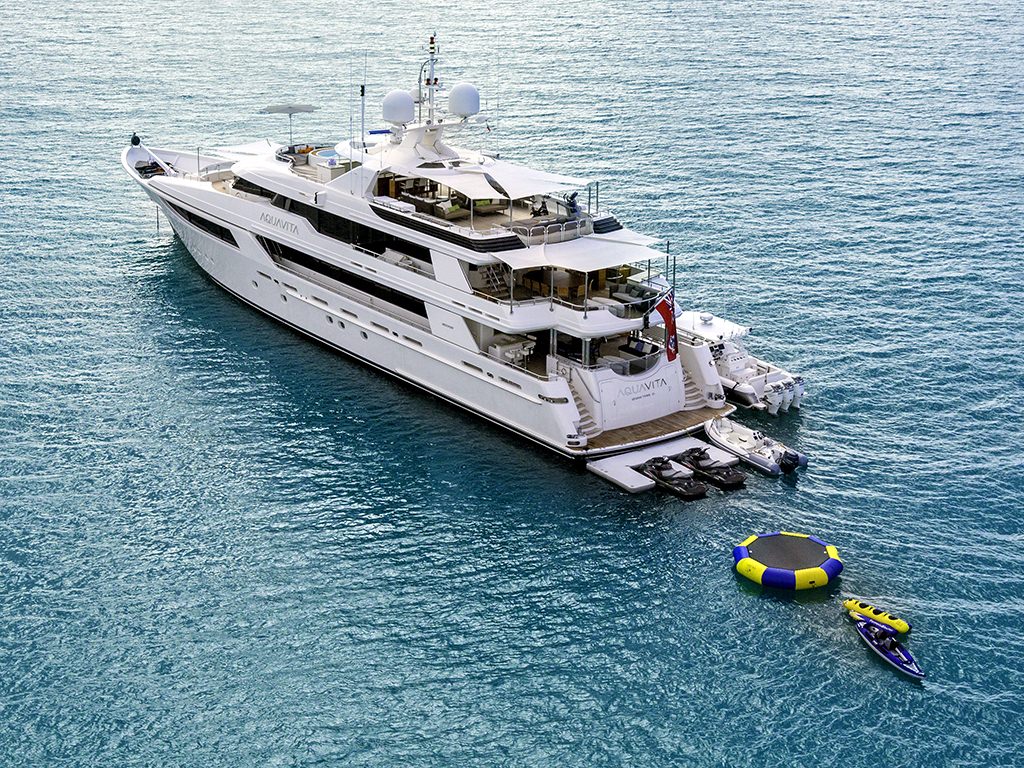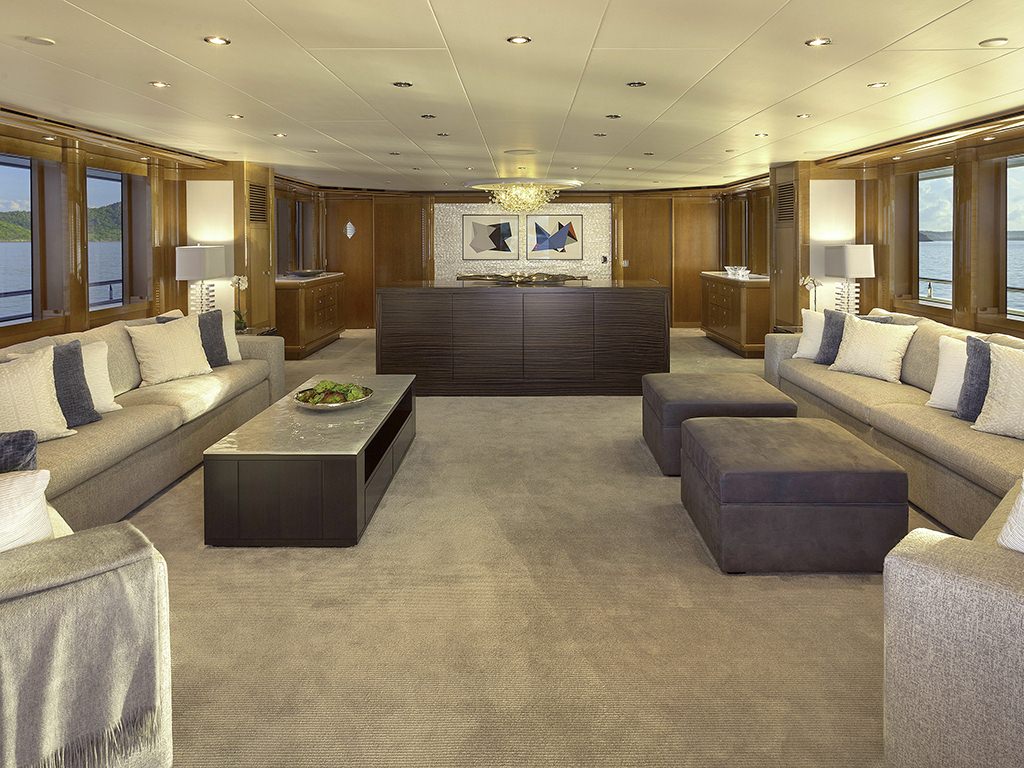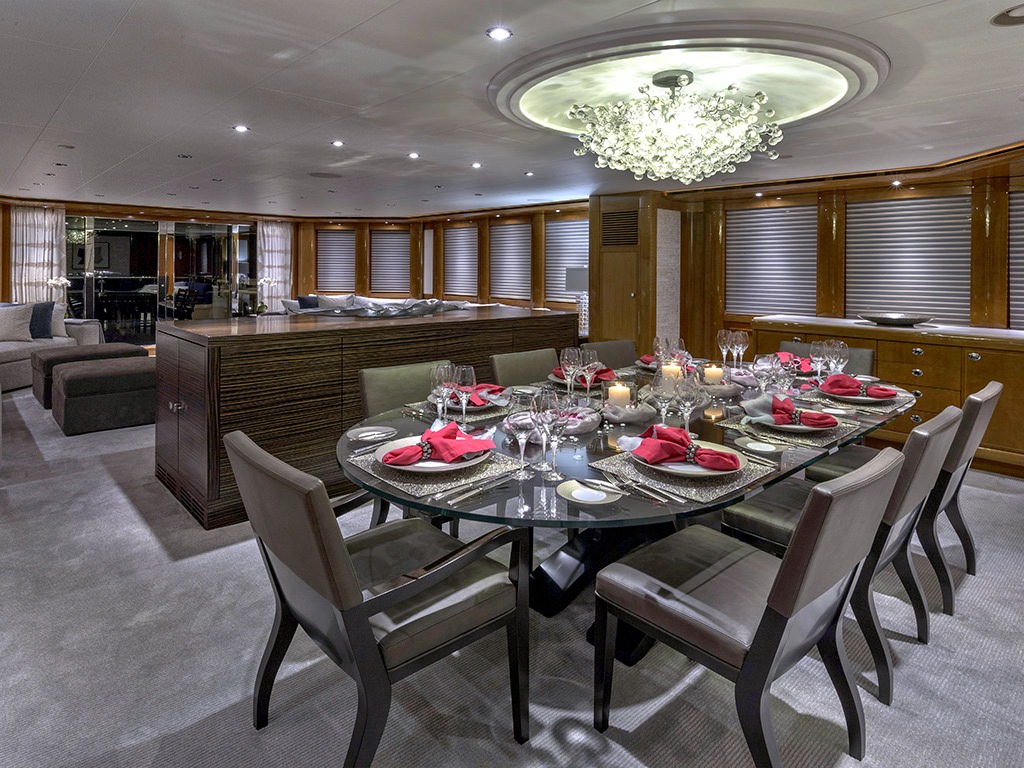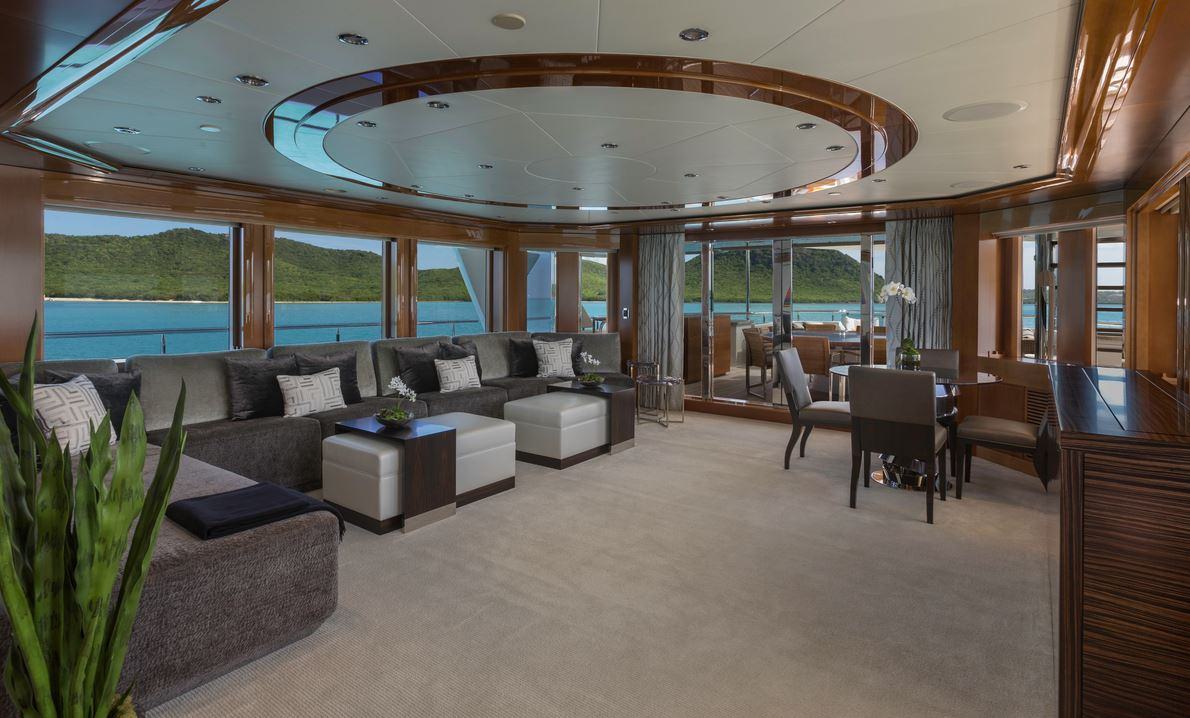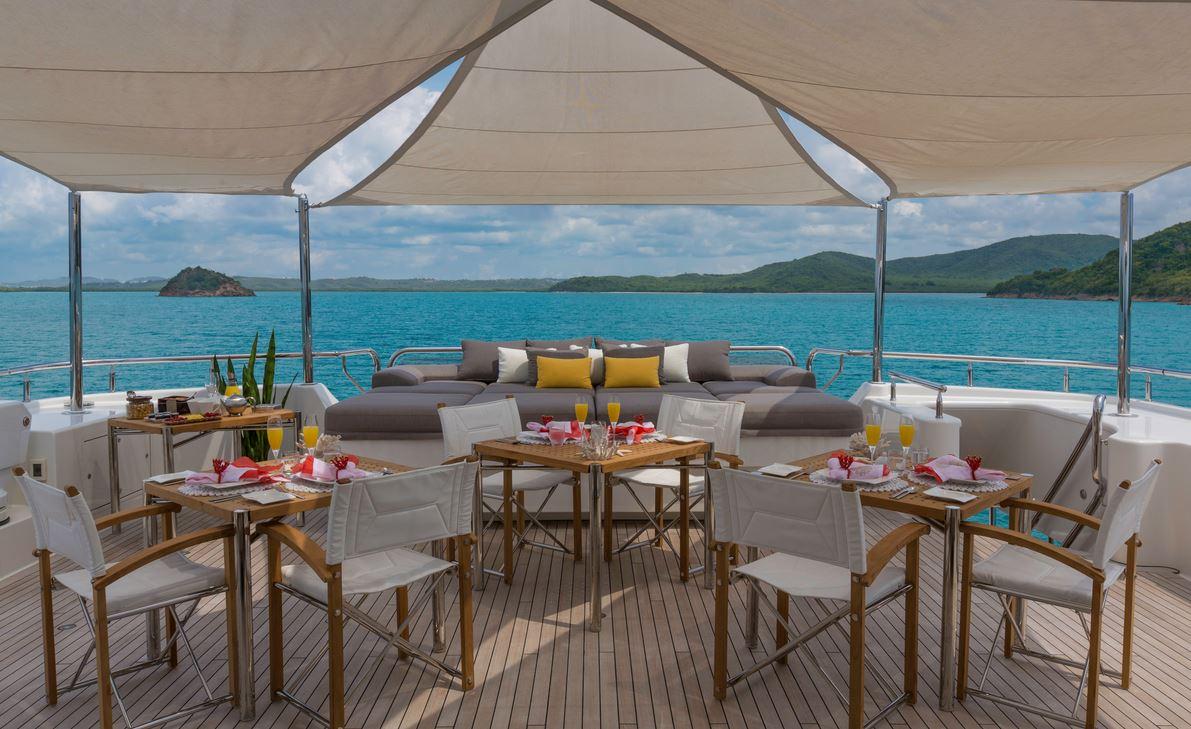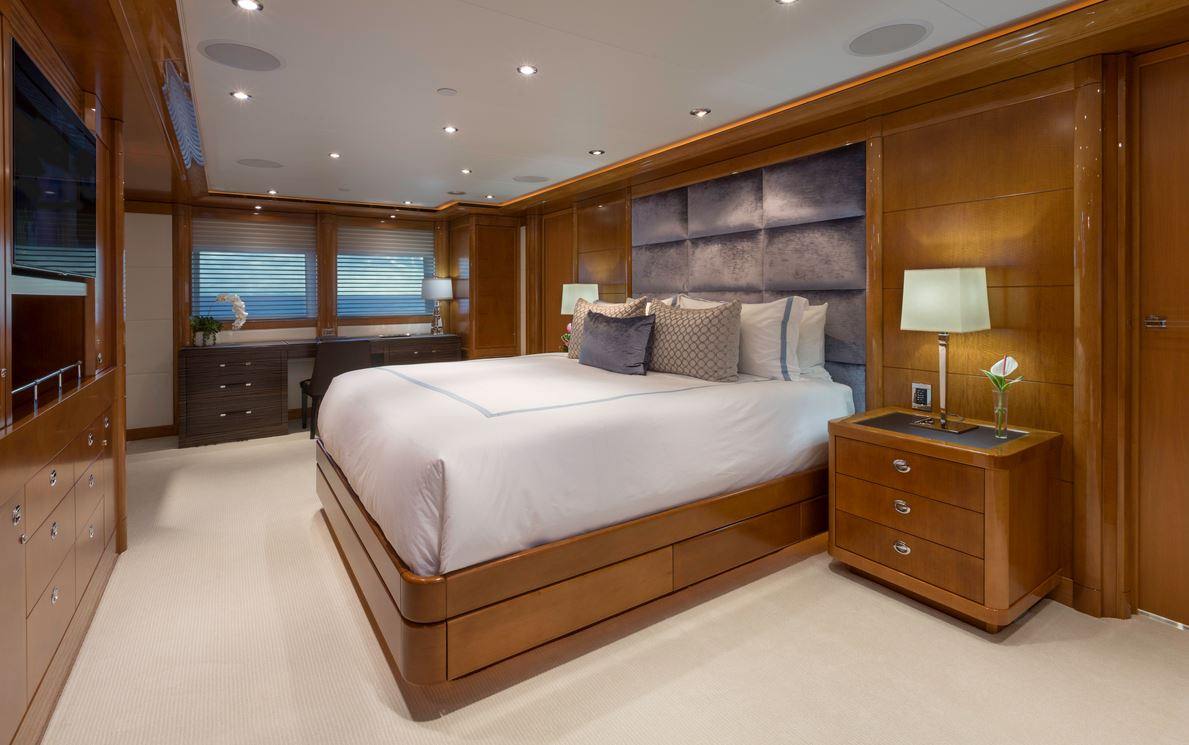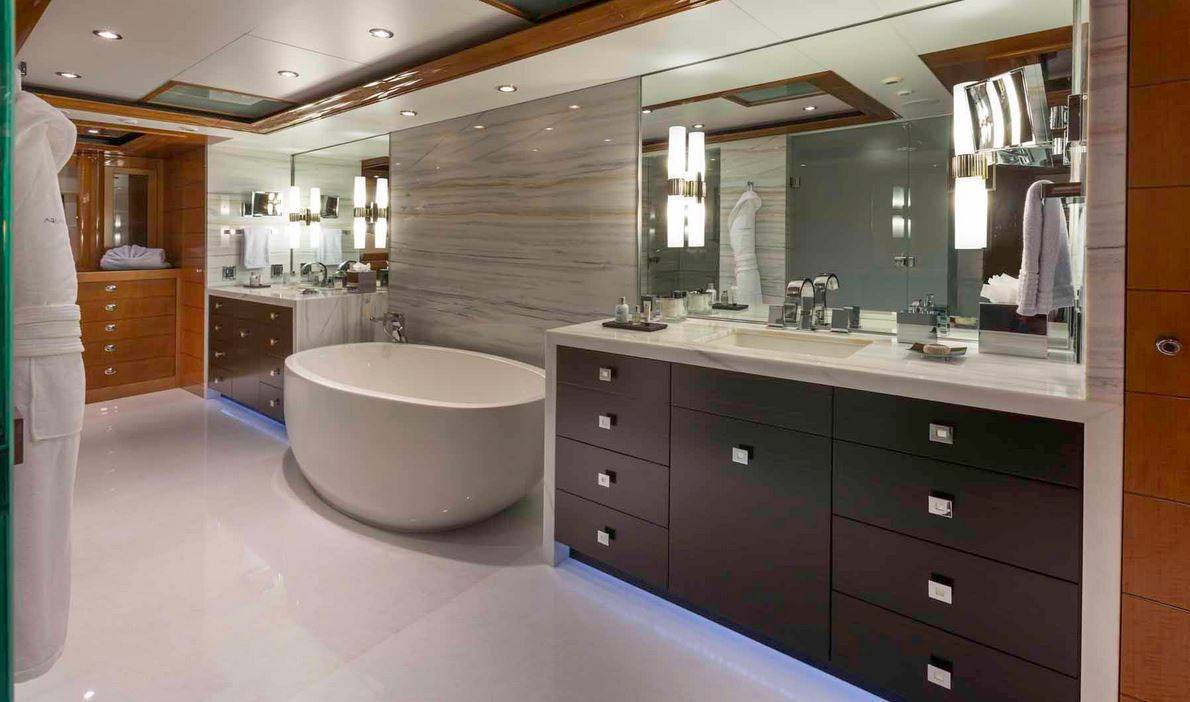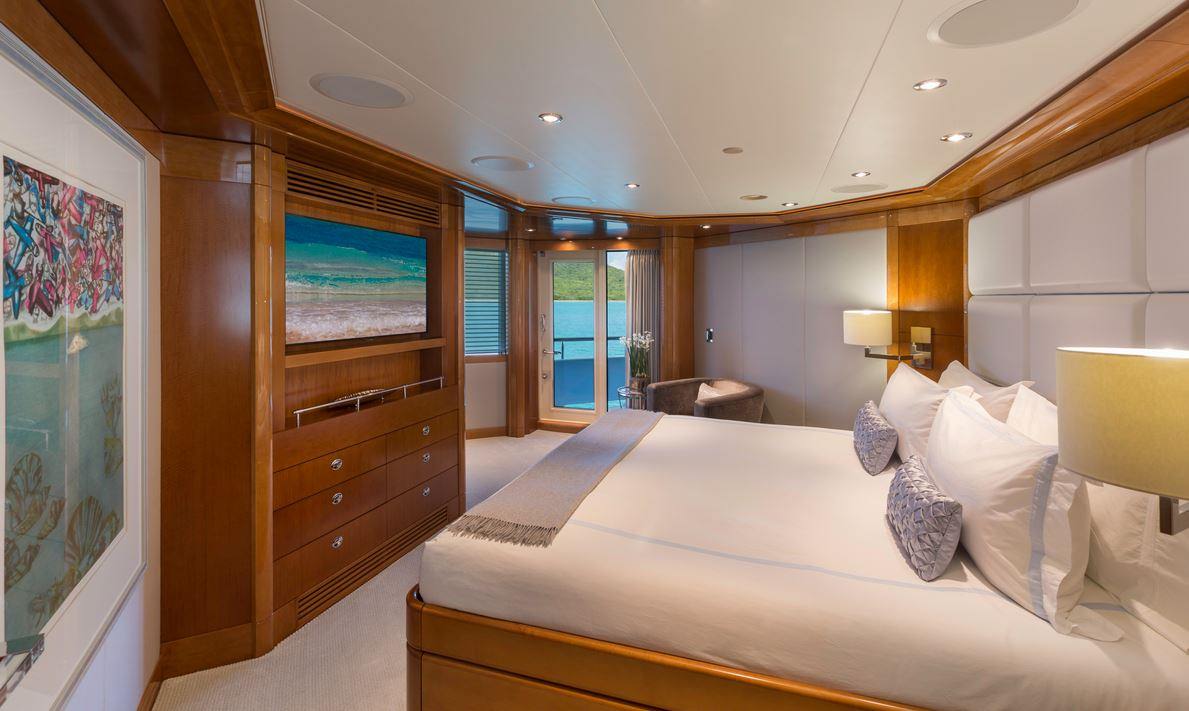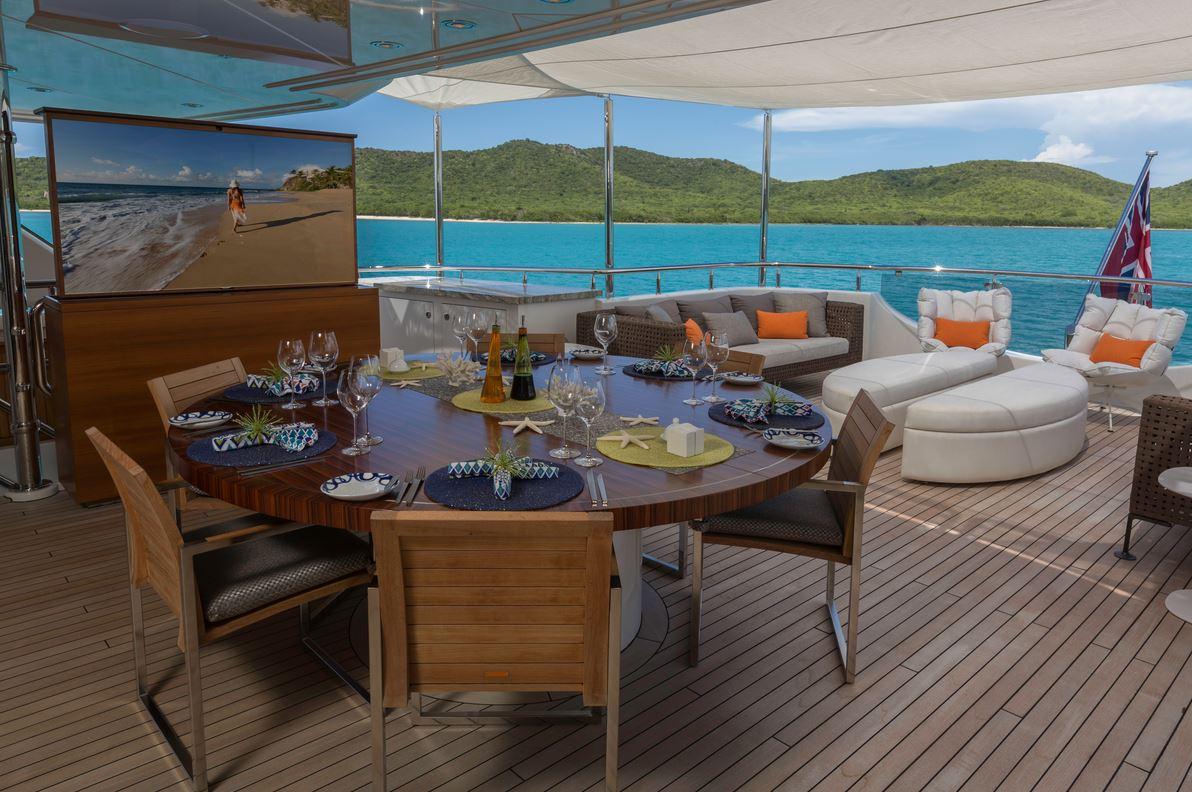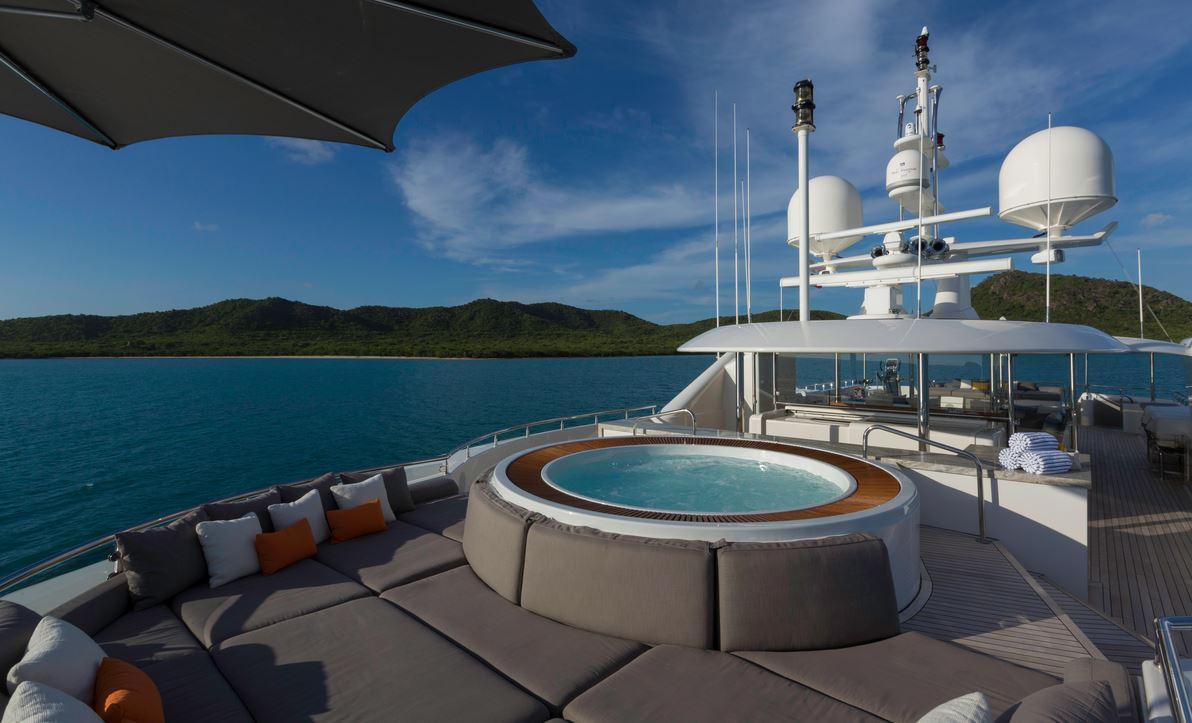 ---
Length:
49.99
Beam:
9.45
Draft:
2.57
Guests:
12
Crew:
12
Cabins:
6
Jacuzzi:
Yes
AC:
Full
Year Built:
2009
Builder:
Westport
Max Speed:
25
High Price:
$295,000
Low Price:
$295,000
Captain Name:
Michael Whiteley
Captan Nation:
Canadian
Wave Runners:
2
Snorkeling Gear:
Yes
Fishing Gear:
Yes
Onboard Scuba:
Yacht offers Rendezvous Diving only
Yacht Accomodations
2014: All new interior and exterior refit in 2014
This 6-stateroom yacht underwent a multi-million dollar interior and exterior refit in 2014, including a total transformation of her interior with custom furniture and finishes. The sophisticated penthouse style decor also features 2 exterior balconies on the bridge deck for private relaxation and an elevator from the lower guest deck to the bridge deck for ease of access. In addition, an 8-foot extension has been added aft of the bridge deck. The owner has provided every conceivable amenity to ensure the highest standard of luxury, including a 10 person Jacuzzi, and 4 dining areas (3 exterior) that can accommodate 12.
Other Entertainment
10 person Jacuzzi on Sundeck
Day head on Sundeck
Convertible furniture on decks to allow versatile arrangements for gatherings, meetings or parties
Aft Bridge Deck was extended by 8 feet to allow for a comfortable seating area with optional bimini shading
Note there are 6 areas for dining throughout the yacht for all 12 guests including the dining salon, the main aft deck, the bridge deck aft and the sun deck
Other Toys
38' Intrepid 2014 with cuddy cabin, day head, shower, dive door, microwave, refrigerator and own generator.
18' Zodiac Rib
x2 Inflatable Paddleboards
x2 Yamaha Wave Runners
x2 Double Inflatable Kayaks
x1 Kneeboard
x2 Wakeboards
x4 Sets of water skis for adults and children
x2 Kite Surfing Equipment
x2 Sea Bobs
Water trampoline
Towable Inflatables, Donut for two, Banana
Snorkel gear for adults and children
Fishing gear
Free weights/yoga mats
Precor Elliptical Machine
Spinning Bicycle

Gazebo, beach tables, chairs and portable BBQ.
Communications
Savant throughout - Apple's version of Crestron with ipad controls
65" HDTV's on Main Aft Deck, Bridge Aft Deck and Sundeck
Direct TV in the Caribbean and Sky TV in the Med
Crew Profile
Michael Whiteley - Captain
Bio coming soon!

Sacha Kelly- Chief Officer
Sacha was born in the coastal town of La Spezia from an Italian mother and English father. He speaks Italian, English and Spanish. Sacha started his yachting career on a 56 meter Perini Navi sailing yacht and after four and half years he decided to move on to motor yachts. Sacha has worked with Capt. Chris in the past on MY Alaska & Annaeva. He enjoys fitness and is currently studying for personal training on board of yachts, he also enjoys football, snowboarding and skydiving.

Gareth Clarke - Chief Engineer
Gareth was born in Durban, South Africa.In his youth, Gareth enjoyed competitive & outdoor sports and excelled in Technical Drawing & Art. After school Gareth served a year in the South African National Defense force, Armored Corps, becoming a Tank Gunner & Crew Commander and then went on to completing his trade as an Engineering Pattern maker. He left South Africa for London working as a carpenter to fund his travels through Europe and his migration to Australia. In Australia he was part of a team that built exceptionally high-quality houses, many of these houses winning awards and the most prestigious award being, "The house of the Year in Sydney". Gareth became an Australian citizen and decided to go "Walkabout", changed his career and started working and studying Marine Engineering. Gareth has seven years experience as a Yacht Engineer and is considered a: "Committed, loyal and responsible engineer who thrives in working as part of a team".

Ian Morris - Chief Engineer
Ian was born and raised in London, United Kingdom. At age eighteen Ian enlisted in the Royal Navy. Four years of formal engineering education at the Royal Navy School was followed by service on HM ships Chatham, Cardiff and Avenger. As well as serving at sea Ian also spent time ashore at the UK Government Emergency Control and Communication Center in Whitehall, London and with the Fleet Maintenance Group in Plymouth. In 1996 Ian started working on his first yacht, in the time since Ian has worked as Chief Engineer on a variety of motor yachts up to 65M. Ian lives with his wife, Leslie, in Jupiter Florida.

Hugo Lambrechts - Boson
Hugo was born in Paarl, just outside of Cape Town, South Africa. He grew up fishing and playing on the shores of the African coastline with his father. After studying financial management and playing semi-professional rugby for several years, he left South Africa to enjoy his love for the ocean. Hugo has been in the yachting industry for 4 years and holds his Yachtmaster Ocean and he is currently working to obtain his Officer of the Watch. Hugo is extremely passionate about water sports, fishing and diving and is happy to share his wealth of knowledge.

Mario Swainson - Deckhand
Mario Swainson was born and raised in Bermuda. Growing up, Mario participated in sports such as sailing, fishing, football, and basketball. After high school, he decided to travel to the UK where he completed his Yacht Master and straight after became a deck hand working on Tollships. Mario worked closely with numerous youth development programs for 5 years which took him to Australia in 2010. Along with traveling, Mario has had the opportunity of running a catamaran for a year and learned a great deal about the BVI's waters . In 2012 he returned to the Tollships as a Chief Mate and continued to develop his leadership & team working skills. In 2013, Mario chose to commit to yachting industry as he found that he could assert his skills that he acquired over the years to the exciting opportunities that come with the Ocean.

Chris McGuire - Deckhand
Chris was born in Johannesburg, South Africa. He attended boarding school in Pretoria where he enjoyed playing all sports, in particular water polo and golf. Chris obtained a degree in Finance and worked as a financial planner in Cape Town for several years. Chris's passion for traveling, hospitality and the ocean inspired a change of career and he joined the yachting industry in 2015.

James A. Boyle - Chef
James developed a passion for food and cooking at the young age of eight. His first foray into the industry started at the age of 12, when he served as a dishwasher at a local pancake house. While his career started small, he continued to work his way up through the ranks. By the time he graduated from high school, he was given the opportunity to work as a sous chef for a leading Hilton hotel. It wasn't long before he left his hometown in central Missouri and attended the New England Culinary Institute where he worked alongside many world-renowned chefs. James has not only been an executive chef and overseen several multi-million dollar operations, but he has also had his own restaurant in the San Juan Islands and has received accolades from several prominent publications, including the New York Times, Food and Wine, Gourmet, and Wine and Spirits. James joined the yachting industry ten years ago and has worked aboard a number of charter yachts located throughout Europe, the Caribbean, and North, South and Central America. His extensive knowledge and experience enables him to work with the best products on the market. James' passion and philosophy in the Aquavita kitchen is fresh, simple and natural. He infuses these traits into each and every bite.

Gemma Lusk - Chief Stewardess
Gemma grew up in Glasgow, Scotland. From a young age, she found her passion in hospitality and spent her free time outside hiking, rock climbing, and kayaking. In 2008, Gemma decided to cross the water and toured Australia for a year. Still hungry for adventure and wanting to fuel her passion for hospitality and travel, she made the decision to commit to the yachting industry. Gemma has worked on sailing yachts such as The 56 meter Asahi, The 65 meter Felicita West as well as Motor Yachts like The 56 meter Annaeva and The 60 meter Idynasty, where her professionalism and high standards have brought many opportunities and successful charters. Gemma looks forward to applying her vast range of skills to create a luxurious and enjoyable experience on board.

Rachelle Kruger - Stewardess
Rachelle grew up in Cape town, South Africa. Growing up in such a diverse country, Rachelle enjoys exploring many of Africa's beautiful landmarks, wildlife, vineyards, oceans and various cultures. Her interests include piano, hiking, art, learning Spanish, diving, and charity work. In 2013, after studying independently through Cambridge University, Rachelle decided to fuel her passion for exploring and joined the yachting industry. She worked aboard a 30-meter yacht for almost two years where enjoyed working and learning not only in the interior but also on the exterior. Rachelle looks forward to applying her skills on a larger vessel whilst traveling the world.

Jurelma Kemp - Stewardess
Jurelma comes from Cape Town, South Africa. She studied her degree in Speech, Language and Hearing therapy and passionately worked with children for many years. In 2014 Jurelma decided to broaden her horizons and joined the yachting industry. Her love for the sea and travelling inspired her to partake on a new journey. She is very passionate about people, cultures, food, and wine and loves to challenge her creativity onboard. Jurelma strives to entertain people preferences and to make every trip a memorable one. In her leisure time she enjoys exercising, reading and exploring new places.

Inge Pieters - Stewardess
Inge grew up surfing in the small coastal town in South Africa. Her dream was to work for a big corporate within the Fashion world. After completing her studies in Fashion and Textile Design, she set off to her first adventure and moved to London to work as a buyer for international retailers for 7 years. Feeling like something was missing in her life, she sought the unknown and took a year off to explore Central America and become a qualified yoga instructor. Inge found passion in Traveling, Surfing, Hiking and Yoga. Since then she vowed a life of adventure, which lead her to discover the yachting industry. Inge looks forward to learning more about the ocean and yachting.